Prince's 'Yellow Cloud' Guitar Just Sold at Auction for $137,500
Ah, the benefits of being rich.
If you had your heart set on owning Prince's Yellow Cloud guitar, we hate to be the bearer of bad news — the iconic instrument was sold at Heritage Auctions in Beverly Hills, California this weekend to Indiana Colts owner (and music memorabilia collector) Jim Irsay to the nice tune of $137,500. Yellow Cloud made a place for itself in musical history, making appearances in many of Prince's videos from the late '80s and early '90s, including "Cream" and "Gett Off."
As Prince's former guitar technician Zeke Clark wrote on the Heritage Auctions site, "This Yellow Cloud guitar was Princes (sic) main guitar & used in most of his early videos & touring performances & album recordings. From around 1988-1994. In 1994 he broke the neck of this guitar at a French T.V. show. After returning to U.S.A. I repaired neck & installed the first Floyd Rose set up Prince ever played. And then used in recording more albums, up until the symbol guitar was born."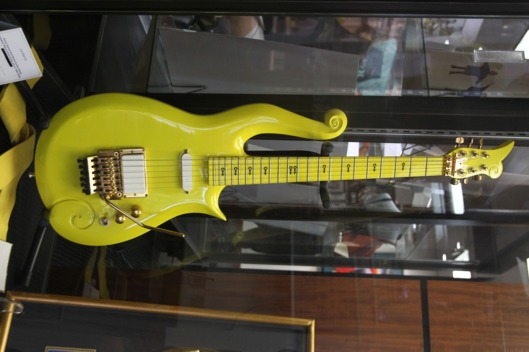 Also sold at this weekend's auction — a lock of David Bowie's hair, snipped in 1983 by a Madam Tussaud's employee, which went for $18,750; as well as Whitney Houston's first U.S. passport and 2006 California driver's license, which went for undisclosed prices. The perks of being rich, eh?