17 Burning Questions We Hope San Diego Comic-Con Will Answer
Featuring <em>Game of Thrones</em>, <em>Suicide Squad</em>, and <em>Luke Cage</em>.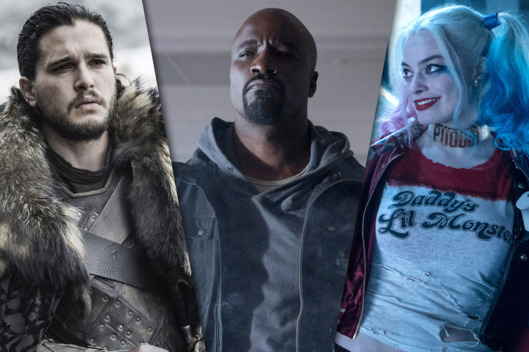 Your Vulture editors are on their way to San Diego for Comic-Con, the annual celebration of everything super-geeky. This year, after a notable absence, Marvel is returning to the Con with some major movie announcements, while TV juggernauts like Game of Thrones and The Walking Dead will continue to draw a massive audience to the cavernous Hall H. We've even got a video-game upstart taking valuable turf in the form of Pokémon Go. What sort of big news should we expect? Here are 17 questions we expect to get some clarity on this week.
Can Comic-Con prevent leaks?
When footage from Comic-Con leaks, it can be a double-edged sword for studios: While it drums up more mainstream buzz, the trailers shown in San Diego can sometimes come from movies that have barely started filming, and they're often devoid of the effects-heavy money shots that an all-audiences trailer can count on. Yes, Deadpool slayed last year and the quickly leaked trailer probably helped its cause, but the wan teaser for X-Men: Apocalypse — which had no action scenes to tease, since director Bryan Singer had not yet shot them — did that underperforming film no favors. There are rumors that this year Comic-Con will employ cutting-edge technology to block eager leakers, but the proof will be in the pudding. —Kyle Buchanan

Will we see the Guardians of the Galaxy Vol. 2 trailer?
After this subpar summer movie season, a sequel to Guardians of the Galaxy — Marvel's freshest breath of air, and a huge hit in 2014 — can't come soon enough. Director James Gunn has confirmed that he'll be trekking to Comic-Con, and since the first Guardians trailer debuted there years ago, we should expect a look at the just-wrapped Guardians of the Galaxy Vol. 2, which introduces Kurt Russell as Chris Pratt's long-lost father. —KB

Will the new Star Trek show remain a mystery?
Considering how much talk there's been about the relaunch of a Star Trek series on CBS next year, we know shockingly little about what's actually going to happen in the show. Yes, it will air exclusively on the network's new streaming platform, CBS All Access. Yes, it will be available to international audiences via Netflix. Yes, Bryan Fuller, the producer who cut his teeth on Star Trek: Voyager, will be running it; and, yes, it will be Star Trek. But that's all we know for sure. The Trek panel at Comic-Con will feature icons like William Shatner, Jeri Ryan, and Brent Spiner talking about the 50-year-old franchise, but with production starting on the new series in September we are ready to hear about the future of the United Federation of Planets, not just its past. —Jordan Crucchiola

Will Ryan Murphy reveal the theme of the new American Horror Story?
The last season of American Horror Story confirmed its Hotel subtitle in February 2015, a full eight months before the fifth season of the anthology series premiered. We're now less than two months away from the premiere of AHS's sixth season, and Murphy hasn't announced anything about the theme, other than the fact that it will probably involve children. Perhaps more important, while series regulars like Angela Bassett, Evan Peters, and Matt Bomer will be back for S6, we still don't have official confirmation that American treasure Sarah Paulson is on board. The suspense is real! —Gazelle Emami

Will Brie Larson announce the Captain Marvel director?
We know that Brie Larson will already be on hand to discuss Kong: Skull Island, so it's not a stretch to think she'll stick around until Saturday night's Marvel Studios panel, where studio head Kevin Feige can finally confirm her as Captain Marvel, the MCU's first female lead. The question, though, is whether Feige has also locked down a director. He's been looking at female helmers for months and teased that we should expect a reveal this summer, so Comic-Con feels like the right place to lift the curtain. —KB

Will Taylor Swift join Tom Hiddleston in San Diego?
Speaking of Kong: Skull Island, Larson's co-star is Tom Hiddleston, a Comic-Con stalwart for his Marvel films who recently experienced an uptick in his public profile after he began dating Taylor Swift. Will she follow him to San Diego for another round of photo ops and headlines? Isn't Comic-Con chaotic enough already? —KB

Will we get to watch Luke Cage?
Last fall, Marvel surprised and delighted geeks at New York Comic-Con by showing the first episode of Marvel's Jessica Jones in full at a panel showcasing the company's television offerings. On Thursday evening in San Diego, Marvel is holding a panel dedicated solely to Marvel's Luke Cage, its much-buzzed-about next Netflix offering. Will Marvel repeat itself and let attendees peep the pilot? The show doesn't premiere until late September, so it would be a long lead time between the screening and the full series, but critics have already received screeners for the first seven episodes, meaning the pilot is already in the can and ready for viewing. —Abraham Riesman

Will Valerian be the new Fifth Element?
Valerian and the City of a Thousand Planets isn't just your typical big-budget sci-fi extravaganza starring hot young actors, though it does have Dane DeHaan and Cara Delevingne on deck. It also marks the return of Luc Besson, maestro of cult favorite The Fifth Element, to the curious domain of the space opera. Besson proved with Lucy in 2014 that his sci-fi game is still sharp; with a sneak peek of Valerian scheduled for Thursday, we'll see if he can return some of the shine to boisterous, bizarre intergalactic cinema that was lost with the failure of Jupiter Ascending. —Kevin Lincoln

What will Game of Thrones' season 7 look like?
We now know that Game of Thrones' coldest season won't be arriving until next summer, as showrunners David Benioff and D.B. Weiss pushed back filming to take advantage of winter weather. We also know that at seven episodes, it'll be an abbreviated season. But just how will this change how they tell their story? Do they consider seasons seven and eight to be separate seasons, or halves of one whole? And given how the show usually treats a ten-episode season's penultimate installment as the most massive episode of all, should we all start anticipating episode six? —GE

Will Pokémon Go be Comic-Con's biggest hit?
There's been no bigger leisure pursuit over the last month than Pokémon Go, Nintendo's hit app. We expect lures aplenty in San Diego as tens of thousands of geeks all try to catch that elusive Dragonite, but the real sign of the game's massive ascent is that Con organizers have now rescheduled its panel — which was formerly held in a tiny ballroom — for the massive Hall H. Can it pack in the crowds that giant movies and TV shows regularly draw? —KB

Will Margot Robbie's Harley Quinn movie become a reality?
Back in March, rumor had it that Warner Bros. was developing a Suicide Squad spin-off for Margot Robbie's character, Harley Quinn, where she'd be surrounded with other female figures from the DC Comics universe — think Batgirl, Poison Ivy, and fellow Squad member Katana. Robbie is said to be the catalyst for the project, as well as a producer, and with the rising star on hand to talk Suicide Squad for WB's panel on Saturday, that seems like a convenient time for her to discuss the future of Harley Quinn, who has already become the film's most compelling character. —JC

Will the real Edward Snowden create some buzz for Oliver Stone's film?
When Snowden snagged a big panel in Hall H Thursday, it raised a few eyebrows: Oliver Stone's brand of ripped-from-the-headlines lefty indignation isn't exactly what you think of when you think of Nerd Valhalla. But now that the man himself, an individual referred to by no less a source than New York Magazine as a "huge nerd," is confirmed to make an appearance by Skype, could his presence drum up a little excitement for Stone and Joseph Gordon-Levitt? After all, it's not like Snowden's an easy get — the dude is in exile. —KL

Will WB continue the Justice League comeback?
After Batman v Superman proved to be a critical stumble, Warner Bros. went into damage control, flying a cadre of reporters to the set of Zack Snyder's Justice League to assure them the sequel was on track. Though WB hasn't announced anything related to Justice League for its big Hall H panel, we'd bet on one little tease … say, Snyder showing the scene that played well on that set visit, where Bruce Wayne (Ben Affleck) hilariously tries to recruit Barry Allen (Ezra Miller). —KB

How hard will Sausage Party work that R-rating?
Don't be fooled by its animated, market-friendly appearance, or the first minute of its trailer. Seth Rogan and Evan Goldberg's Sausage Party, which they developed with frequent collaborators Ariel Shaffir and Kyle Hunter, is firmly in the spirit of their other work: that is, R-rated. There hasn't been a breakout animated R-rated film since South Park: Bigger, Longer, and Uncut, in 1999; 17 years later, it'll be interesting to see just how far Sausage Party pushes the boundaries Trey Parker and Matt Stone have made a long career of straining, and how the place of racy cartoons has changed in an industry where animation dominates. Though the film-in-progress screened at South by Southwest, this is the first time we'll get to see the sure-to-be-outrageous final cut. —KL

Will the standalone Batman film be teased?
We've long known that Ben Affleck is set to direct, co-write, and star in a solo film about the Dark Knight of Gotham, but that's basically all we know when it comes to Batfleck's Bat-flick. Will Warner Bros. give us any information about the movie's overall direction? In 2013, the studio announced Batman v Superman: Dawn of Justice by quoting from Frank Miller's famous Batman story, The Dark Knight Returns, which heavily influenced the film — might we get something else along those lines, shouting out an important comic? Perhaps a tease about who the villain would be? A release date, at the very least, as long as Affleck thinks he can meet it? —AR

Has Preacher figured itself out?
The AMC series Preacher may only be eight episodes old, but it already feels like we've lived with it for a lifetime. The Garth Ennis/Seth Rogen/Evan Goldberg joint teases viewers with possible brilliance each week before getting repeatedly mired in its own navel-gazing weirdness. But there's so much potential that we want to believe in! Preacher is getting two hours all to itself in Comic-Con's marquee space, Hall H, which will include a live reading by the cast of season one's penultimate episode. Maybe live and in person the spark of Preacher will finally turn into an undeniable fire.  — JC

What will 2016's surprise breakout be?
At last year's Comic-Con, the trailers for Suicide Squad and Deadpool both leaked out of their respective presentations, and each one promptly tore through the internet like wildfire through the Sept of Baelor. The studios were pissed about their exclusive content getting out, but the buzz far outdrew more higher-profile movies at the Con, a good indication that they'd go on to exceed expectations. (The previous year, the super-sized trailer for Mad Max: Fury Road came out of nowhere and had attendees rightfully convinced it would be one of the best action movies ever made.) So what will this year's SDCC sleeper hit be? As soon as we know, you'll know. —JC