American Sniper Fans Are Upset Bradley Cooper Attended the DNC
The fake baby didn't attend, so it is probably still okay to like her.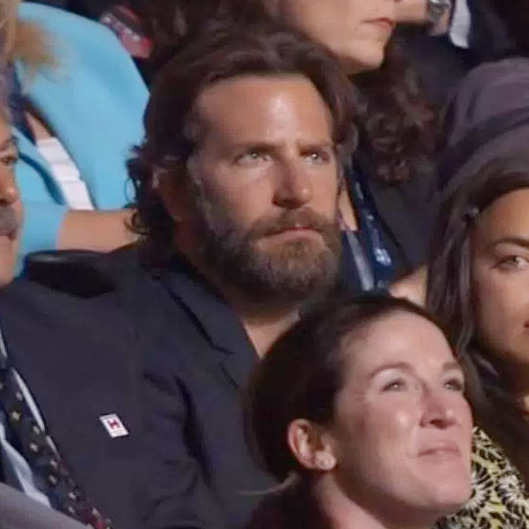 After spotting him during the DNC telecast this week, some fans were upset that Bradley Cooper, who famously portrayed late Navy SEAL veteran Chris Kyle in Clint Eastwood's 2014 war drama American Sniper, is apparently a Democrat. While some viewers seemed to perceive Cooper's attendance as a snub to Kyle's conservative values, others seem dismayed that Cooper would dishonor the memory of the late marksman by not doing everything a group of strangers on Twitter think Kyle would have done for the rest of his life. In a twist that must be even more galling to those moved to comment, Josh Gad, of all people, had the most salient rebuttal.
Couldn't be more disappointed in #BradleyCooper (@BradleyCooperUS) for attending #DNC. Proved he is not worthy to tie Chris Kyle's boots.

— AWR Hawkins (@AWRHawkins) July 29, 2016
Bradley Cooper is promoting Hillary? Too bad. He's dead to me now. pic.twitter.com/gXJ4ahO8YK

— David O'Neill (@garlicfries95) July 28, 2016
Bradley Cooper at DNC?! Guess I've seen my last Bradley Cooper movie. Ewww Ick

— The Real ExTex (@theRealExTex) July 28, 2016
I have a list of celebrities that support Socialism I refuse to spend another $ on. Add this one. Boycott them all. pic.twitter.com/uOFMkxSvRY

— Nat Shupe (@NatShupe) July 28, 2016
wow. bradley cooper. dead to me https://t.co/D3BK5UGwvn

— nba champ luke (@LakeEffectBro) July 28, 2016
#BradleyCooper irked #gop w/ #DNC appearance https://t.co/1eyI27FYYM Another hypocritical Hollywood hero pretender #CashingIn on real heroes

— Bernard B. Kerik (@BernardKerik) July 28, 2016
If you're that pissed about #BradleyCooper being at #DNCinPHL because of American Sniper, might I suggest imagining him as Rocket Raccoon?

— Josh Gad (@joshgad) July 28, 2016