The Best Movies About Hollywood to Stream Right Now
The finest examples of show business showing itself.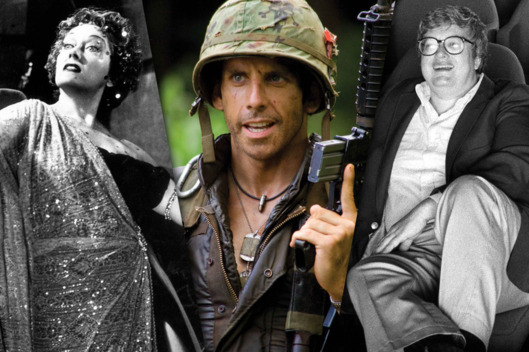 When Hollywood turns the camera on itself, the results can sometimes feel masturbatory and shallow. But there are plenty of movies that dig beneath Tinseltown's slick, artificial veneer — unearthing the insecurities, the desperation, and the wide-eyed aspirations of those who venture west to make something of themselves. With Woody Allen's Café Society expanding to theaters across the country this weekend, the dazzling trailer for La La Land transfixing the internet, and season three of BoJack Horseman now on Netflix, we've assembled a list of the best movies about Hollywood currently streaming on Netflix, Hulu Plus, HBO Go, and Amazon Prime. 
Sunset Boulevard (1950): Equal parts love story, film noir, and cautionary tale, this 1950s classic meticulously captures the inner workings of a cutthroat movie industry. Though it's primarily a tale of an aging actress who (perhaps unfairly) has faded into oblivion and is eager to stage her triumphant comeback, it's also a chance to see Billy Wilder at the top of his game. (Netflix)
Mondo Hollywood (1967): Shot from 1965 till 1967, this psychedelic documentary offers up a raw account of L.A. life in the 1960s. For two hours, the roving camera (operated by director Robert Carl Cohen) stumbles across the sprawling city capturing its comings and goings in a manner similar to a travelogue. We see a gaggle of hippies listening to Baba Ram Dass, heated protests of the Vietnam War, and so much more in this cult classic. (Hulu Plus)
F for Fake (1973): Although only a fraction of this genre-defying masterpiece was filmed in L.A. (at the Beverly Hills Hotel), there's no greater movie about movies (and, by extension, Hollywood) than F for Fake. Orson Welles simultaneously examines and partakes in the subterfuge of moviemaking, blending narrative with documentary until you can't tell the difference between the two. By the end, Welles pulls off the grandest trick of all: creating a movie even better than Citizen Kane. (Hulu Plus)
Modern Romance (1981): Even in 2016, Albert Brooks remains a timeless fixture of L.A. This is particularly true in the films where he's both behind and in front of the camera. In Modern Romance, he plays a film editor whose life is spiraling out of control since breaking up with his eternally on-again, off-again girlfriend Mary (Kathryn Harrold). Few things are as seriocomic as Brooks buying running shoes and working out as he tries to start anew. (Netflix)
Chaplin (1992): Robert Downey Jr. was once an actor who appeared in daring films that weren't exclusively oversized tentpoles. Case in point: Chaplin, a prismatic portrait of legendary silent-film star Charlie Chaplin. It's one of the few biopics that isn't content telling a formulaic, cradle-to-grave story. Downey deservedly received a Best Actor nomination for the part. (Netflix)
Bowfinger (1999): Bowfinger catches Eddie Murphy right before his decline as both an action star and a brace-face actor cast in a low-budget movie. While some segments feel dated, the pairing of Murphy and Steve Martin is mostly effective at illuminating the silliness of stardom. (Netflix)
Big Fat Liar (2002): For profundity, search elsewhere, but this is one of the only Frankie Muniz–Amanda Bynes movies that still holds up. Muniz plays a duplicitous teenager whose class essay finds itself in the hands of hotshot Hollywood producer Marty Wolf (Paul Giamatti). Wolf takes the school assignment and turns it into movie magic. The film is a breezy game of cat and mouse, bolstered by Giamatti's performance, which is a masterclass in cartoonish villainy. (HBO Go) 
Tropic Thunder (2008): If Hearts of Darkness: A Filmmaker's Apocalypse — the iconic documentary about the historically tumultuous making of Francis Ford Coppola's Apocalypse Now — was transmuted into a comedy, it would look a lot like Tropic Thunder. Directed by Ben Stiller, the movie doubles as a searing satire of show business and a thrilling action film. (HBO Go)
Shrink (2009): Dr. Henry Carter (Kevin Spacey) is a celebrity therapist who self-medicates with pot to forget about the recent death of his wife. Without taking himself unbearably seriously, Spacey manages to elevate this middling premise into something powerful and moving. We also receive a candid and comic look at the inanity of first-world problems in the entertainment industry through Carter's clientele. (HBO Go)
Somewhere (2010): Director Sofia Coppola is quite familiar with the superficial pleasantries of the entertainment industry, and in Somewhere, she mocks it all: the casting calls, vacuous press junkets, and insipid lunch meetings. Tucked away inside Somewhere, though, is a vulnerable father-daughter story that manages to hit on a gut level. (Netflix)
Seven Psychopaths (2012): Unobtrusively self-aware and meta, Martin McDonagh's fast-paced comedy-action romp is a hidden gem. The whole cast — from Christopher Walken to Woody Harrelson to Gabourey Sidibe — knocks it out of the park, comedy-wise. This is especially true of Colin Farrell, who plays a struggling screenwriter who unexpectedly stumbles upon the greatest yarn of his career. (Amazon Prime)
Behind the Candelabra (2013): Steven Soderbergh's "last" film is as much about the life and times of Liberace (Michael Douglas) as it is about dispensability. In Soderbergh's cruel, Botox-driven world of fame and fortune, nothing — and no one — is forever. Especially fame. (HBO Go) 
Life Itself (2014): Legendary film critic Roger Ebert was boldly opinionated, but he was also fair and generous. Venerable documentarian Steve James (Hoop Dreams, The Interrupters) turns his camera on Ebert in the final year of his life, before the inimitable critic went gently into that good night. The result is a breathtaking document of a clear-eyed writer and human who understood that the key to a rewarding existence is empathy. (Netflix)
Maps to the Stars (2015): Oscillating back and forth between satirical masterpiece and bloated trash, David Cronenberg's seedy snapshot of L.A. is nothing if not interesting. None of it makes any sense, or maybe all of it does. I still can't decide. (HBO Go)
Love & Mercy (2015): There are two diverging movies lodged inside director Bill Pohlad's sophomore effort. One half is a creative fever dream fueled by genius, ambition, and LSD (featuring a young Brian Wilson, played by Paul Dano). The other half is a nightmare involving a predatory manager (Paul Giamatti) and his mentally ill client (an older Brian Wilson, played by John Cusack). Together these two halves form a strange amalgamation of a movie about one of the most gifted musicians of the 20th century. (Amazon Prime, Hulu) 
Even though they're not on streaming, these Hollywood classics, which can be rented on VOD, Amazon, and iTunes, are also worth your time and money:
Adaptation (iTunes)
All About Eve (Amazon)
The Artist (Amazon)
Barton Fink (Amazon)
Boogie Nights (iTunes)
Ed Wood (Amazon)
Get Shorty (iTunes)
Guilty by Suspicion (iTunes)
Hail, Caesar! (iTunes)
In a Lonely Place (Amazon)
L.A. Confidential (Amazon)
The Player (iTunes)
The Purple Rose of Cairo (Amazon)
Singin' in the Rain (iTunes)
Stardust Memories (Amazon)
Sullivan's Travels (iTunes)
Whatever Happened to Baby Jane? (iTunes)
Who Framed Roger Rabbit (Amazon)