Blink-182 Finally Took the No. 1 Album Away From Drake — What's Our Age Again?
It's like 2001 all over again.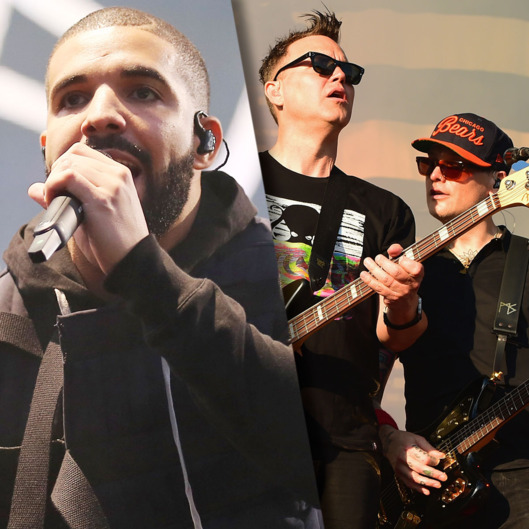 Quick, what year is it? While the world reclaimed its collective youth this weekend by catching Pokémon IRL, so, too, did Blink-182, but on the charts. For the first time in 15 years, Mark, Travis, and Not Tom have the No. 1 album in the country, which means for the first time in nine weeks, Drake doesn't. It's true: We've all tripped and fallen into a time portal straight to the early aughts. What's my age again? 11? 26? Gah! Except if we were still acting like broke freshmen, it's rather unlikely Blink-182 would've sold as much as they did. California — the band's first album in five years, and first without Tom DeLonge — debuted with 186,000 album equivalents, 172,000 of which were pure sales, giving them the third-biggest sales week for a rock act this year (just behind David Bowie and Radiohead). Drake's Views has now been bumped to No. 2, ending an auspicious run for a hip-hop album that's only been bested by Vanilla Ice and M.C. Hammer. The last time Blink-182 were No. 1, Drake was still on Degrassi and we were all just young Pokémasters on our Gameboys at recess. Well, I guess this is growing up?