Celebrities React to the Death of Elie Wiesel
Wiesel's many admirers are now mourning his death.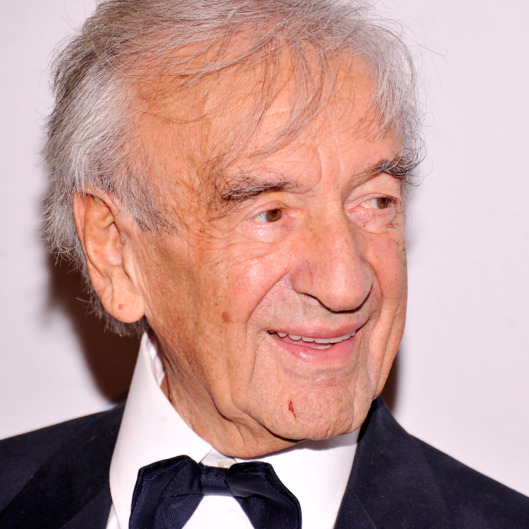 Author, Holocaust survivor, and Nobel Peace Prize Laureate Elie Wiesel died on Saturday at the age of 87. Wiesel's hugely influential 1955 memoir Night documented his experiences in the Holocaust, notably his time at the Auschwitz concentration camp. Wiesel subsequently spent much of his life working to keep the memory of the Holocaust from fading. In the wake of his death, the many affected by his work have taken to social media and elsewhere to pay their respects to Wiesel and to reaffirm his message and memory. Read on for the touching tributes.
George Clooney, in a statement: "Unless you're 88 years old most of us have not lived in a world without Elie Wiesel. We had a champion who carried our pain, our guilt and our responsibility on his shoulders for generations. Now he's gone. It's hard to fathom. So I guess it's up to us now. To fight for the disenfranchised. To speak truth to power and to never forget how cruel man can be to man. In memory of Elie it's the least we can do. Rest in peace my friend. You brought us this far. We'll take it from here."
Elie Wiesel was a great moral voice of our time and a conscience for our world. He was also a dear friend. We will miss him deeply.

— President Obama (@POTUS) July 2, 2016
Thank you Elie Wiesel. The world is profoundly better because you were here.

— Lin-Manuel Miranda (@Lin_Manuel) July 2, 2016
We will never forget, Elie Wiesel. That, you can rest knowing. You were a light in the night & the world mourns your passing. #neverforget

— Jamie Lee Curtis (@jamieleecurtis) July 3, 2016
Read "Night" at 11. A year later, in a hotel lobby, I shook his hand. What I remember is having no words to say. https://t.co/czyaTcSvSr

— David Simon (@AoDespair) July 2, 2016
Elie Wiesel is gone. Please don't forget him. Please don't forget what he taught us.

— Mara Wilson (@MaraWritesStuff) July 2, 2016
"There are victories of the soul and spirit. Sometimes, even if you lose, you win."-Elie Wiesel https://t.co/xKsHjJEdqg

— Ann Curry (@AnnCurry) July 2, 2016
I remember reading Elie Wiesel's NIGHT in high school and feeling my world explode.

— Mark Duplass (@MarkDuplass) July 2, 2016
Elie Wiesel was a great man. Thank you for the time you spent educating and enriching us all. https://t.co/OtyBgrsTna

— Katie Couric (@katiecouric) July 2, 2016
His message, his experience must never be forgotten. What a great man and what a loss to our ever divisive world. https://t.co/mxY3zbYUmT

— josh groban (@joshgroban) July 2, 2016
The opposite of love is not hate, it's indifference. - Elie Wiesel ---https://t.co/n2TpQHy1kK via @TheWorldPost

— Rosie (@Rosie) July 2, 2016
What a life! What a loss for us all! https://t.co/xIhGKRUVAh

— Rob Lowe (@RobLowe) July 2, 2016
I am deeply saddened to know Elie Wiesel has passed away. He was one of humanity's brightest lights. He'll be profoundly missed.

— Paula Abdul (@PaulaAbdul) July 3, 2016
There may be times when we are powerless to prevent injustice, but there must never be a time when we fail to protest. - Elie Wiesel RIP

— mia farrow (@MiaFarrow) July 2, 2016
RIP Elie Wiesel, Nobel Peace Prize laureate, #Auschwitz survivor, profific author, dies at 87

— Eriq La Salle (@EriqLaSalle23) July 2, 2016
The great Elie Wiesel, survivor of the Holocaust, has left us at the age of 87. I have tears in my eyes... https://t.co/Rqdxtpj5hZ

— Anne Rice (@AnneRiceAuthor) July 2, 2016
So sorry to hear of #ElieWiesel's passing. I knew him well. He was a great man and a wonderful writer. Rest in peace.

— Larry King (@kingsthings) July 2, 2016
So sad to see Elie Wiesel has passed. He was such an inspiration to so many people: https://t.co/wFY0u5pejn #eliewiesel

— Dan Rather (@DanRather) July 2, 2016