Comic-Con 2016 Wrap-up: The Winners, the Surprises, and Oliver Stone's Disdain for Pokémon Go
Looks like DC's Extended Universe may have some life left in it yet.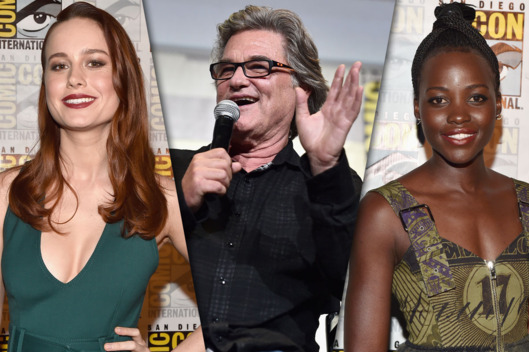 Another Comic-Con has come and gone, except this year, there wasn't any Wi-Fi. Nevertheless, your trustworthy Vulture correspondents were there to scope out the fest, and we've returned with hard-earned insight. Who's coming out of the convention with momentum? Who's got some work to do? And what exactly is an Ego, the Living Planet? All this and more in our Winners and Losers of Comic-Con 2016.
Happiest Campers: Game of Thrones
Coming off arguably its best season yet, Game of Thrones is in a wonderful place, having both cleaned up some of its story concerns and addressed the sexual violence that nearly overwhelmed the conversation last year. So it wasn't much of a surprise that the Game of Thrones panel in Hall H on Friday was less a table-setting for the future and more a victory lap: Hell, three of the actors present — Kristian Nairn (Hodor), Iwan Rheon (Ramsay Bolton), and Faye Marsay (the Waif) — play characters who died last season. (Which is a pity: All three actors were delightful.) When showrunners David Benioff and D.B. Weiss were posed questions about the future, they batted them away with the security of men who don't need to say a damn word. The major video offering? A blooper reel. This was the TV equivalent of a show accepting its championship trophy. Sure, there's more work to be done. But these guys are on top of the world. —Kevin Lincoln
Most Impressive Debut: Marvel TV
This was the first San Diego Comic-Con since a Disney reshuffle left Marvel's screen operations bifurcated, with Kevin Feige's Marvel Studios organizationally separated from Jeph Loeb's Marvel Television — and although Marvel Studios's Hall H panel was undoubtedly a bigger deal, Marvel TV gave its big-screen cousin a run for its money. One of the first hit events of the weekend was Thursday night's beyond-capacity panel about the upcoming Netflix offering Marvel's Luke Cage. It whipped the crowd into a frenzy with the racially conscious charisma of showrunner Cheo Hodari Coker and an array of show clips. Folks outside the audience then got to watch three Netflix-oriented videos released on Twitter and YouTube: an O.D.B.-soundtracked trailer for Luke Cage, the first teaser for next year's Marvel's Iron Fist, and even a short teaser-of-a-teaser for the team-up series The Defenders. The next day, Marvel's sole remaining ABC offering, Marvel's Agents of S.H.I.E.L.D., revealed that its next season will see the introduction of longrunning Marvel character Ghost Rider into the Marvel Cinematic Universe. But perhaps the most exciting Marvel Television surprise was the Friday reveal of the first trailer for Noah Hawley's mysterious, X-Men-adjacent FX show Legion — a show that represents a remarkable détente between longtime superhero rivals Disney and Fox. It was weird, it was gorgeous, and it foretells intelligent new things for televised superhero fiction. —Abraham Riesman
Most Improved: DC Entertainment / Warner Bros.
Let us not further belabor the fact that folks did not like Batman v. Superman: Dawn of Justice. DC knows this, and it is working super hard to make sure that everyone knows that it knows. While we've been building to this for a while now, Comic-Con marked a milestone, because it provided actual proof in the form of two fresh trailers, one for Justice League and one for Wonder Woman. So what did we learn? Contrary to the accountants-at-a-funeral tone of BvS, Justice League appears to feature honest-to-God moments of humor, and Wonder Woman just looks straight-up good, with a bravura visual scheme that combines the lush textures of DC at its best with the panache and dynamism of a Marvel movie. Most of all, both films appear to have distinct character, not just Themes and Opera Music. Combined with the promising Suicide Squad, there's no reason to think that Comic-Con 2016 won't mark the point at which a Marvel contender finally emerged. —KL
Biggest Charmer: Gal Gadot
The Wonder Woman trailer was even buzzier than the Justice League teaser that shortly followed it, but even that clip was nowhere near as galvanizing as Gal Gadot herself. At Hall H, she was endearingly excited about her character's solo voyage, acting out super-poses for the fans and, out of breath after watching the trailer for the first time, apologizing for the occasional ramble with a big, goofy grin: "I'm dancing the samba from within." —Kyle Buchanan
Strongest Debut: Brie Larson
Nice year Brie Larson had. She went from being an indie actor best known for her work in a movie that made a million dollars at the box office to:

1. A Best Actress winner
2. Headliner of the big-budget reimagining of King Kong
3. Title star of first-ever female-fronted Marvel Cinematic Universe movie
For Larson, Comic-Con 2016 functioned as the beginning of the second act in a career whose first act ended back in February with that Oscar. She was cast in Kong: Skull Island just before Room came out, a good bet if there ever was one, and its trailer debut this weekend provides early footage of her first time toplining a big-budget tentpole. Meanwhile, her role as Captain Marvel, which was announced at the Con, provides both her entry into the superhero world and a culturally significant film for the Disney/Marvel juggernaut, which also hope to attach a female director to the project, another potential first for the MCU. Nice career Brie Larson has. —KL
Best Universal Theme: Roles for Women Are Improving
The conversation about gender parity on screen has never been louder than it is right now. Over the course of Comic-Con, actresses from film and television spoke about how grateful they were to be playing strong female roles, and how essential that is to adjusting the narrative about women in media and inspiring viewers. It came up in events for Valerian, The Walking Dead, Fear the Walking Dead, Sherlock, Colony, Mr. Robot, and Scream Queens, and the sentiment was expressed by a diverse group of women. Hollywood is not yet what you would call a female-friendly industry, but the proof of progress is starting to show up onscreen, and actresses are feeling emboldened to express that quality roles aren't just welcome — they're expected. —Jordan Crucchiola
Best Space Rihanna: Valerian
Luc Besson's mega-budget space opera was supposed to be his return to the form he perfected in The Fifth Element, and while plenty of fans were intrigued, the goofy effects and questionable star chemistry sometimes had us thinking of John Carter. Still, the film had a trump card to play: In one briefly glimpsed scene, lead Dane DeHaan goes to a space brothel run by Ethan Hawke, who serves up quite the dish: Freakin' Rihanna, dressed up like Liza Minnelli in Cabaret. However uneven the film around it might end up being, #spacerihanna is a can't-miss. —KB
Weirdest Character Addition: Kurt Russell As Ego the Living Planet
When Kurt Russell was added to Guardians of the Galaxy Vol. 2 as the long-lost dad to Chris Pratt's Star-Lord, fans began speculating as to who he might be playing. Would director James Gunn hew to comic-book convention and cast Russell as J'son, the space emperor that birthed Star-Lord? Maybe instead, Russell would be playing the popular Adam Warlock, retrofitted as a family member of our hero? Both guesses proved to be way off the mark: As revealed in the Guardians 2 trailer, Russell is playing Ego the Living Planet, one of Marvel's weirdest creations ever. This sentient hunk of galactic rock can reshape itself however it likes and has taken on human form, and this character choice proves that Gunn has no intentions of playing it safe and will continue to push his franchise into the most offbeat regions of outer space. —KB
Best Casting Announcements: Black Panther
With Lupita Nyong'o and Danai Gurira now officially confirmed to play opposite Michael B. Jordan and Chadwick Boseman in Black Panther, Ryan Coogler's film just became the most exciting future property in the Marvel Cinematic Universe, featuring the first black superhero to carry a movie since Wesley Snipes starred in the Blade trilogy. We'll also finally get to see Nyong'o's face — like, actual face — in a big-budget movie and witness Gurira showing off the dramatic acting chops we know she has. —JC
Unlikeliest Presence: Oliver Stone
While waiting for a screening of Snowden to start in a theater a mile away from the Convention Center, I saw a hawklike man being greeted by a pair of middle-aged well-wishers: "Welcome to San Diego, Mr. Stone." I can't tell you whether Oliver Stone felt welcome at the very un–Oliver Stone Comic-Con, but he certainly made his presence felt, bemoaning Pokémon Go in Hall H and beaming in Edward Snowden, via a lagging Google Hangouts connection direct from his apartment in Moscow, to talk with his onscreen avatar, Joseph Gordon-Levitt. Prior to the screening, Stone even delivered a pre-taped "turn off your phone" message, but with the additional suggestion that you probably shouldn't turn it on ever again, because it's spying on you for the government. Meanwhile, the Nerd Super Bowl raged around him. Think that's ironic? Well, Oliver Stone would like 2 hours and 15 minutes of your time. —KL
Likeliest Presence: Pokémon Go
I'm going to level with you here: Pokémon Go is out of control. You couldn't walk more than six feet in San Diego this weekend without literally running into some kid hunchbacked over his phone, pivoting like a whacked-out Roomba, babbling to his similarly poised buddy about Charizards. (Disclaimer: I picked a Pokémon at random here. I have no idea if there are Charizards in San Diego. Please do not go there in search of one.) Now, I'm not trying to tell people how to spend their leisure time, or their work time, or the time that used to be "walking time," but … it looks even weirder when you're dressed like this. —KL
Most Surprising Revamp: Spider-Man: Homecoming
I was surprised to find myself left sort of cold by all the Doctor Strange footage we saw: While it all looks perfectly competent, this cosmic trip through Benedict Cumberbatch's mind and soul seemed a bit visually prosaic, and the story hit a lot of the same beats we've seen as recently as Batman Begins. Ironic, then, that another Marvel movie I feared would be superfluous — Spider-Man: Homecoming, the third attempt to reboot this character in under a decade — actually had a leg up. Director Jon Watts has described this Spider-Man as an homage to John Hughes movies, and in the well-cut trailer featuring stars Tom Holland and Zendaya, we got such an appealing sense of Peter Parker's high-school ecosystem that it came as a shock when actual crime-fighting had to complicate things. Leave it to Marvel Studios to figure out a fresh take on this well-worn material. —KB
Best Clip: Taika Waititi's Thor mockumentary
The best bit of exclusive footage I saw at Comic-Con was no trailer: Instead, it was Thor: Ragnarok director Taika Waititi's hilarious little mockumentary exploring what Thor was up to while his pals in the Avengers fought each other in Captain America: Civil War. Turns out he was twiddling his thumbs down under, a free agent waiting for a call from Tony Stark but not above sending needling emails to Captain America, either: "Remember the time I goaded you into killing all those prisoners and promised to never tell the Avengers?" Thor writes. "I still haven't." The best part: Thor's Homeland-like information wall where he tries to unravel the mystery of the Infinity Stones and has come to only three key conclusions about big baddie Thanos: "1) purple 2) wears a glove 3) doesn't like standing up." —KB
Biggest dip in Comic-Con capital: Tom Hiddelston
At Marvel's panel in 2013, Hiddelston stole the show when he appeared on stage as his character, Loki, who at that point had become a major fan favorite in the studio's expanding cinematic universe. He was The Internet's Boyfriend, and when he was axed from Avengers: Age of Ultron a number of of fans were vocally pissed. We couldn't get enough of the ever-charming Brit. Skip ahead to the present Con, which saw him as the also-ran next to his Kong: Skull Island co-star Brie Larson. Whether that's attributable to that monumental Comic-Con Larson was having or lingering Hiddleswift skepticism and fatigue, the result is that just showing up as Tom Hiddelston no longer makes Tumblr pregnant. That means the bump he previously would have brought to Skull Island is now diminished. It seems we are no longer waiting up all night to get Loki. —JB
Most uncomfortable audience question
During the Q&A portion of the Mr. Robot panel, one well-meaning young woman stepped up to the microphone and, feeling her moment tangibly in her hands, proceeded to ask Rami Malek if he could teach her how to walk like an Egyptian. The room murmured uncomfortably, Malek seemed unable to fully process the joke at all, and the woman quickly asked her real question in an apparent attempt to erase the previous statement entirely. The pressure of the spotlight is real. —JC