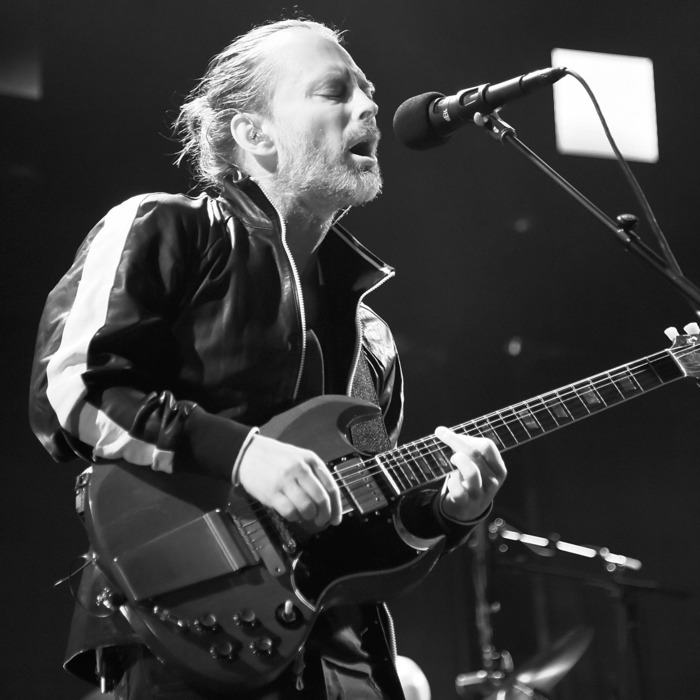 NEW YORK, NY - JULY 26: (Editors Note: Image has been converted to black and white) Thom Yorke of Radiohead performs at Madison Square Garden on July 26, 2016 in New York City. (Photo by Kevin Mazur/Getty Images)
Radiohead has always bucked trends, in business models, in politics, but mostly in music. The band never sounded like 1997 in 1997, or 2003 in 2003, and last night at Madison Square Garden, its first show there in a decade, the band's rebel impulses danced with arch musicianship, providing much-needed respite from the month's political electioneering.
The group's recent ninth album, A Moon Shaped Pool, was very much the evening's focus; Radiohead played its first five songs in order to open the show, and returned to deeper cuts later on. Pool's anguished acoustic expanse opened up a new avenue in the band's careful balance between experimental electronics and downcast rock and roll. The Bends opener "Planet Telex" slid carefully into the new album's stately "The Numbers," and later, the slow-burning tropicalia-infused malaise of "Present Tense" fit perfectly between OK Computer classics "Let Down" (which hadn't been played live in ten years) and Radiohead's signature song, "Paranoid Android."
Elsewhere, Radiohead showcased range not just in a sprawling set list that successfully transformed "Myxomatosis" and "Idioteque" into a dance party, but in a freewheeling approach to instrumentation. Singer Thom Yorke spent "Idioteque" dancing around the stage chanting the song's lyrics while multi-instrumentalist Jonny Greenwood chopped and warped the vocals on the spot. But for "Everything in Its Right Place," Yorke played keys, and he often served as a third guitar behind Greenwood and full-time guitarist Ed O'Brien. Longtime drummer Phil Selway's limber low end was frequently doubled by Portishead stick man Clive Deamer, whose addition made the band's rhythmic front by turns more hefty and enticingly intricate.
Though this band has existed in some form since its members met in school in the mid-'80s, many of its songs of workaday terror have a renewed significance amid the growing demagoguery of Donald Trump. This was never more apparent than in the show opener "Burn the Witch," a song off A Moon Shaped Pool written around 2002 whose paranoiac lyrics about "a low flying panic attack" apply as much to a Trump-sympathetic America as they did to Bush's. Later, the "Idioteque" chant of "We're not scaremongering, this is really happening" hit hard, and "The National Anthem" crackled underfoot with the sound of a radio host chatting about Hillary Clinton.
Radiohead found timelessness in pushing back against the times. Through dogged experimentation, the band created a unique musical language to express itself and set about cataloguing mounting fears of a rapidly changing world. As we zipped through songs written across three different decades last night, it became apparent that there will never be a shortage of smirking political baddies for these songs of rage and anomie to apply to.