A Surprising Number of Scary Space Dramas Are Available to Watch on the International Space Station
In space, nobody can hear you stream.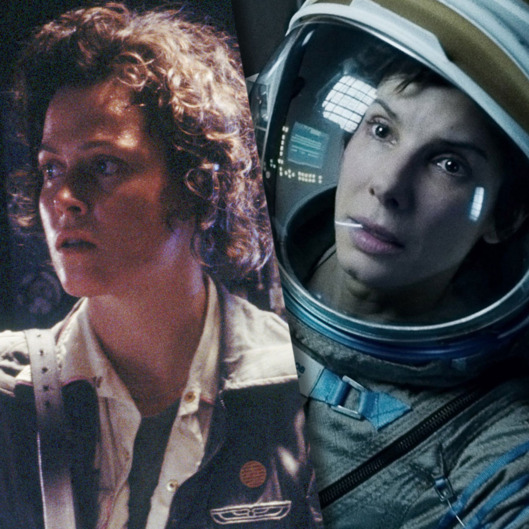 Astronauts, they're just like us! After a long and fulfilling day at the office — you know, in this case, casually orbiting Earth in the International Space Station for research and exploration — they just want to sit back, put their feet up, and watch something while comfortably strapped down in a plush recliner. (That pesky microgravity, amirite?) But while we may think about how these brave astronauts manage to eat and shower in space, we often neglect another important facet of their expeditions: What do they do to relax?
Gizmodo has given us a bit of insight on the matter, utilizing the Freedom of Information Act to obtain a complete list of the movies and television shows currently available for the ISS for astronauts to watch. While there are a solid number of light options — one can never tire of Seinfeld reruns and Love Actually viewings — perhaps the big surprise is the number of films about things going terribly wrong in space. There's everything from Gravity to Alien, Alien 3, and Alien Resurrection. Bored astronauts can make a triple feature out of Armageddon, 2001: A Space Odyssey, and Moon. (And for some space camp and adventure, there's a lot of Star Wars, Star Trek, and Firefly.) When you're done visualizing how terrifying watching Gravity would be while living on a satellite orbiting Earth, check out the complete list:
1941
12 Monkeys
12 Years a Slave
2 Fast 2 Furious
20,000 Leagues Under the Sea
2001: A Space Odyssey
21 Jump Street
24 (Seasons 1-8)
48 Hours
8 Mile
A Christmas Carol
A Christmas Story
A Knights Tale
A Man and a Woman
A Night at the Opera
A Night at the Roxbury
A Perfect Murder
A Prairie Home Companion
A Room with a View
Absolutely Fabulous (Seasons 1-3)
Air Force One
Airplane
Alias (Season 1)
Alien
Alien 3
Alien Resurrection
Aliens
All Good Things
Along Came Polly
Always
American Gangster
American Sniper
American Wedding
An American in Paris
An Article of Hope
Analyze This
Anchorman
Anchorman 2
Animal House (1978)
Argo
Armageddon
Around the World in 80 Days (1956)
Around the World in 80 Days (2004)
Arrow (Season 1)
Arsenic and Old Lace
As Good as it Gets
Austin Powers International Man of Mystery
Austin Powers The Spy Who Shagged Me
Australia
Avatar
Baby Mama
Back to Bataan
Back to the Future
Back to the Future Part II
Back to the Future Part III
Backdraft
Band of Brothers Season 1
Bataan
Batman Forever
Batman Returns
Battle for the Planet of the Apes
Battle of Britain
Battleship
Beneath the Planet of the Apes
Ben-Hur
Better Call Saul Season 1
Beverly Hills Cop II
Beverly Hills Cop III
Big Bang Theory (Seasons 1-8)
Big Eyes
Big Jake
Billy Jack
Birdman, or the Unexpected Virtue of Ignorance
Black Hawk Down
Black Mask
Black Swan
Blade Runner
Blazing Saddles Blended
Blue Planet Frozen Seas
Blue Planet Ocean World
Blues Brothers
Bob Newhart Button-Down Concert
Body of Lies
Braveheart
Breaking Bad (Seasons 1-6)
Bridesmaids
Bull Durham
Caddyshack
Cahill United States Marshal
Captain America: The First Avenger
Captain America: The Winter Soldier Captain Phillips
Casablanca
Cast Away
Catch-22
Celtic Woman Songs from the Heart Chance Are
Chariots of Fire
Charlie St Cloud
Children of Men
Chisum
Chitty Chitty Bang Bang
Christmas Vacation
Christmas with the Kranks
Citizen Kane
City of Angels
City Slickers
Close Encounters of the Third Kind
Comic Relief
Conquest of the Planet of the Apes
Contact
Corrina, Corrina
Cosmos (Season 1)
Courage Under Fire
Courageous
Cowboys & Aliens
Crazy Stupid Love
Creation
Crimson Tide
Crouching Tiger Hidden Dragon
Dances with Wolves
Dark Star
Dark Tide
Date Night
Destination Tokyo
Dial M for Murder
Die Hard
Die Hard 2
Dirty Dozen
Divergent
Django Unchained
Dodgeball
Don't Say a Word
Dr. No
Dr. Strangelove
Draft Day
Duck Soup
Dumb And Dumber To
Eagle Eye
East/West
Eastern Promises
Edge of Tomorrow
El Dorado
Elf
Elizabeth
The Golden Age
End of Days
Ender's Game
Enemy at the Gates
Entrapment
Escape from the Planet of the Apes
Faithful John
Falling Down
Falling Skies (Seasons 1-4)
Fantastic 4 Rise of the Silver Surfer
Fargo
Father of the Bride (1950)
Field of Dreams
Firefly (Season 1)
Fletch
Forbidden Planet
Forget Paris
Forrest Gump
Four Christmases
Fred Claus
Frequency
Friends With Benefits
From Russia with Love
Fugitive Pieces
Full Metal Jacket
Fury
G.I. Jane
Galaxy Quest
Get Him to the Greek
Gettysburg
Ghostbusters
Gladiator
Godzilla (2014)
Going My Way
Gone in 60 Seconds
Good Luck Chuck
GoodFellas
Gravity
Greenfingers
Groundhog Day
Guardians of the Galaxy
Hall Pass
Hancock
Happy Feet
Harry Potter and the Half Blood Prince
Heart and Souls
Heaven Can Wait
Hellfighters
Her
Homeland (Seasons 1-3)
Hondo
Hoosiers
Hot Fuzz
House of Cards (Seasons 1-3)
How Do You Know
I Am Legend
I Confess (1953)
In Bruges
In Her Shoes
Inglourious Basterds
Inside Man
Ironman
Irony of Fate
It's a Mad Mad Mad World
It's a Wonderful Life
It's the Great Pumpkin, Charlie Brown
Jack Ryan-Shadow Recruit
James Taylor Squibnocket
Journey to the Center of the Earth
Kelly's Heroes
Kill Bill Volume I
Kill Bill Volume II
Killing Lincoln
Kingdom of Heaven
Kingsman: The Secret Service
Kiss of the Dragon
L.A. Confidential
Ladder 49
Laura Croft Tomb Raider
Legionnaire
Les Miserables
Lethal Weapon
Lethal Weapon 2
Lethal Weapon 3
Lethal Weapon 4
Leviathan
Life (Season 1)
Like Mike
Limitless
Lincoln
Lincoln Lawyer
Lion of the Desert
Little Fockers
Little Red Riding Hood
Live Free or Die Hard
Lone Survivor
Looper
Love Actually
Love and Basketball
Love in the Afternoon
Madagascar Escape 2 Africa
Magnolia
Mamma Mia!
March of the Penguins
Mars Attacks
Marvel, Agents of Shield Season 1
McLintock!
Meet Me in St. Louis
Meet the Spartans
Memento
Memphis Belle
Men in Black
Million Dollar Arm
Miracle
Miracle at St. Anna
Miracle on 34th Street (1947)
Mission: Impossible (1996)
Mission: Impossible III
Mogambo
Modern Family (Seasons 1-5)
Moneyball
Monty Python and the Holy Grail
Moon
Moonraker
Moonrise Kingdom
Moulin Rouge (2001)
Mr. Smith Goes to Washington
Mrs. Miniver
My Best Friends Girl
Mysterious Island
Mystery Men
Mythbusters (Seasons 1-7)
Narnia The Voyage of the Dawn Treader
National Lampoon's Vacation (1983)
Newsroom (Season 1)
Ninja Assassin
No Way Out
North by Northwest
North Face
North to Alaska
Nothing to Lose
Notorious (1946)
Now, Voyager
O Brother Where Art Thou?
Oblivion
Oceans
Oceans Thirteen
Old School
Olympus Has Fallen
Parental Guidance
Paul
Payback
Penelope
Pirates of the Caribbean At World's End
Pirates of the Caribbean The Curse of the Black Pearl
Planes, Trains and Automobiles
Planet of the Apes (2001)
Platoon
Pleasantville
Premium Rush
Pride and Glory
Pulp Fiction
Raising Arizona
Rat Race
Real Steel
Rear Window
Return to Me
Righteous Kill
Rio Bravo
Rio Lobo
Rise of the Planet of the Apes
Robin Hood: Prince of Thieves (1991)
Robocop
Rocketman
Roman Holiday
Ronin
Rookie of the Year
Rudy
Rules of Engagement
Runner Runner
Rush Hour
Satellite in the Sky
Saving Private Ryan
Scott Pilgrim vs the World
Scrooged
Se7en
Seinfeld (Seasons 1-3)
Sense and Sensibility
Serenity
Seven Brides for Seven Brothers
Seven Samurai
Shaft (1971)
Shallow Hal
Shaun of the Dead
Sherlock (Seasons 1-3)
Silver Linings Playbook
Silverado
Skyfall
Sleepless in Seattle
Slumdog Millionaire
So I Married an Axe Murderer
Son of God
Spartacus
Speed
Spider-man
Spirited Away
Splendor in the Grass
Stalingrad (2013)
Star Trek (2009)
Star Trek First Contact
Star Trek Generations
Star Trek I The Motion Picture
Star Trek II The Wrath of Khan
Star Trek III The Search for Spock
Star Trek Insurrection
Star Trek Into Darkness
Star Trek IV The Voyage Home
Star Trek Nemesis
Star Trek V The Final Frontier
Star Trek VI The Undiscovered Country
Star Wars I The Phantom Menace
Star Wars II Attack of the Clones
Star Wars III Revenge of the Sith
Star Wars IV A New Hope
Star Wars the Clone Wars
Star Wars V The Empire Strikes Back
Star Wars VI Return of the Jedi
Stardust
Starship Troopers
Starsky & Hutch
Step Brothers
Superman
Superman II
Superman Returns
Supernatural (Seasons 1-9)
Swing Vote
Swingers
Talladega Nights
Tank Girl
Terminator 2: Judgment Day
That Thing You Do
The Americans (Seasons 1-3)
The Avengers (2012)
The Aviator
The Bad News Bears
The Beast From 20,000 Fathams
The Best Bits of Mr. Bean
The Best of Comedy Central Presents
The Best of Comedy Central Presents II
The Big Lebowski
The Big Sleep
The Blacklist (Seasons 1-2)
The Bone Collector
The Bourne Identity (2002)
The Bourne Supremacy
The Bourne Ultimatum
The Break-up
The Bridge on the River Kwai
The Bucket List
The Cowboys
The Dark Knight
The Dirty Dozen
The Eagle Has Landed
The Express
The Ernie Davis Story
The Fifth Element
The Fighter
The Five Pennies
The Fugitive
The Godfather
The Godfather Part II
The Godfather Part III
The Good, The Bad and the Uglt
The Goosemaiden (Die Gansemag)
The Gospel of John
The Grand Budapest Hotel
The Great Escape
The Green Berets
The Green Mile
The Guns of Navarone
The Hobbit An Unexpected Journey
The Hobbit The Desolation of Smaug
The Hunger Games Catching Fire
The Hurricane
The Ides of March
The Illusionist
The Impossible
The Interview
The Invention of Lying
The Jackal
The Last Castle
The Last Days of World War II Season 1
The Last Man on the Moon
The Last Samurai
The Last Station
The Lego Movie
The Lives of Others
The Living Sea
The Long Gray Line
The Long, Long Trailer
The Lord of the Rings: The Fellowship of the Ring
The Lord of the Rings: The Return of the King
The Lord of the Rings: The Two Towers
The Magic of Flight
The Maltese Falcon
The Manchurian Candidate (1962)
The Matrix
The Matrix Reloaded
The Middle (Seasons 1, 2, 5, 6)
The Mummy
The Music Man
The Nightmare Before Christmas
The Nutty Professor
The Office (Seasons 1-3, 5)
The Other Boleyn Girl
The Outlaw Josey Wales
The Pacific (Season 1)
The Party
The Peacemaker
The Pelican Brief
The Polar Express
The Postman Always Rings Twice
The Princess Bride
The Raven
The Replacements
The Right Stuff
The Rock
The Royal Tenenbaums
The Runaways
The Russians Are Coming
The Scout
The Secret of Keils
The Shawshank Redemption
The Sixth Sense
The Social Network
The Sons of Katie Elder
The Sopranos (Seasons 1-6)
The Sound of Music
The Terminator
The Thing (2011)
The Three Amigos
The Three Burials of Melquiades Estrada
The Time Machine
The Train Robbers
The Transporter
The Tuskegee Airmen
The Usual Suspects
The Wedding Singer
The West Wing (Seasons 1-3)
The Wizard of Oz (1939)
The Wolf of Wall Street
The World is Not Enough
The Wrestler
The Wrong Man
The Year of Living Dangerously
Them
Thirteen Days
This Is 40
This Is Spinal Tap
Thor
Thunderball
To Kill A Mockingbird
Tom Thumb
Tombstone
Top Gun
Total Recall (1990)
Total Recall (2012)
Trading Places
Training Day
Treasure Planet
Tropic Thunder
Two and a Half Men (Seasons 6-8)
U2 Elevation Live From Boston
Unbroken
W
Waiting for Superman
Wayne's World
West Side Story
When The Game Stands Tall
When We Left the Earth (Season 1)
White Christmas
Whiteout
Whose Line is it Anyway
Wild
Woman in Gold
World Without End
Young Frankenstein
Zero Dark Thirty
Zoolander