Watch NBA Stars Open the ESPYs With a Message About Racial Injustice and Violence in America
<span>Carmelo Anthony, Chris Paul, Dwyane Wade, and LeBron James speak out.<br /></span>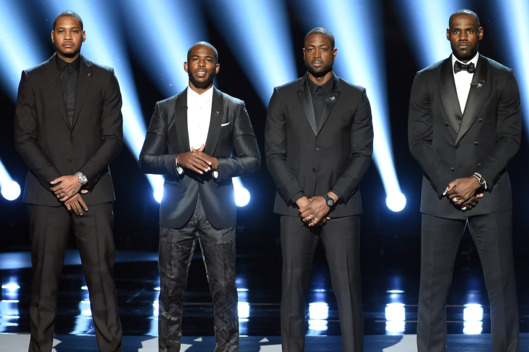 Some of the biggest names in the sports world convened in Los Angeles for the ESPY awards on Wednesday, but before host John Cena delivered his monologue and the trophies were handed out, four of the NBA's biggest stars delivered a powerful message about racial injustice and violence in America. Carmelo Anthony, Chris Paul, Dwyane Wade, and LeBron James each spoke, and the group called on their fellow athletes to use their influence to help create change.
"In this moment of celebration, we have to start the show tonight this way — the four of us talking to our fellow athletes with the country watching, because we cannot ignore the realities of the current state of America," said Carmelo Anthony of the Knicks. "The events of the past week have put a spotlight on the injustice, distrust, and anger that plague so many of us. The system is broken. The problems are not new, the violence is not new, and the the racial divide is definitely not new. But the urgency to create change is at an all time high."
Said Dwyane Wade, now of the Bulls: "The racial profiling has to stop. The shoot-to-kill mentality has to stop. Not seeing the value of black and brown bodies has to stop. But also the retaliation has to stop."
And LeBron James of the champion Cavaliers said that "Tonight, we're honoring Muhammad Ali, the GOAT. But to do his legacy any justice, let's use this moment as a call to action for all professional athletes to educate ourselves, explore these issues, speak up, use our influence, and renounce all violence."