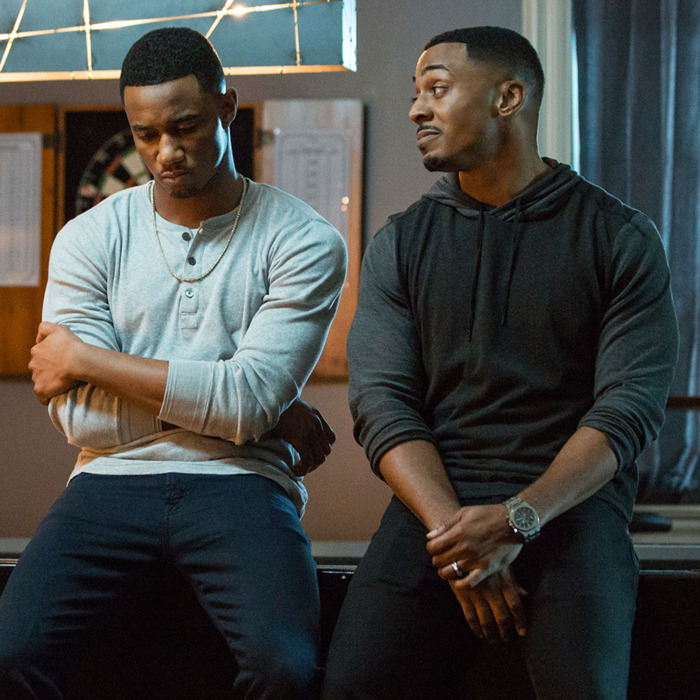 Survivor's Remorse is executive produced by one of the most famous athletes currently walking the Earth, LeBron James. But despite its association with the championship-winning basketball powerhouse, the half-hour Starz comedy hasn't generated a whole lot of buzz or broader cultural conversation — not during its first, six-episode season in 2014 nor its longer second season last year.
Blame that on the number of scripted series jockeying for media and public attention, racial bias — conscious or unconscious — toward shows with predominantly African-American casts, or the fact that those first two seasons were pretty hit or miss in terms of quality. (Oh, also feel free to blame it on the show's name, which sounds more like a snippet from a tentpole-sequel title — Batman v Superman 2: Survivor's Remorse — than a humorous look at a rising basketball star's adjustment to the good life.)
Whatever the reason for the lack of awareness of Survivor's Remorse, know this: Now's a good time to start paying attention. In its third season, which begins Sunday at 10 p.m. with back-to-back airings of the first two episodes, this immersion into the perks and problems of baller life is more sharply written, richly acted, and compelling than it's ever been.
The third season begins right where season two's cliffhanger left us: with Julius, uncle of basketball star Cam Calloway (Jessie T. Usher), clinging to life after a terrible car accident. I won't reveal exactly what happens, but will say that Mike Epps, who plays Julius, spoke publicly earlier this year about his character's fate. (It's also not a secret that he took a lead role in another series — ABC's Uncle Buck, which has since been canceled — that may have made it difficult for him to remain as integral to the Survivor's Remorse ensemble as he has been.) I also will say that Epps's character remains a presence in the first two episodes and that what happens to Julius provides a framework for season three that enables the show's characters and the actors to really challenge themselves.
The first two episodes — written by the show's creator, Mike O'Malley, best known for playing Burt Hummel on Glee — center on the aftermath of the car wreck and the way the Calloway family copes with the shock. There's a moment when Tichina Arnold as Cassie, mother of Cam and sister of Julius, completely breaks down in a hospital waiting room, revealing a vulnerability that previously has rarely seeped through her hard surface. At a particularly emotionally charged moment in episode two, Usher — who recently played the stepson of Will Smith's Independence Day alien-puncher in Independence Day: Resurgence — does the most nuanced work he's done so far on the series.
TV comedies have been tilting toward more dramatic story lines for a while now, to a degree that sometimes suggests a show won't be taken seriously unless it has a little bit of sadness in it. But in the case of Survivor's Remorse, this slight tonal shift feels both appropriate and welcome, in part because the show has always been driven by family dynamics. Also, while the Julius plotline reverberates throughout the five episodes of season three made available to critics, the story returns to the slightly lighter business the series is known for, like dealing with Cam's PR missteps or watching Mary Charles (Erica Ash), Cam's hot-headed sister, attempt to manage her anger. Even within the more humorous narrative mini-arcs, though, there's a sense that everyone in the Calloway family has adjusted to their new, one-percenter mega-mansion-in-Atlanta lifestyle and are asking themselves: Now what? With that question comes the realization that, as African-Americans originally from a poor section of Boston, they can build wholly different futures for themselves and, potentially, other members of the black community. The first two seasons of Survivor's Remorse were often compared to Entourage or Ballers, Entourage's sports-centered HBO offspring, because they luxuriated in the benefits that come with becoming a multimillionaire or being closely related to one. This season hits harder on the idea that those benefits carry an enormous sense of responsibility, especially if you're black; for the first time, the title of the show feels really relevant.
The plotlines in previous seasons of Survivor's Remorse — whose comedy dips heavily into profanity and sexual innuendo — were sometimes excessively vulgar and, at their worst, insulting. (Please, don't get me started on the season two episode where, over dinner, a female sports reporter accuses Cam of discriminating against her because of her gender, and then Cam stands up to reveal that she has given him a huge boner, and then she stands up to reveal she's now so aroused that she has a wet spot on her khakis.) I am pleased to report that, while the third season doesn't shy away from the provocative — for starters, there's a subplot in one episode that involves sex dolls — it dials back on that in favor of delving into more interesting conflicts.
The marriage between Reggie (RonReaco Lee), Cam's cousin and manager, and Missy (Teyonah Parris) remains adventurous between the sheets, but also gets more contentious as their stature as a power couple starts to rise and Missy becomes more directly involved in steering the Cam Calloway ship. The fourth and fifth episode, in particular, give Parris — who played Dawn Chambers on Mad Men and damn near set the screen on fire in Spike Lee's Chiraq — an opportunity to show off her range, whether she's going berserk over a misspelling in a thank-you note or demanding that a light-skinned model at a photo shoot be replaced by an African-American with a darker complexion. It's gratifying to see her fully popping off the screen this season.
My one major complaint about Survivor's Remorse is that we still never see Cam actually doing what's made him such a rich, famous man. There are passing references to games (yes, there's a joke about how terrible the New York Knicks are) and scenes that take place during post-game press conferences. But a professional NBA star like Cam would surely be spending large chunks of his day training, practicing, playing, and worrying about his foul-shooting percentage, not to mention hanging out with some of his fellow players. Granted, no one wants to watch an entire episode devoted to Cam running offensive drills, but it would be nice if there were more of an effort to underline the amount of hard work and focus required to rise to this kind of level.
The counterargument, of course, is that that's not what the series is about. It's about what happens to a young man and the members of his inner circle when all the benefits that come with American success suddenly rain down on them. If that's the mission statement, Survivor's Remorse is doing a fine job right now of living up to it. At one point this season, Missy asks Reggie: "Do you want to be who you are, or do you want to be who you want to be?" This season, Survivor's Remorse seems to knows more clearly what it is, and is confidently aware that it's becoming what it always wanted to be.