Jason Bourne Review Roundup: High-Tech Chaos for the Post-Snowden Era
That car chase, though.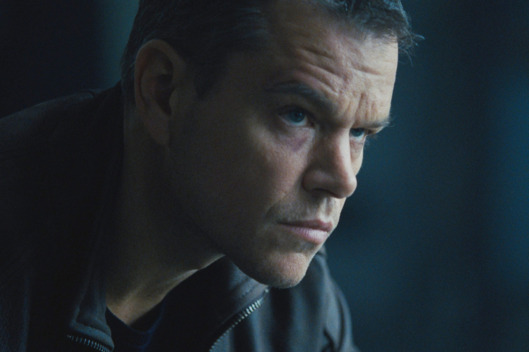 There's a giant car chase through Las Vegas in Jason Bourne that, according to critics, is either the best part of the movie ("the most ambitiously destructive action sequence to happen to Sin City in the movies since Con Air") or the worst ("narratively implausible and logistically ridiculous"). However divided they may be about that scene, though, reviews mostly agree that Matt Damon shines in his fourth performance as the world's most indestructible forgetful assassin, even if the plot's a little stale. Besides adding a bit of gadgetry and Snowden-era intrigue, the movie doesn't seem to stray to far from its predecessors — and really, what did you expect?
"Jason Bourne isn't much more fun than Damon is — it's too assaultive and humorless. But it's a wow. Wow is it a wow. Coming back to the series after nine years, director Paul Greengrass clearly knew he had to beat all those Bourne imitations, those cookie-cutter thrillers shot with jittery cameras in the style of documentaries. He creates teeming, claustrophobia-inducing frames, with the action off-center. He isn't a free-floating action director like Luc Besson, for whom gravity isn't a constant. Greengrass rights the frame before knocking it off-kilter again, as if he's momentarily clearing your head. When Bourne punches someone, the camera jerks in the direction of the blow, as if you're being hit." —David Edelstein, Vulture
"For me, drowning in the pixelated muddle of most summer movies (Warcraft marking the lowest point), the realism is a distinct pleasure. Greengrass doesn't stoop to hollow digital dazzle to jazz an audience. Long, fluid takes emphasize action that reveals character. Through it all, Damon keeps us glued to the war going on inside Bourne's head. It's a brilliantly implosive performance; he owns the role and the movie. It's a tense, twisty mindbender anchored by something no computer can generate: soul." —Peter Travers, Rolling Stone
"It's a kinetic film, but unfortunately all that motion ends up feeling like going through the motions, and by the Las Vegas chase denouement I'd somewhat lost interest." —Christopher Hooton, Independent
"In many ways, Jason Bourne is the most unsettling movie in the series, seeing as it points to a vast conspiracy directed at the American people, and Greengrass' style — rendered visceral via the marriage of Barry Ackroyd's on-the-fly lensing, a tense techno score, and Rouse's cutting-room trickery — lends itself nicely to an era in which shadow forces rely on such tools as satellite surveillance and facial-recognition software." —Peter Debruge, Variety
"Director Paul Greengrass (Captain Phillips, United 93) has always had a taste for the topical and political, and his third Bourne outing augments the usual truth-and-justice talking points with a strenuously current nod to digital privacy issues via a Zuckerberg-like social-media mogul (Riz Ahmed). If anything, he underplays those assets, shorting deeper story development for exotic zip codes, bang-up fisticuffs, and adrenalized chase scenes (one of which delivers a level of casual collateral damage that feels, after the events in Nice, ill-timed at best)." —Leah Greenblatt, Entertainment Weekly
"Damon, his eternal boyishness finally settling into the inevitability of middle age, brings the personal touch this movie needs. Its action is generic, but he's always special." —Stephanie Zacharek, Time
"Up until a narratively implausible and logistically ridiculous climactic motorcycle chase through Las Vegas that feels like a sop to the Fast & Furious crowd, Jason Bourne is an engrossing reimmersion in the violent and mysterious world of Matt Damon's shadowy secret op." —Todd McCarthy, The Hollywood Reporter
"For those who want to spend two hours on a comfortable old couch, it is crisply plotted and entertaining. Matt Damon is fine per usual even as he goes through the motions (the talk about him only having twenty-five lines feels like an exaggeration as this is not a silent performance). If I am bending over backward to be fair to a film that entertained me and annoyed me in equal doses, it is because the last nine years have turned this kind of big-budget star-driven "ground level" thriller into something of an endangered species. I didn't miss the Bourne series, but I missed this kind of movie. But it is so beholden to the formula that it often cheats itself out of storytelling potential for the sake of not going too far off course." —Scott Mendelson, Forbes
"Basically, Bourne comes alive when in a tensely professional, platonic relationship with a woman — and that is Vikander's Heather. There are the makings of a spark there. But it comes very late on. Matt Damon's testosterone goes on for ever. Perhaps it really is time for Jason to hang up his Glock and give someone else a chance. Surely Alicia Vikander deserves a go at being an action heroine?" —Peter Bradshaw, The Guardian
"Some people may enjoy sitting through Jason Bourne, though it will by hard to fathom why. The return of Matt Damon and writer/director Paul Greengrass is a soulless, sensually deadening time-suck, like watching a stranger play a video game you used to think was fun while someone vigorously shakes the screen, or perhaps your head." —Josh Dickey, Mashable
"In the end it's not Damon's emotional journey as Bourne that you remember so much as the rightful damage he's wrought, one man doing his part to topple the schemes that threaten to undue life and liberty for others. But visceral echoes of real life accidentally make the over-the-top action feel more prescient than anyone could have intended. Greengrass's last-act car chase showstopper is the most ambitiously destructive action sequence to happen to Sin City in the movies since Con Air." —Jen Yamato, The Daily Beast