Netflix's Global Domination Forced FX CEO John Landgraf to Adjust His 'Peak TV' Prediction
"I wrongly predicted that we'd hit the peak in 2015 or 2016."
Peak TV doomsday soothsayer, FX networks and FX productions CEO John Landgraf, adjusted his prediction for the upcoming television apocalypse Tuesday at the Television Critics Association press tour. He now believes we will begin to lose momentum "calendar '19 at the latest."
"When I pointed out the Peak TV phenomenon at the summer TCA last year, I wrongly predicted that we'd hit the peak in 2015 or 2016," he said in his opening remarks. "It now seems clear that, at a minimum, the peak will be in calendar 2017 — and there is enough inertial momentum here that we could well see the growth trend carrying over into the 2018 calendar year … I don't think I understood at this point last year that Netflix was going to try and compete with the entire MVPD system and all of its channels on a global basis rather than just, say, match the output of HBO."
He went on to say that he isn't predicting full end times. "I'm not saying that I believe we are in a bubble which is going to pop, causing us to go from 500-plus scripted series to half that number," Landgraf explained. "Rather, I think we are ballooning into a condition of oversupply which will at some point slowly deflate, perhaps from 500-plus shows to 400 or a little less than that."
He went on to praise Peak TV for allowing for more diversity hires in front of and behind the camera, even though this isn't something FX has always excelled at. Landgraf said he was so dismayed to see how poorly his shows performed in this department after an investigation by Variety critic Maureen Ryan that he "wrote a letter to all of the FX networks' showrunners — those who actually make the hiring decisions for episodic directors —asking for their help." He pulled out a graph to prove that "we have booked 149 episodic directors. Seventy-three of those 149 — or 49 percent —are white males. Seventy-six of those 149 — or 51 percent — are female and/or diverse. Seventeen of these female or diverse directors — 11 percent of the total hires — have been first-time episodic television directors."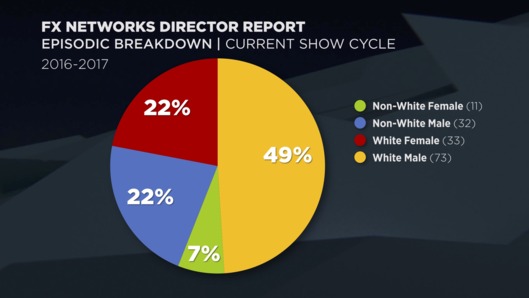 Landgraf said he's always thinking about "where television is going next," and one of his strategies to stay ahead of the game is to push the comedy-focused FXX network aggressively into animation in the "near-short" future.