Milo Ventimiglia Was As Surprised to See His Bare Butt in the This Is Us Trailer As We Were
"When I saw the trailer I'm like, 'Wow, man, that is my ass.'"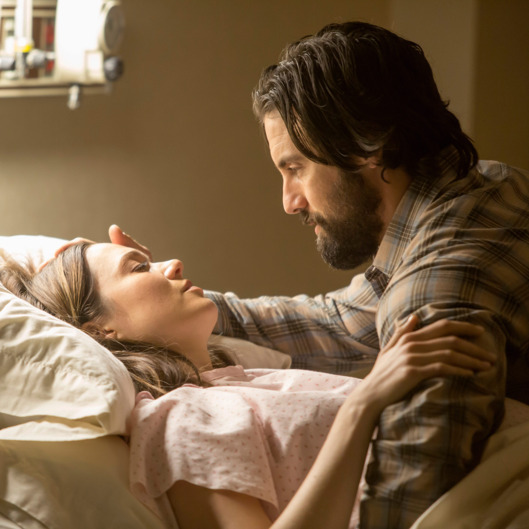 When the trailer for "This Is Us," "a dramedy version of Lost," hit the internet, it had an unexpected star: Milo Ventimiglia's bare butt. The former Heroes actor has a lead role in the upcoming NBC series opposite Mandy Moore, who stars as his very pregnant wife, and viewers of the trailer were introduced to his character au naturel. Ventimiglia himself was a bit surprised by the backside exposure.
"I got to set on day one of filming, walked into my trailer, and I saw varying sizes of nude cloth and tape. And I've done [nude scenes] enough times to know exactly strategically how to place my manhood, so as to be respectful of the crew and my co-star," he told Vulture at the Hollywood Foreign Press Association's annual Grants Banquet on Thursday night at the Beverly Wilshire hotel. "But then it was like, eh, this is NBC, they can't show this stuff on TV, it's no big deal. They're gonna cut and get a side of my hip, or anything like that. But no, when I saw the trailer I'm like, 'Wow, man, that is my ass and that is my ass before my face. Okay, here we go.'"
Not that anyone's complaining, least of all his co-star. "I know full well that we've all been upstaged by the derriere," Moore told Vulture at the same banquet. "And I'm totally fine with it. It's a really good butt. And I got to look at it for almost a whole day." Of course, it might've been a little less awkward if it hadn't been the first day of filming. "I'm like, 'Hi, I know we barely know each other but can I see your naked butt? Cool, great, thanks, bye,'" Moore said. "He seemed so comfortable. Like, I don't know if this is true, but he seems like the kind of guy that would totally be fine to walk around in the nude … I guess if you work that hard for a body like that, I would probably walk around naked all the time, too." 
The This Is Us trailer is not the only time Ventimiglia fans have witnessed the star's buttocks (see: 2012's That's My Boy). "The funny thing is, if this is the first time you're seeing my ass, I think you're a little behind," Ventimiglia said. "No pun intended." Ventimiglia, who also best known to some as Jess, the consummate bad boy and Rory's love interest on Gilmore Girls, is set to star in the series' upcoming Netflix run as well. Can we expect his butt to make an appearance in Stars Hollow, too? "No," he said. "But I probably make an ass of myself in Gilmore Girls so it's a different kind of a thing. My ass is on my face."