The Oily Tongan Olympian Returns for the Closing Ceremony to Glisten More Than All the Other Athletes
<span>We&rsquo;ll miss you, Pita Nikolas Taufatofua, most of all. </span>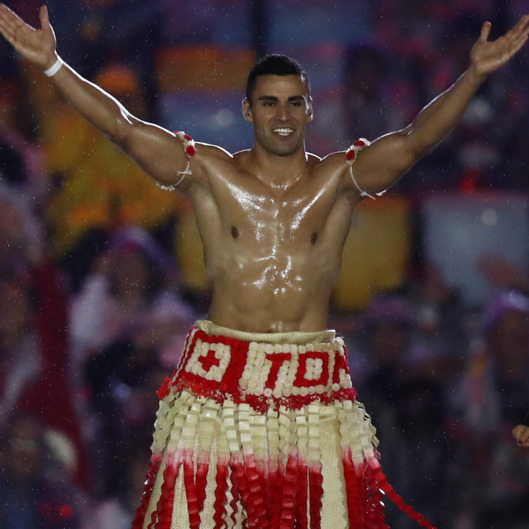 After two weeks of highs (Michael Phelps, Simone Biles, Simone Manuel) and lows (What the hell, Lochte?), the 2016 Olympics has come to a close. And while all endings are bittersweet, we're ready to get off this ride down a green-diving-pool river of dreams and return to our normal, regularly scheduled television. And yet, like Dorothy leaving Oz, we can't help but look back at those faces — or fit bodies — that participated in the Closing Ceremonies, and realize there's one athlete we might just miss most of all: Pita Nikolas Taufatofua. Luckily for us, and the world, the 32-year-old Tongan Taekwondo Olympian, who so deftly handled both bearing a flag for his nation and the physical advances of  Hoda Kotb and Jenna Bush Hager, once again oiled up his bare chest to appear for a final dance. As the rain came down in Rio, Taufatofua glistened as a shiny rainbow of muscles onstage while Julia Michaels and Kygo performed their song "Carry Me." See the glory, below.
#Brazil U gave us "The Girl from Ipanema" but @Rio2016 gave us "The Man From #Tonga !" He's there #ClosingCeremony pic.twitter.com/vMR2EzUw27

— Susan Gaskey (@suezyg23) August 22, 2016
He's back!

And more oiled than ever.

It wouldn't be the same without Tonga's flag bearerhttps://t.co/3uvB66DQNN pic.twitter.com/jI9WMj8Why

— BBC Sport (@BBCSport) August 22, 2016
They made sure to lather homie in even more baby oil. 😂 #ClosingCeremony
pic.twitter.com/7pZiN0FFjf

— Erick Fernandez (@ErickFernandez) August 22, 2016
Also, here's what he looks like wearing clothes during a competition. He didn't take home a medal, but that should give him incentive to come back in 2020.