Renée Zellweger Writes About the Dangers of Tabloid Culture, Denies Surgery Rumors
"In my opinion, that tabloid speculations become the subject of mainstream-news reporting does matter."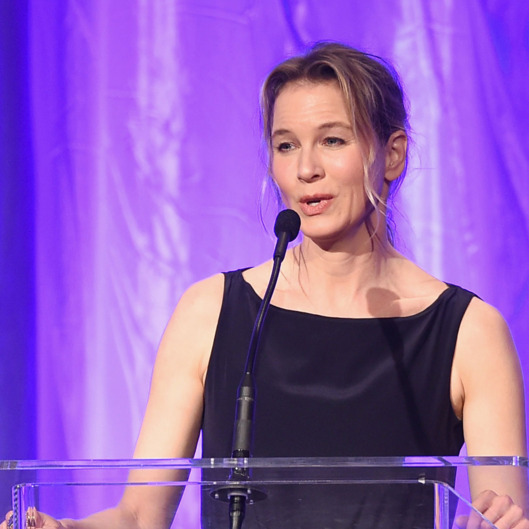 Renée Zellweger, whose appearance has been routinely scrutinized in the press in ways that are common for many actresses, but in some cases, exceptionally cruel, has heeded the lessons of Jennifer Aniston and taken her frustrations with tabloid culture to the Huffington Post. "In October 2014, a tabloid-newspaper article reported that I'd likely had surgery to alter my eyes," Zellweger writes, noting the flurry of headlines that came out that month after she appeared on the red carpet after spending years away from the spotlight. That story, which Zellweger says is false, became accepted as the truth. "Not that it's anyone's business, but I did not make a decision to alter my face and have surgery on my eyes," she writes. "This fact is of no true import to anyone at all, but that the possibility alone was discussed among respected journalists and became a public conversation is a disconcerting illustration of news/entertainment confusion and society's fixation on physicality."
Stories that fit a constructed narrative become accepted as fact, according to Zellweger. "I am not writing today because I have been publicly bullied or because the value of my work has been questioned by a critic whose ideal physical representation of a fictional character originated 16 years ago, over which he feels ownership, I no longer meet," she says, backhandedly acknowledging a recent piece on the movie Bridget Jones's Baby by a critic at Variety who was mad at her face. "I'm writing because to be fair to myself, I must make some claim on the truths of my life, and because witnessing the transmutation of tabloid fodder from speculation to truth is deeply troubling."
We're sure Jennifer Aniston has sent her six-pack of Smartwater for a job well done.