The Rock Alludes to Peace Settlement in Fast 8 'Candy Asses' Drama: 'Family Is Gonna Have Differences of Opinion'
He's less furious now.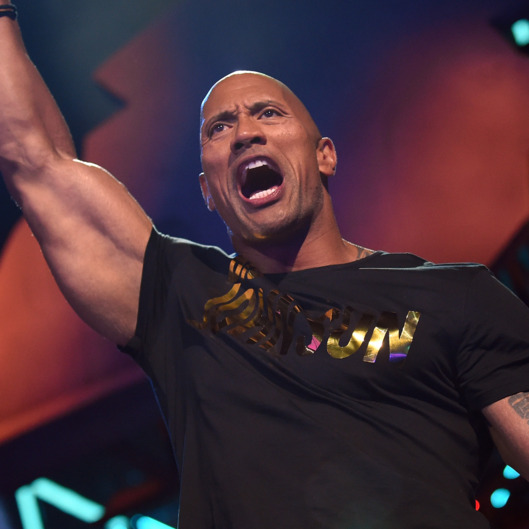 It looks like someone's (*cough* Vin Diesel's) days caught between the Rock and a hard place are over — for now. Based on Dwayne Johnson's latest Instagram missive, the great Fast 8 "candy ass" conflict of 2016 has reached a cease-fire. After originally venting about some male co-stars on Fast 8, who Johnson says are "candy asses" — with TMZ fingering Diesel as the confection culprit — Johnson has now penned a much-less furious post, acknowledging that "conflict" is a part of every production. Celebrating the completion of a big prison-break scene for the movie, Johnson wrote: " You guys reading this know how much I believe in the idea of TEAM EFFORT. That means respecting every person, their time and their value when they step on to my set or partner with our production company. And like with any team — that's a family — there's gonna be conflict. Family is gonna have differences of opinion and fundamental core beliefs." And Johnson doesn't seem to regret calling out his co-stars, alluding to a resolution of the central beef that's occurred since he let his fuse go a little loose. He added: "To me, conflict can be a good thing, when its followed by great resolution. I was raised on healthy conflict and welcome it. And like any family, we get better from it. At the end of the day me and #F8 co-stars all agree on the most important thing: Delivering an incredible movie to the world. #Fast8 #IcemanCometh #FamilyGrowth." Phew, peace in our time — just as long as the fictional people with the cars are down to race angry as promised. Read the full Instagram post below.
My FINAL WEEK of shooting #FastAndFurious. There's no greatness ever achieved alone.. it's always a team effort. We promised an epic prison break out for you guys and we delivered. HUGE THANK YOU to my ohana (family) stunt coordinator JJ Perry and his bad ass fearless stunt team - as well as my cousin and incredible stunt double @samoanstuntman. Thank you team for the willingness to "die hard" and drop your blood & sweat daily for our movie. #MyStuntBrothers #Loco4Life
You guys reading this know how much I believe in the idea of TEAM EFFORT. That means respecting every person, their time and their value when they step on to my set or partner with our production company. And like with any team — that's a family — there's gonna be conflict. Family is gonna have differences of opinion and fundamental core beliefs. To me, conflict can be a good thing, when its followed by great resolution. I was raised on healthy conflict and welcome it. And like any family, we get better from it. At the end of the day me and #F8 co-stars all agree on the most important thing: Delivering an incredible movie to the world.
#Fast8 #IcemanCometh #FamilyGrowth