Alia Shawkat and Aubrey Plaza Are Drunk History's New Hamilton and Burr
Lin-Manuel Miranda will narrate.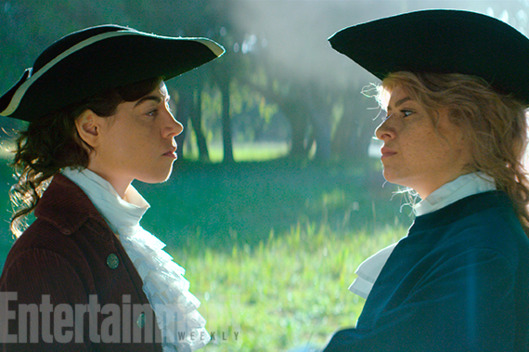 Who sips, who imbibes, who tells your story? For Alexander Hamilton, the answer will once again be Lin-Manuel Miranda, who is heading to Drunk History to retell the story of the Hamilton-Burr duel, with alcohol this time. Entertainment Weekly has the first look from Miranda's episode, which will star Alia Shawkat and Aubrey Plaza as A. Ham and A. Burr, respectively. Since Michael Cera played Hamilton in the very first Drunk History episode, is this casting a hidden Arrested Development joke? Sure — especially since Tony Hale will pop up to play James Monroe, the founding father who was the very best at carrying briefcases.
Update: Miranda shared some details on his alcohol-fueled recording session on Twitter:
1) I realize the @drunkhistory announcement happened when I was on vacation, so I'll tell you some things about that!

— Lin-Manuel Miranda (@Lin_Manuel) August 12, 2016
2) We filmed my segment @drunkhistory on Superbowl Sunday. I did not see the Superbowl this year.

— Lin-Manuel Miranda (@Lin_Manuel) August 12, 2016
3) I drank 3/4 of a bottle of honey whiskey as I narrated.
(along w A LOT of water.)
DO NOT TRY THIS AT HOME.

— Lin-Manuel Miranda (@Lin_Manuel) August 12, 2016
4) I woke up and a LOT of people I know (Groff, @questlove, @ChrisisSingin) texted,"Do you remember FACETIMING me last night?"
I did not.

— Lin-Manuel Miranda (@Lin_Manuel) August 12, 2016
5) So I'm just as curious as you are as to what I said. And the casting is AMAZING. I guess we'll see this fall. @drunkhistory.

— Lin-Manuel Miranda (@Lin_Manuel) August 12, 2016
6) I think that's it. My drunken historical ramblings will be your entertainment at last. Love you. Bye.

— Lin-Manuel Miranda (@Lin_Manuel) August 12, 2016