Sia's 'Cheap Thrills' Continues to Make a Strong Case for Song of Summer
But the Chainsmokers surged to keep it close, while twenty one pilots pulls double-duty on the charts.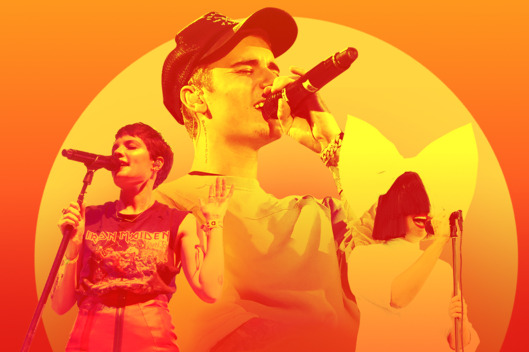 We're trying something different in our search for this year's Song of Summer. From June through August, we've been rounding up the biggest smashes of each month and declaring a winner and runners-up. Our criteria: general ubiquity (Billboard charting, video views, airplay), quality, and seasonal appropriateness. Desiigner's "Panda" won June; Calvin Harris and Rihanna's "This Is What You Came For" won July. Below is the winner for August. Check back next week for our declaration of the official Song of Summer and a discussion about the three-month ride. 
WINNER: Sia ft. Sean Paul, "Cheap Thrills"
Sia's "Cheap Thrills" has been one to watch since June and was a serious contender in July; unsurprisingly, after having spent half the month at No. 1 on the Billboard Hot 100, it now takes the August crown. The last time Sia had a hit this big she was writing for Rihanna and, whaddya know, she was also writing for everyone's favorite bad gyal when "Cheap Thrills" came to its Caribbean-indebted life. Because even when she's only tangentially related, that Rihanna reign just doesn't let up. —Dee Lockett
RUNNERS-UP

The Chainsmokers ft. Halsey, "Closer"
There's something to be said for average lives and events: not much, perhaps, but always enough to fill a hit pop song. Anyone who comes to "Closer" expecting music as exceptional as its swift rise to the top of the Billboard charts will leave baffled: It's very much a song that sacrifices distinction for simplicity, albeit simplicity of a very catchy variety. Pairing viral melody with a generic narrative of love recaptured and seasoned by a handful of rhymed mundane references leading nowhere in particular ("Boulder," "Tucson," "that Blink-182 song," "your Rover," "a hotel bar," "that tattoo on your shoulder," "a broke-down car," "the city"), the duet thrives primarily by virtue of a chorus whose machine-perfect iambs are topped off by a promise of eternal youth. All this is to say that the average millennial will have to try hard not to find their life reflected in "Closer," or to find themselves inadvertently reciting snatches of it. The song will only last so long at the chart top, but its future as an undemanding karaoke playlist fixture is assured. —Frank Guan
Major Lazer ft. Justin Bieber and MØ, "Cold Water"
For Major Lazer's "Cold Water," Diplo does to soca what Skrillex did to dancehall with last year's "Sorry": ease tempos, push gloomy melodies, and add a heaping dose of Justin Bieber. Bieb has turned out to be the exact right vessel for the "sad banger" thanks to a certain winsome sense of innocence lost in his voice and the redemption narrative that brought him from peeing on pictures of U.S. presidents back to the top of the charts. It saves this song from a sorta silly lyric pledging to jump into very, very cold water to rescue a love interest gone overboard and a coffeehouse-grade appearance from the Danish singer MØ. Alert alert alert alert alert alert grab the Gucci Mane remix because Gucci makes everything better. —Craig Jenkins
twenty one pilots, "Heathens"
Last month, we told you to keep an eye on "Ride" by twenty one pilots, but there was another 21P soon-to-be-hit lurking in the shadows: "Heathens," the band's brooding contribution to the Suicide Squad soundtrack (which debuted at No. 1) that sounds more like the transition to fall than summer. Piggybacking on the film's ubiquity throughout August, "Heathens" managed to outpace its predecessor and rise to No. 4 this week, with "Ride" following closely at No. 5 . Quality of the song notwithstanding (kinda like the film it accompanies), that's the second-highest 21P have ever charted. As if that weren't enough of an embarrassment of riches, they've also just been dubbed the "biggest new band in America" by The New Yorker. –DL