The Flash and Supergirl Will Come Together for Two Musical Crossover Episodes
Melissa Benoist and Grant Gustin will finally warm up those <em>Glee</em> pipes again.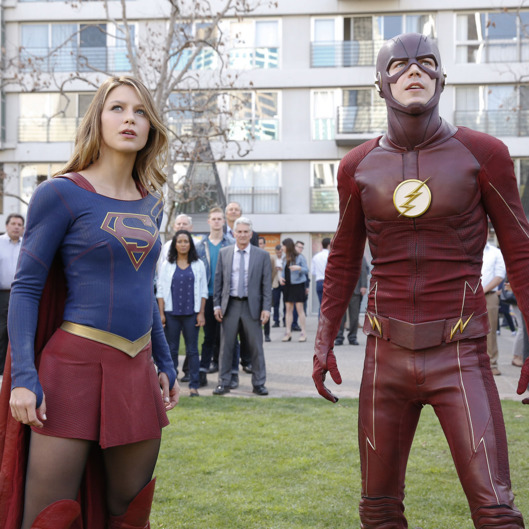 Glee fans, your time has come. At the Television Critics Association summer press event today, the producers of The Flash and Supergirl announced that there will be not one but two musical crossover episodes in the second half of the upcoming season. Melissa Benoist and Grant Gustin are, of course, former members of the Glee club, and singing so far remains the biggest hidden talent of each of their respective super characters. Actors like Jesse L. Martin and Victor Garber of The Flash and Jeremy Jordan from Supergirl have also done time on Broadway, so there's a solid multi-threat talent pool to draw from. Executive producer Greg Berlanti said that while most of the songs will be preexisting hits, they are hoping to get at least one original song into each of the musical episodes. And it should be noted that these crossovers will be separate from the planned four-show crossover the CW has promised now that it owns Arrow, Supergirl, Flash, and Legends of Tomorrow. Start practicing your scales, everyone!