TCA Panel Addresses Their Biggest Frustrations About Diversity on TV
"The elephant in the room is always the dark skin."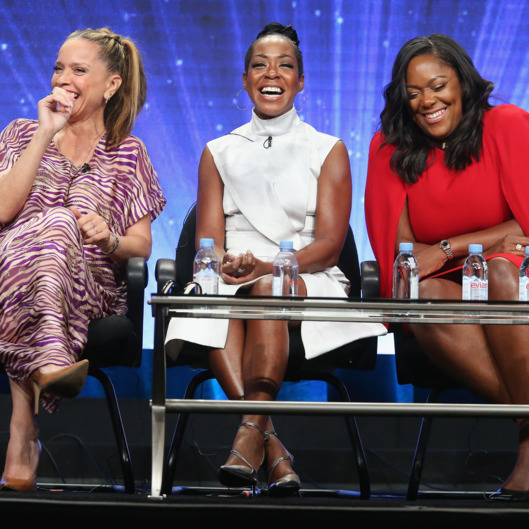 On Monday at the Television Critics Association in Beverly Hills, people of color working in Hollywood dug deep into the question of diversity hires on television. They offered a range of perspectives on the prevailing frustrations in the industry, both in front of and behind the camera.
Colorism is a big issue.
"The elephant in the room is always the dark skin," actress Tichina Arnold of Starz's Survivor's Remorse said, pointing to her own arm and saying "women of color, color, color." Survivor's Remorse director Victoria Mahoney said this is understandable, considering skin tone is a topic that is hard to even "navigate within the [black] community." Mahoney talked about an upcoming Survivor's Remorse episode where the A-story line is about colorism. "When I met with Mike [O'Malley, the showrunner] initially, one of the things that I spoke about that's important to me is the difficulty to navigate the community, and have light skin and dark skin be an issue," she explained. "On the day of when we were shooting, we all had to have these very delicate conversations, and it was really crucial for me to make sure that the individuals in the scene had input."
It's incredibly hard for female directors of color.
Although director Anthony Hemingway (Underground; The People v. O.J. Simpson) said that we "are definitely coming into a time where there are more opportunities," thanks to TV One, Starz, El Rey, and other channels that actively seek out minority programming, Mahoney added that Survivor's Remorse's O'Malley had to take to Twitter to find a female director of color for his series because he couldn't find anyone from the agencies:
"I'm a four-percenter. Often today — not 30 years ago and not 100 years ago — when people hire people of color, they usually hire male. When they decide to hire women, they usually hire white … in order for me to get out of that four-percent, I need co-conspirators … there's a cat that gets a $250 million film at Sundance. He goes straight to a $140 million franchise. But I've been directing TV for five years — multi-cams, all kinds of shit  … and someone was just talking about whether I've got experience."
She said that "there's a line in the sand, and what my job is now is I have to move that line in the sand and confront people who are very comfortable in old, old ways of thinking. It's exhausting. It's boring … I'm starving for something else."
Diversity hires are also a concern for below-the-line jobs.
"We have to be at the table on every single level; and it goes for TV One as well," said D'Angela Proctor, the senior vice president of programming and production for that channel. "We're an African-American network, but at the same time, we may use a white production company. I cannot have it when I go to set and my entire cast is black and everyone below the line is white."
Even when we get shows that have non-white casts, they're often steeped in stereotypes.
"I'm dying to see a Latino family show that's not criminals," said Carlos Coto, the showrunner for El Rey's From Dusk Til Dawn. "I want to make a Latino show without the word 'cartel' in it. That would be awesome."
There are still way too many "girlfriend" parts for women.
"I could have a résumé that's 50 pages long if I would take every role that's offered to me where I'm playing the girlfriend," said actress Jurnee Smollett-Bell, adding that she took her lead part on WGN's Underground because she wasn't just the girlfriend. "That's definitely been the challenge, is fighting these stereotypes that people oftentimes write because it's just easy to just write us as one-dimensional people."