American Triathlete Ben Kanute Had to Miss the Real Opening Ceremony, So He Made His Own in Arizona
Because Olympic athletes don't quite.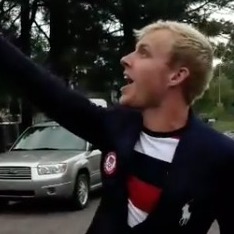 Participating in the Olympics Opening Ceremony seems like it should be a rite of passage for any competing athlete, but even some of the biggest names in international sports miss out on walking in the customary parade of nations. Just this year, Team USA's Final Five, the gold medal favorites in women's gymnastics, opted to stay in and get rest, as did volleyball superstar Kerri Walsh Jennings. Even Michael Phelps, owner of 23 Olympic medals, only walked for the first time this year, despite it being his fifth games. And this is all to say, sometimes scheduling just doesn't work out, which is exactly what happened to American triathlete Ben Kanute. Kanute will be at training camp in Arizona until August 12, but since he got his special-edition Ralph Lauren Olympic threads anyway, he decided to stage his own opening ceremony on a nondescript street with the iconic theme song blaring and his training partners cheering him on from the curb. He posted the walk, in all its great pomp and circumstance, on Instagram and said, "Opening ceremonies were a blast! Crowds were amazing! Looking forward to being apart of @teamusa in #Rio2016 @usatriathlon." 
Track athletes Jenny Simpson and Emma Coburn also suited up in their Olympic finery for an impromptu Opening Ceremony celebration away from Rio, but they should have included a brief snippet of "The Bugler's Dream" to really sell the occasion.