25 of the Most Anticipated Movies at the 2016 Toronto Film Festival
Featuring Lupita Nyong'o, Anne Hathaway, and Denzel Washington.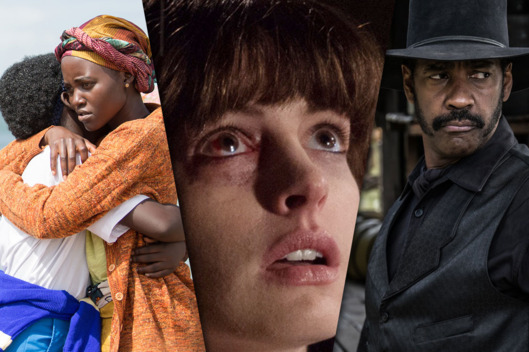 After a fairly dire summer movie season, will the fall give us something to look forward to? We'll find out soon enough. Your Vulture movies team takes the Toronto Film Festival starting today, where we'll sift through Oscar bait, big-studio blockbusters, and the inevitable cluster of out-of-nowhere surprises. We're excited to catch up with some of the films that were received well at the Telluride Film Festival a few days ago, like La La Land and Moonlight, but here are 25 other movies debuting at Toronto (or making their North American premiere there) that have us intrigued.
The Magnificent Seven
A remake of the 1960 John Sturges Western that was itself a remake of Akira Kurosawa's titanic 1954 film Seven Samurai, The Magnificent Seven would feel unnecessary if it weren't for three things. One: It's being directed by Antoine Fuqua, a filmmaker who doesn't lack for panache even at his least successful. Two: It stars Fuqua's muse, Denzel Washington, alongside bona fide movie star Chris Pratt, the always-welcome Ethan Hawke, and a villainous Peter Sarsgaard. And three: Nic Pizzolatto has a screenplay credit, making his feature-film debut after the, shall we say, mixed reception of True Detective's second season. TIFF will be its world premiere, with Sony very much hoping it has a hit on its hands. —Kevin Lincoln

Colossal
Stop me if you've heard this one before: Anne Hathaway plays an unlucky-in-love New Yorker who's been freshly dumped by her boyfriend and … wait, you're stopping me already? Trust me, this isn't the movie you're thinking: The monstrous twist here is that Hathaway's singleton soon discovers a psychic connection to a giant Godzilla-like creature rampaging through South Korea. I know! What the hell are we dealing with? Can't wait to find out. —Kyle Buchanan

Jackie
Chilean filmmaker Pablo Larraín (No, The Club) profiles Jackie Kennedy and the days leading up to and following the 1963 assassination of her husband, John F. Kennedy, in this North American premiere event. The Darren Aronofsky–produced drama features Oscar winner Natalie Portman as the titular First Lady, with Greta Gerwig, Peter Sarsgaard, Billy Crudup and John Hurt appear in supporting roles, and it's the busy Larraín's second film at the festival alongside Neruda, starring Gael García Bernal. —Stacey Wilson Hunt

Planetarium
More Portman. Set against the lush backdrop of 1930s Paris, director Rebecca Zlotowski's third film features Portman and Lily-Rose Depp as American sisters who've been touring the world, demonstrating their seeming ability to speak to the dead. Soon, they use their gifts on a French film producer who hopes to harness their spiritual powers for an ambitious new project, which may have disastrous consequences for the sisters and everyone around them. If the international trailer is any indication, we're in for sensuous intrigue, gorgeous imagery, and the treat of watching Portman speak perfect French while delivering what looks to be her darkest, most mysterious role since Black Swan. —Jada Yuan

Queen of Katwe
It's been too long since we've seen Lupita Nyong'o's beautiful, expressive face onscreen, and if nothing else, Mira Nair's Queen of Katwe rectifies this cinematic injustice. In the new Disney drama, Nyong'o plays the mother of an Ugandan chess prodigy; while the girl sees her skill as the ticket out of her poor slum life, Nyong'o's fierce guardian is not so sure. David Oyelowo co-stars as the chess coach stunned by his young charge's prowess. —KB

Mascots
Mockumentary master Christopher Guest (Best in Show, Waiting for Guffman) reunites many of his players — including Parker Posey, Jane Lynch, Fred Willard, and Jennifer Coolidge — to profile the wacky world of sports mascots and their quest to win their craft's highest honor, the Gold Fluffy. The Netflix original comedy will bow on the streaming service on October 13, but a TIFF sneak peek and a fun first trailer already has film fans giggling. —SWH
 
A United Kingdom
Actor David Oyelowo (Selma) produced and stars in this fact-based story from director Amma Asante (Belle) recounting Prince Seretse Khama of Botswana's controversial 1947 marriage to Ruth Williams (Oscar nominee Rosamund Pike), a white woman from London. The film joins Jeff Nichols's Loving as the second TIFF film to tell the story of a high-profile interracial marriage that rocked the world. —SWH

American Pastoral
For his first effort in the director's chair, Ewan McGregor decided to take on one of the titanic novels in 20th-century American letters: Philip Roth's American Pastoral, which tells the story of how a man's life falls apart following his daughter's Vietnam-era radicalization. Fortunately, McGregor assembled a knockout cast to help him clear the bar, including Dakota Fanning as his daughter, Jennifer Connelly as his wife, and a leading man he knows quite well: himself. (And for the Roth-heads out there: David Straitharn is your Nathan Zuckerman!) —KL

A Monster Calls
Felicity Jones will be one of this fall's busiest leading ladies with turns in Star Wars: Rogue One and Inferno, but she takes a crucial supporting role as a woman with a terminal illness in this effects-laden children's story from director Juan Antonio Bayona (The Impossible). As Jones's single mom begins to succumb, her young son finds a creative outlet in the talking tree-monster that comes to life outside his window (unmistakably voiced by Liam Neeson). —KB

Lion
Separated from his Indian family as a youth, Dev Patel has grown up a continent away, with Nicole Kidman as his kindly adopted mum … yet he still yearns for the bonds that were stripped away from him. Harvey Weinstein is high on this fact-based tale and the trailer is a tearjerker. Could Lion be an Oscar dark horse? —KB

Sing
The creators of Despicable Me and Minions are so confident about their new animated musical comedy, in which an ambitious and showbiz-minded koala named Buster (Matthew McConaughey) starts up a singing competition, that they're bringing it to TIFF as a work in progress. John C. Reilly plays a sheep, Scarlett Johansson a punk-rock porcupine, and Reese Witherspoon a housewife pig who gave up her dream of a music career to have 25 piglets with her very virile pig husband (Nick Kroll). —JY

My Entire High School Sinking Into the Sea
You can take the title literally in this madcap animated film from graphic novelist Dash Shaw, which is based on his own extensive experience of being a high-school outcast in the late '90s. Think Ghost World meets The Poseidon Adventure, with various factions of non-popular kids forced to band together in the most ridiculous of disaster situations. Shaw drew the film in his Brooklyn apartment with his wife, Jane Samborski, when he couldn't get a cast together for another animated movie, and then a glorious bunch of Hollywood weirdos — Jason Schwartzman, Lena Dunham, Reggie Watts, Maya Rudolph, Susan Sarandon, Alex Karpovsky, and John Cameron Mitchell — showed up to rescue Shaw with their voice acting. In a yearbook, it would be voted Most Likely to Be Your New Favorite Movie. —JY

The Edge of Seventeen
This well-written high-school comedy features an appealing Hailee Steinfeld as a brittle but brainy teen who feels betrayed once her best friend begins dating her brother. Steinfeld has lately toggled between a nascent pop career and ensemble work like the Pitch Perfect franchise, but it's a pleasure to see her leading a movie like this, backed ably by veterans like Woody Harrelson and Kyra Sedgwick. —KB

Barry
If Southside With You left you eager for more early explorations into the life of Barack Obama — or our current election has you pining for four more years — perhaps you'll be interested in this biopic where a pre-Michelle Barry comes of age as a young 20-something and falls for the girl from The Witch, Anya Taylor-Joy. Spoiler alert: She's not the one, man. —KB

(Re)Assignment
We're not sure what to make of this movie, where a male gunslinger is turned female — and into Michelle Rodriguez — by a no-good doctor (Sigourney Weaver). It's directed by action veteran Walter Hill, but that premise has trans activists bracing for a shitshow. We'll see if they somehow manage to pull it off. —KB

The Promise
Hotel Rwanda director Terry George knows his way around a historical genocide story, and here he sets an epic romance against the backdrop of a tragedy largely ignored by Hollywood: the Ottoman Empire's mass killing of 1.5 million Armenians during and after World War I. Oscar Isaac, fresh off of his Star Wars and X-Men duties, plays an Armenian apothecary who meets a beautiful, Paris-educated American woman (Charlotte Le Bon) who happens to be in a relationship with an American photojournalist (Christian Bale), and gets swept into a love triangle just as his country is swept into unspeakable violence. Just try to keep Academy voters away. —JY

LBJ
The 36th president has already been embodied once recently, by Bryan Cranston in Jay Roach's HBO movie All the Way. Now Johnson gets the proper big-screen biopic treatment with Rob Reiner's LBJ, with Woody Harrelson in the title role. Reiner hasn't directed a well-reviewed movie since 1995, but fortunately, that movie was The American President, meaning this is comfortable territory for him. And regardless of who's at the helm, watching Harrelson and Jennifer Jason Leigh take on Lyndon B. Johnson and Lady Bird is worth the price of admission — and could position them as possible Oscar candidates, should the film prove worthy of the material. —KL

Voyage of Time: Life's Journey
Terrence Malick's debut documentary film tackles no less than the birth of the universe. TIFF is playing both the 90-minute, non-Imax cut narrated by Cate Blanchett — which debuted at Venice and sounds a little more philosophical — as well as the 45-minute Imax version, narrated by Brad Pitt, which will have its world premiere at TIFF and is coming to Imax theaters October 7. It's basically those random 15 minutes of galaxies exploding and amoebas dividing in The Tree of Life extended to feature length, an orgasm of imagery for Malick fans. —JY

The Secret Scripture
Kind of like a bleak Irish version of The Notebook, this epic romance from My Left Foot director Jim Sheridan, based on Sebastian Barry's award-winning 2008 novel, finds Vanessa Redgrave and Rooney Mara playing the same woman 50 years apart. One is a shattered old woman who's lived in a mental institution for half a century, the other a young café worker who falls for a fighter pilot (Jack Reynor) as a local priest (Theo James) falls in love with her, and soon becomes victim to her country's religious and political upheavals. All eyes will be on Mara to see if she can unseat her own very strong work in Una, which made a splash at Telluride. —JY

Deepwater Horizon
Oscar nominee Mark Wahlberg reunites with his Lone Survivor director Peter Berg to document the real-life disaster that occurred when off-shore drilling rig Deepwater Horizon exploded in April 2010 and created the worst oil spill in U.S. history. Kate Hudson, Kurt Russell, and Jane the Virgin's Gina Rodriguez (in her first major film role) also star in the big-budget drama, which will be released by Summit on September 30, just two weeks after its big TIFF premiere. —SWH
 
Nocturnal Animals
Writer/director Tom Ford (A Single Man) makes his much-anticipated return to the big screen with this adaptation of Austin Wright's L.A. noir novel Tony and Susan. The drama features five-time Oscar nominee Amy Adams as a gallery owner who finds an unpublished manuscript by her ex-husband (Oscar nominee Jake Gyllenhaal) and fears its revenge-tale themes may be more than fiction. The film earned rave reviews out of Venice and has thrust Ford, Adams, and Gyllenhaal squarely into the Oscar race. —SWH

The Bad Batch
Ana Lily Amirpour's feature debut, A Girl Walks Home Alone at Night (currently streaming on Netflix), had a curious recipe: Take one part feminist revenge flick, one part hyperstylized black-and-white pop bildungsroman, and one part vampire movie, then shoot it in Farsi in an imaginary Iranian town called Bad City. The fact that this mixture worked so well is a testament to the filmmaker, whose follow-up, The Bad Batch, promises to be just as bold. A dystopian cannibal movie that TIFF describes as "subtly steeped in politics," The Bad Batch, which was funded by Megan Ellison's Annapurna Pictures alongside VICE Films, brings an absolutely loaded cast (Keanu Reeves, Jason Momoa, Jim Carrey, Diego Luna, Giovanni Ribisi, and Suki Waterhouse among them) to bear on that premise, and after premiering at Venice, its streaming rights have already been snatched up by Netflix. Toronto will be its North American debut. —KL

Free Fire
English auteur Ben Wheatley had been on a serious hot streak until his Tom Hiddleston–starring J.G. Ballard adaptation, High Rise, flopped with both critics and audiences. No matter: The prolific filmmaker already had another film in the can with Free Fire, a '70s-style crime thriller mostly shot in a single location, and it sounds like a return to form. There's no better testament to Wheatley's reputation then the quality of Free Fire's cast, which includes Cillian Murphy, Armie Hammer, Sharlto Copley, Jack Reynor, Sam Riley, and, most noteworthy of all, Brie Larson in her first onscreen appearance since winning the Best Actress Oscar for Room. —KL
 
King of the Dancehall
Writer and first-time director Nick Cannon stars as a Brooklyn native who travels to Jamaica to earn cash for his ailing mother (Whoopi Goldberg), but instead finds himself swept up in Kingston's colorful dancehall music scene. The film is earning buzz for its lavishly choreographed dance scenes and pulsing soundtrack featuring reggae dancehall musician Beanie Man, who also narrates the film. —SWH

Trespass Against Us
Writer Alastair Siddons and director Adam Smith are making their feature debuts with Trespass Against Us, a crime thriller that already seems like a must-see. That's because it stars Irish virtuoso Brendan Gleeson and handsome guy Michael Fassbender as a father and son aligned against each other, and it's been snatched up for U.S. distribution by A24, as good a stamp of quality as any these days. Fassbender's having a busy year between X-Men: Apocalypse, The Light Between Oceans, and Assassin's Creed, but if Trespass Against Us lives up to its promise and his co-star, it could be the highlight. —KL