Cynthia Erivo Singing 'Still Hurting' Will Make You Feel Just a Little Bit More Alive, for a Minute
Also, Joshua Henry sings &ldquo;Moving Too Fast&rdquo; at last night's <i>The Last Five Years </i>benefit.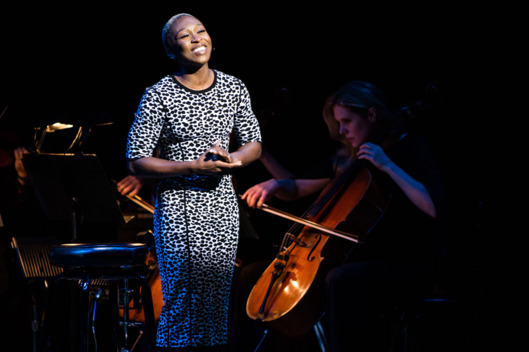 A month ago, word came out that The Color Purple's Cynthia Erivo and Joshua Henry, who is going to play Aaron Burr in Chicago's production of Hamilton, would be taking on Jason Robert Brown's two-hander classic The Last Five Years, with proceeds going to the Brady Center to Prevent Gun Violence. Instantly, the anticipation shot to 100 percent. This is one of the most vocally demanding musicals, being sung by two of our greatest vocalists. Specifically, there was one question theater fans were asking themselves: Will they die from seeing Erivo take on the already devastating "Still Hurting"? Having seen it, I can answer that for you: Yes. 
The benefit concert was held last night at New York's Town Hall and Vulture has the exclusive video of two of the performances: Henry singing "Moving Too Fast" and, yes, Erivo's "Still Hurting." (Both feature Brown accompanying on piano.) The first thing that's clear is that both performers bring it so freaking hard, setting a bar against which all future Jamies and Cathys will be judged. Henry's performance bubbles with a perfect mix of charm and pomposity. And then there's Erivo. Her performance is the entirety of what it means to be a human who has loved and lost and must reconcile these facts, all in one song. You can watch both clips and see photos from the special night below. (Read Jesse Green's review of the superb evening here.)
Cynthia Erivo, "Still Hurting":
Joshua Henry, "Moving Too Fast":