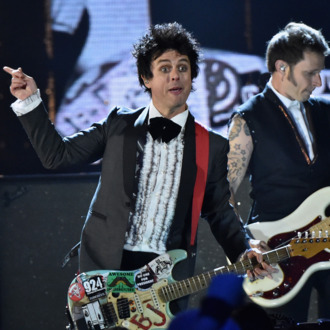 A drastic improvement from "Bang Bang."
There's a price to pay for being a Green Day fan — like, say, the $400 it might cost you to see them this fall at some of the smallest venues they've played in years. Sometimes the reward isn't much: "Bang Bang," the lead single to the band's first album following an uncharacteristic four years of radio silence, was merely a fine reentry into the conversation. But assuming the perspective of a mass shooter will never not be tone-deaf, no matter the subtext of mental illness or fetishism of tragedy. Thankfully, misdirected messaging takes a backseat on the album's hell-raising title track, "Revolution Radio." It's brazenly political, a riff on the idea that the revolution will not be televised, and, maybe even most importantly, it's plain fun.
"We lost a little bit of our goofiness, the part of Green Day that I always liked," Billie Joe Armstrong recently said of the band's self-serious phase after American Idiot. There's nothing inherently goofy about a song that alludes to Black Lives Matter protesters getting teargassed, but it's also not overwhelmingly downtrodden. For the first time since 2009's 21st Century Breakdown, Green Day sound reinvigorated, like they're actually enjoying making protest songs again, even if it's vague what, exactly, Armstrong's protesting. "Revolution Radio" has all the spirit of a rallying cry without going overboard on a heavy-handed lecture — a "rebel's lullaby" that won't put you to sleep.