A Bunch of Funny People Came Out to Celebrate Documentary Now! at IFC and Vulture's Premiere Party
Hader! Meyers! Hamm!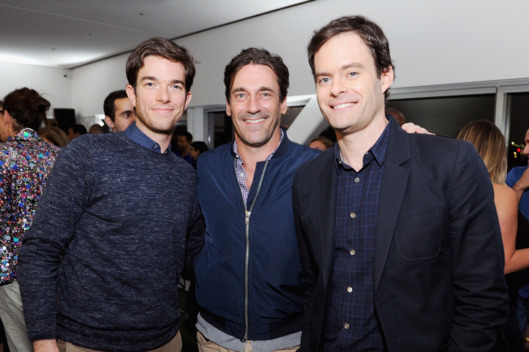 Vulture and IFC co-hosted the premiere and after-party of Documentary Now!'s second season at Manhattan's New Museum on Monday evening, and stars Bill Hader and Fred Armisen giggled their way through introducing the new episodes in the museum's screening room. (In a moment that could've been straight out of 30 Rock, Hader yelled at and then kicked John Lutz out of the screening. "I'm sorry you all had to see that," he deadpanned. Lutz sauntered back in a few minutes later. Lorne Michaels was loving it.) Following the screening of the season's first two episodes — "The Bunker," which parodies The War Room; and "Juan Likes Rice & Chicken," which parodies Jiro Dreams of Sushi — Jon Hamm was quick to strike up conversations with Seth Meyers and John Mulaney in the Sky Room while Abbi Jacobson, Natasha Lyonne, and Carrie Brownstein could be seen taking selfies with Jenna Lyons and her fabulous sequined confetti jacket. Sadly, the Blue Jean Committee did not perform. Maybe next time.
BEGIN SLIDESHOW