Someone Tried to Crash Kanye's Stage for Once, But Kanye's Stage Floats
"I'ma let you finish, but, whoops, I fell."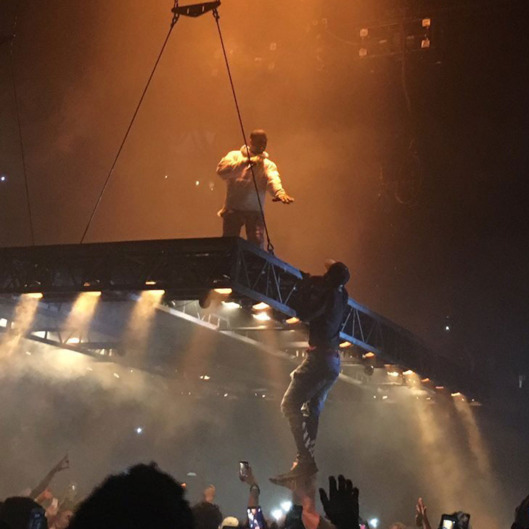 Karmic retribution may work slowly, but when it strikes, yikes, does it come down hard. Kanye West is a man known for many things, one being crashing a stage or two in his day. He made both Taylor Swift and Beck famous by doing just that, or so he likes to believe sometimes. But who makes Kanye West famous? Meet the dude who tried to crash Kanye's stage. Who he is, exactly, doesn't matter; it's what he did at Kanye's Saint Pablo tour stop in Atlanta Monday night that makes him automatically legendary. Mid-performance of "Power," it appears this guy took Kanye's words to heart: You know what, maybe no one man should have all that power. But two — why the hell not? And so he climbed onto Kanye's stage to get closer to godliness. Sadly, overcome by the moment's empowerment, he forgot Kanye now performs on a floating stage above the crowd. So he got yanked back down to Earth by his foot (which you have to bet was wearing Yeezys). Karma's a bitch for all.
How the hell did he get up there? pic.twitter.com/k9r8dPlnQe

— Nigel Int'l D. (@Nigel_D) September 13, 2016