Revisiting Star Magazine's Dogged Coverage of the Brangelina Beat
They predicted the divorce. Many times, in fact.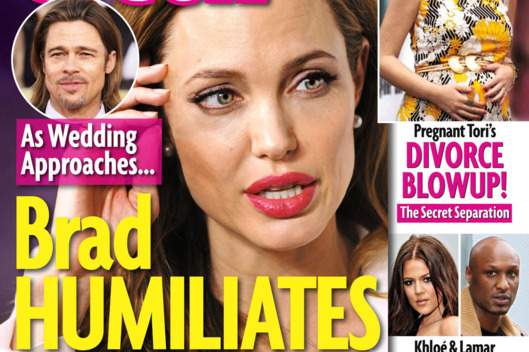 Were you surprised by today's news about Angelina Jolie filing for divorce from Brad Pitt? Star Magazine wasn't. The tabloid has been loudly predicting trouble for Brangelina on its covers — gathered here — since 2008, attributing the strife to such gossip fodder as hard drug use ("Wasted! Rehab for Angie"), a fling with an ex ("Brad & Jen's Secret Hotel Hook-Up"), and Brad being a secret bisexual ("Brad — Secret Bisexual!"). We may have all dismissed those headlines as baseless chatter, but now here were are. Beat a drum enough times and eventually you'll have a song. A mournful, heartbreaking song, sure, but those pay the bills, too.
BEGIN SLIDESHOW