The Toronto Film Fest Entries That Soared, Bored, and Had Everyone Talking
Including movies that star Anne Hathaway, Amy Adams, and Lupita Nyong'o.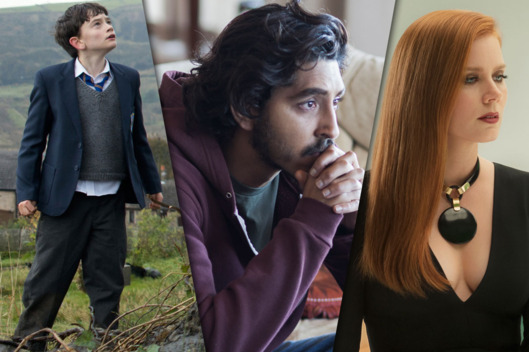 The Toronto Film Festival can always be counted on to provide some clarity for the rest of the year, and now that it's concluded, we've got a strong sense of this fall's Oscar contenders, intriguing indies, and outright puzzlements. Which movies earned our superlatives, for better or for worse? Read on and brush up.
Hottest Awards Magnet: La La Land
We'll have plenty more to say in the months to come about the Oscar potential of Damien Chazelle's modern musical, but it's notable that on the heels of Emma Stone's Best Actress win at the Venice Film Festival, La La Land also nabbed Toronto's Audience Award, which nearly always goes to a major awards-season player (and sometimes, in the case of 12 Years a Slave and Slumdog Millionaire, can even presage a Best Picture win). No movie is better positioned after the fall film-festival gauntlet than this one. — Kyle Buchanan
Most Unforgettable: Moonlight
This little drama of important scope and enormous depth is the movie I heard most people mention as their Toronto standout, and when they talk about it, it's with unequivocal rapture and love. Tracing one boy's passage through sexual identity while growing up black and poor in Miami, it's not only an intimate trip through lives rarely depicted onscreen, but it also taps into a universal craving for human connection. Though Moonlight isn't topped by big names — the director is Barry Jenkins (Medicine for Melancholy) and three virtual unknowns play our lead Chiron at different phases of his life — it has fast emerged as a dark-horse awards contender that's leaving a trail of bowled-over audiences in its wake. — Jada Yuan
Biggest Sob-fest: A Monster Calls
"Did you bring tissues? You might need some," a fellow reporter told me as we walked into A Monster Calls.  It was a good warning, because over the next 108 minutes I'd burned through the entire wad of napkins I'd fetched from the concession stand, while sitting next to a woman who'd been conducting the loudest, juiciest nose-blows I've ever heard, for 30 minutes straight. The premise sounds childish: Based on the award-winning gothic fairy tale by Patrick Ness, it concerns a 12-year-old boy living with his cancer-stricken single mother (Felicity Jones) who's visited by an understanding, tree-shaped monster (voiced and acted by Liam Neeson). Still, it's likely to reduce an adult to sobs. A Monster Calls is a beautiful mix of live action, hand-drawn animation, and motion-capture CGI that manages to illustrate the unspeakable, monstrous enormity of loss. — JY

Emptiest Weapon Worship: The Magnificent Seven and Free Fire
There's nothing much that's animating Antoine Fuqua's remake of The Magnificent Seven — most of the cast members look bored, including an unusually downcast Denzel Washington — except for an onslaught of gun violence so constant that the film's PG-13 rating feels totally outrageous. Similarly, plenty of fanboys were turned on by Ben Wheatley's Free Fire, but we found its endlessly extended shootout to be exhausting: Though Brie Larson and her castmates are decked out in 1970s duds, the over-the-top cannon fire from each pistol feels distinctly contemporary and distasteful. Both movies are hollow gun shows and nothing more. — KB
Cutest, Hands-down: My Entire High School Sinking Into the Sea
This extremely clever animated film was a shot of pure joy amid TIFF's overwhelming slate of weighty dramas. In what is basically the cartoon version of Deepwater Horizon, careless administrators build a structurally unsound auditorium on top of a small high school that itself dwells on top of a fault line on a cliff overlooking the sea. When the title turns literal, several student outcasts are tasked with trying to save their school and their drowning classmates. Graphic novelist Dash Shaw and his illustrator wife, Jane Samborski, drew this movie in their Brooklyn apartment and then recruited a bunch of lovely Hollywood weirdos — including Jason Schwartzman, Lena Dunham, and Reggie Watts — to do the voices. It all feels beguilingly homemade, like a bowl of slop from the movie's true superhero, Lunch Lady Lorraine. — JY
Best Scene-stealers, Female: The Women of Nocturnal Animals
Amy Adams and Jake Gyllenhaal more than hold their own as the leads of Tom Ford's Nocturnal Animals, but one of the primary pleasures of this stylish thriller is how many women traipse in for a delicious scene or two. Andrea Riseborough makes a strong early impression as a wealthy BFF in a marriage of convenience, Laura Linney is a total hoot as the Texas mom from Hell, and by the time Jena Malone shows up as an ostentatiously overdressed art attendant, I could barely contain myself. I'd follow any of them into their own stories, but as it is, they smartly leave you wanting more. — KB

Best Scene-stealer, Male: Hayden Szeto, The Edge of Seventeen
Every actor in Kelly Fremon Craig's teen comedy is a total delight, most especially Hailee Steinfeld as a friendless high-schooler cloaked in sarcasm and Woody Harrelson as the teacher offering her a reluctant sounding board. Still, we were most taken with Hayden Szeto, a major find as the Nice Guy Who Liked Our Heroine All Along. Funny, winning, and super-cute, Szeto brings an offbeat comic timing to the role and ought to leap up casting directors' lists after the film opens this November. — KB
Campiest Cajun: John Malkovich, Deepwater Horizon
Don't expect much environmental drum-beating from Peter Berg's latest disaster pic about the biggest oil-rig disaster in history: This is the human story of the men and women trapped in that brutal, brutal explosion. But above all, Deepwater Horizon is a glorious chance for John Malkovich to go full ham, as an impatient oil overseer who barks choice lines like "No mud, no flow? We gots to go!" in an evil Cajun accent. — JY
Biggest WTF: (Re)Assignment
Audiences were scratching their heads and hooting with laughter over this misbegotten Walter Hill thriller where Michelle Rodriguez plays a bearded hit man who's abducted by mad doctor Sigourney Weaver and forced to undergo gender-reassignment surgery. The premise and execution are ludicrous and Hill can't come to a conclusion about how seriously we're supposed to take all of this: From scene to scene, Weaver, Rodriguez, and the rest swing from campy derangement to playing-it-straight boredom. — KB
Most Likely to Make Harvey Weinstein Happy: Lion
No synopsis of this epic drama can prepare you for the flood of feelings that come from actually watching it. It just sounds so cheesy: Lion tells the heartbreaking true story of an orphaned Indian boy, Saroo, who uses Google Earth to find his way back home 25 years after he's been adopted by a couple in Australia. Yet somehow director Garth Davis sucks you in from moment one, never once turning a sepia lens on the extreme poverty surrounding Saroo, or the impossibility of his situation. This is the Weinstein Company's big end-of-year play with noteworthy performances from Dev Patel as 20-something Saroo, Nicole Kidman as his adoptive mother, and newcomer Sunny Pawar as the cutest little kid of any festival movie. I went into the theater prepared to be underwhelmed and instead found myself crying or on the verge of crying for two hours straight. — JY

Most Unpredictable: Colossal
Give us the first ten minutes of any movie and we can usually tell you what will happen in the last ten, but Colossal is no formulaic retread. Directed by Nacho Vigolando, it casts Anne Hathaway as a drunk who discovers a special power after returning to her hometown: If she walks through a children's playground every morning, she can manifest a towering monster on the other side of the planet. What does she do with this information once she's got it, and how do the townies who've befriended her react to that unusual ability? From minute to minute, the movie keeps you guessing. — KB
Best Aliens: Arrival
There are no androids or slimy tentacles bursting out of chests in Denis Villeneuve's exploration of what might happen during an alien visitation. Instead, we get something quieter, more realistic, and more mystical. Villeneuve's aliens are a bit like giant squids who float in clouds of mist and use complex ink blots to communicate with Amy Adams's linguistics expert. Yet in that absence of auditory information, we get something more intriguing: the sense that these undulating blobs might understand human emotion better than we do. — JY
Fiercest Femmes: Natalie Portman in Jackie and Lupita Nyong'o in Queen of Katwe
Forget what you thought you knew about Jackie Kennedy: In Natalie Portman's blazing, balls-out performance, the surefire Oscar contender turns the title character of Jackie into an angry, crafty woman lashing out at her inner circle after the tragic assassination of her husband. Just as formidable is Lupita Nyong'o as an overprotective mother in the chess-prodigy story Queen of Katwe: When she issues an order, you'd be hard-pressed not to nod and slink off to your room. (It's also a pleasure to see Nyong'o in her first live-action starring role since 12 Years a Slave.) — KB
Most Likely to Make You Want to Punch an Actor: Wakefield, Bleed for This
Do you love Bryan Cranston so much you'd watch him read a phone book? Well, Wakefield might change your mind. Insufferable from start to finish, it's all Cranston all the time, playing a wealthy Westchester lawyer (and irredeemable asshole) who decides to hole up in the attic above his garage instead of going home to his wife (Jennifer Garner) and teenage daughters. Soon, he's living there full-time, spying on his family and eating out of garbage bins, slowly turning feral, and playing the same exact note for 106 straight minutes. At least you have a bit more of a rationale for wanting to punch Miles Teller in Bleed for This: He plays former world-champion boxer Vinny Paz, who overcame a severe spinal injury to fight again. The story is moving enough, and Teller really does give it his all, but at this torpid pace, one can only watch so many montages of Vinny working out and fighting with his annoying family before wanting to throw a left hook just to get it over with. — JY
Most Hazardous to Your Health: Raw
By the time TIFF was over, this intensely graphic French cannibal movie had broken an anecdotal record, set by Eli Roth's The Green Inferno, for audience walkouts and retching. At its premiere screening, paramedics had to be called twice to tend to people who'd passed out watching a crucial scene where our 16-year-old heroine begins craving the sweet taste of human flesh and gnaws her way through a close relative's appendage. Critics have gone wild for the movie, which is actually a complex coming-of-age story underneath it all. Still, it wouldn't hurt to bring smelling salts and barf bags to the theater. — JY

Brightest New Ingenue: Florence Pugh, Lady Macbeth
Though we're already saturated with young starlets in the mold of Alicia Vikander and Jennifer Lawrence, Lady Macbeth makes a compelling argument to admit one more: Florence Pugh, a British actress who was only 19 when she filmed this intense period drama, has the kind of face you can't help but investigate, especially as her mistress of the house engages in foul play that's not directly derived from the Shakespearean classic but would definitely give the Macbeths a run for their money. Pugh is one to watch. — KB
Most Divisive: Their Finest
Vulture Kyle and I walked out of this British war comedy from director Lone Scherfig (An Education) with giant grins on our faces, only to run smack into a bitter war of reviews between outlets who, like us, found it delightful and charming, and others who've declared it "wan" or just kind of meh. A crowd-pleaser in the vein of British war classic Hope and Glory, with traces of Singing in the Rain (minus the singing), it follows a young scriptwriter (Gemma Atherton) charged with writing the "slop" — women's dialogue — for films produced by the British Ministry of Information's Film Division to rev up public morale about WWII. Soon, she's tasked with banging out a full-length feature based on a ginned-up story, starring an arrogant aging actor (Bill Nighy, terrific as always), with a misogynistic prig of a screenwriting partner who of course turns into a swoon-worthy Darcy-ish foil (an utterly charming Sam Claflin). Underneath all that romance-y charm is a touching story of women finding professional fulfillment in a world that only values their achievements because all of Britain's young men have been sent off to die. — JY
Grossest Real-Life Terror: Rats
No New Yorker, and pretty much no city dweller, will walk out of the theater feeling anything less than deeply scarred after seeing Morgan Spurlock's new "horror documentary." Mimicking the aesthetics of movies like The Exorcist, the film confirms the overwhelming number of rats living in our midst and shows how easily they can destroy us, complete with infrared footage of the teeming insides of sewers, sequences of scientists pulling horrible things out of rat organs, and doomsday narration from a perfectly cranky longtime Brooklyn exterminator, Ed Sheehan. You will never look at garbage — or sleep, for that matter — the same way again. — JY