Transparent Composer Dustin O'Halloran on the Show's Piano-Driven Score and Why the Theme Song Changed Slightly This Season
"The piano was something that always felt part of the writing in some way."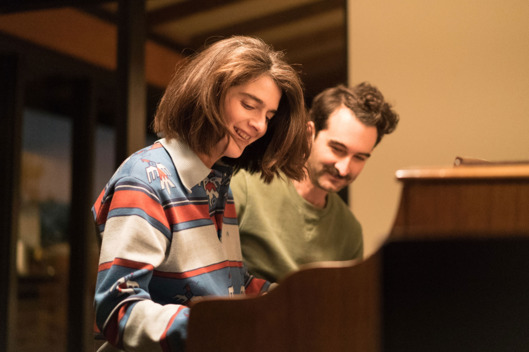 One of the most moving elements of Transparent, which premiered its third season on Amazon last week, is its memorable score, which is composed with delicacy on the piano by Dustin O'Halloran. Vulture spoke to O'Halloran — an accomplished pianist whose other composing credits include Marie Antoinette, Like Crazy, and Equals — this week to learn about how the instrument became so prominent on the show, the reason for the slight changes for season three's theme, and his relationship with Jill Soloway.
Piano music naturally became the voice of the show.
"The piano was something that always felt part of the writing in some way. It can convey a lot of intimate stories and emotions. When I started writing the theme for the show, we were trying to find a balance between something that could encompass the family, show vulnerability, and give a sense of melancholy and hope. These very fine lines to work with musically. That was one theme that I came up with ... I didn't intend it to be used for the opening, actually. When we put it up against the opening VHS images, the way I recorded the piano I used a lot of analog gear, and it just worked out really well. Everything has a very organic, analog feel to it, and that's very important to the show — giving it that life so it doesn't feel forced. It was a nice moment, because if you force something, it doesn't always come off the right way. With this show, we're trying to never force it. We're trying to get to something that's real and genuine."
It wasn't originally just piano in the theme song.
"We experimented working with other instruments, but the piano worked the best. It told the story in the right way; it created such a beautiful simplicity to it. When I first started working on the theme, I always thought that the theme needed to be a bigger sound. I was experimenting with strings and other larger piano sounds. It was interesting how the more understated piece worked better. For example, when I was at the Emmys, everybody's theme songs were like that — really big, a lot of strings, a lot of production. And mine is very restrained. When I won the Emmy, I always felt, Oh, but it's just this little piano piece! I felt they were mad at me because they put so much production into their pieces. That's a lot to be said about how Jill approaches the show. Less is more in a lot of ways. Not trying to force so much emotion and giving space to the people who are watching it. I think that's why the show is so attractive and why people connect with it."
A more complex theme was created to accompany a more complex season three.
"Jill wanted to refresh the theme song a little bit, because the show is evolving and we were trying to wait to expand it, so we added some horns. The length of the theme is longer, too. We did some horn arrangements for the second season, and it's a thematic instrument — there's a scene in the end of the third season where horn players are playing on the ship, and it was something that we wanted to tie or bridge the second and the third season together with. We wanted to convey a feeling and say, things are getting more and more complex. We're adding another layer to the story."
O'Halloran begins composing from rough, early cuts of episodes.
"They're much longer rough edits that I can work with, but I get scripts pretty early on and Jill and I have a discussion beforehand to see where the season is going and what themes it will encompass. Season three is about finding within you what your savior is. That's always a part of how I'm going to work with the music. With Jill, we're always looking for a very defined, delicate balance. We never want it to be leaning too much in one direction. It's never going to be a full-blown happiness or a full-blown sadness, it's just life. So we start with a conversation, and then I start getting some of the early cuts. Once I see those early cuts, I can get a feel for where the season's going."
O'Halloran and Soloway share a special musical communication.
"In the spotting sessions she'll have a lot of ideas, or she'll tell me the particular feeling she's looking for, and everyone will look at me and be like, Do you understand this? And I totally get it. I don't know why, but I get what she's looking for. I understand when it's too much, or when you need to restrain something, or if we're looking for something to be uncomfortable, yet still a little bit hopeful. She mixes a lot of feelings, and I always understand that. For me, music and life are never about trying to feel one thing. In the most beautiful moments of your life, there can also be a bit of sadness, because that moment's going to end. I understand all of these layered feelings. It's never so clear, either in the best moments or the saddest moments. There's always hope, and there's always things mixed in. We have good communication that way."
Listen closely in season three, because more recurring musical themes and motifs will pop up.
"The new season has a theme that we start the show with, and for the first time we created a theme for an entire episode. And that theme unfolds throughout the course of the episode and we come back to it in the season finale. We've started to tie a few things together. There's also a big flashback episode in season three, and the music in that is also recalling some of the Berlin flashback story that happened in season two. Then we have individual moments that reflect the general feeling of the show. We're starting to create a lot more links musically that we're coming back to or creating more themes that will thread a story line together, and that's been fun. We've got a lot to work with now with three seasons."
The key musical influences of the score are simple.
"The starting point was my two solo records, and those influences were always about early 20th-century piano music, like Claude Debussy. It's always evolving. We've stretched the parameters of the score a little bit. Season two was bringing the horns in and there's a little bit of a vintage feeling. There's no specific musical influence other than where I started with my own solo piano work, and then expanding on that. (I've been doing some more electronic music and exploring more symphonic music.) When I started working on the show, I was at a different place musically. So going back to what I was doing earlier and building on that."
There's a unique reason why he records in Berlin.
"The primary reason why I have to do the score here is that I have two really old, beautiful pianos from the 1930s, and it's the signature sound of the show now. They're so distinct in the sound that I have to record them here, because people would absolutely know the difference."