The Blade Runner Sequel Is Called Blade Runner 2049; Also, Here's a Photo of the Relevant Dudes Chatting Around an Empty Bowl
It's a pretty good bowl, all things considered.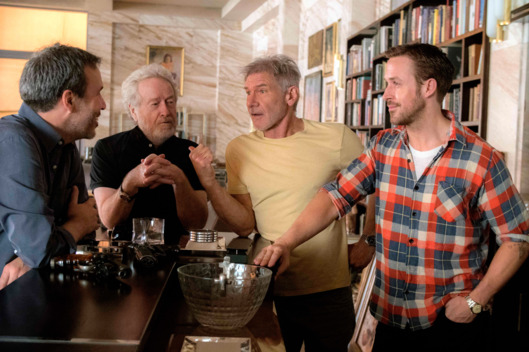 First things first: Alcon Entertainment has announced that the upcoming Blade Runner sequel, directed by Denis Villeneuve, will be called Blade Runner 2049. Starring Ryan Gosling and Harrison Ford, who is reprising the role of Deckard, the sequel takes place three decades after Ridley Scott's original film, which was set in 2019. Hampton Fancher and Michael Green wrote the script.
Now, on to the good stuff: In order to promote this announcement, Vulture received the above photo of (from left) Denis Villeneuve, Ridley Scott, Harrison Ford, and Ryan Gosling on the set of the film, just hanging out next to empty bowl. We find it very funny. What is the bowl for? Why is it empty? Was it a gift from co-star Jared Leto? What does it mean? Find out when the film premieres October 6, 2049 — sorry, 2017.