31 Celebrities Pick Their Favorite TV Couples
"Ricky and Lucy? Archie and Edith? Those were great, great, great couples."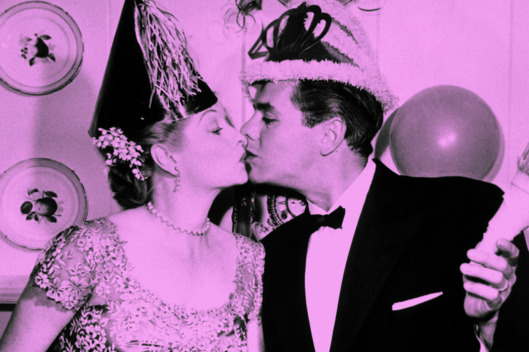 Earlier today, Vulture concluded this year's pop-culture bracket by crowning Eric and Tami Taylor as the greatest television couple of the last 30 years. Below, we asked a number of cultural figures to weigh in with picks of their own. Among the favorites? Lucy and Ricky Ricardo from I Love Lucy, Ralph and Alice Kramden from The Honeymooners, and Rob and Laura Petrie from The Dick Van Dyke Show.

"All-time? I don't know. I don't really pay attention to TV couples. Maybe Angel and Spike. But they're not my favorite couple of all time. That's the problem. I'm trying to think of all my favorite shows … do you mean romantic couple? I hate romantic couples. Yeah, my brain is empty of this. Like, I'm cycling through The West Wing. Like, my first answer was C.J. Cregg and the press room. To me, that's a very interesting pair and I loved it and I missed it when it was gone." —Shonda Rhimes
"The Honeymooners, Jackie Gleason and Audrey Meadows. My parents were not like that at all, but we were poor, we lived in a federal housing project in Bayonne, New Jersey, while they were in Brooklyn. The apartments kind of looked the same and the neighbors right out the windows and the people upstairs. That world was real to me, unlike the Leave It to Beaver world and the world of Father Knows Best with their suburban houses and streets. That was an alien planet to me. Alice was the sensible one and Ralph was the hothead, but he never actually hit her and at the end he always said, 'Alice, you're the best.' So you knew there was love there, despite the bombast." —George R.R. Martin
"Honestly, it was The Dick Van Dyke Show with he and Mary Tyler Moore. Laura and Rob Petrie. There was a certain ease and a sense of humor about them that I really loved. A sweetness and a respect for her that he really had, even though she was a housewife — I don't think she ever had a career. There was a certain way they had. They were a team. And I really loved that." —RuPaul
"Fred and Wilma. 'WIIIIIILMAAAA!' Fred was clearly a jerk, but she loved him so much she catered to him. And I was like, that's love right there. Where else you gonna find a fat caveman in a leopard daishiki? He had on a leopard daishiki and she stayed with him! That's real love. The hope is real. I'm looking for my Wilma, but I'm not gonna wear no leopard daishiki. I'm gonna have to put some Boss on, or some J. Lindeberg, let's do it good. Let's put on some John Varvatos, let's have something nice." —Jay Pharoah
"I think Dave and Maddie from Moonlighting is hard to beat. That was seminal. Tony and Carmela have got to be up there in the drama space. Frasier and Lilith, that's an amazing couple. With Frasier and Lilith, there was a demonstrable non-romantic affect to both characters bordering on sociopathy, in terms of the way their romance was constructed, but at the same time, you're totally and completely rooting for them. I've never seen anything like it on TV. Obviously they were supporting characters on Cheers, and Lilith was not on Frasier, so they did not last, but relationships can be doomed, too! And I'm always drawn to doomed relationships. Not in my personal life — I'm happily married and hope to remain so until I die. But on TV, there's no relationship like a doomed relationship." —Damon Lindelof
"Jackie Gleason and his wife. You know, 'Baby, you're the greatest.' No matter what happened between the two of them, 'Baby, you're the greatest.' [Loudly kisses wife on cheek.] That was it. And Ricky and Lucy and Archie and Edith — those were great, great, great couples. They loved each other. And they put up with everything. And they never walked away. And they held onto their differences. When you think of those three couples, they were not the same. They were water and fire and yet they stayed together." —Mandy Patinkin
"I loved the parents on Family Ties, Michael Gross and Meredith Baxter. I just wanted them to be my parents, and my friends … and my lovers. Lucy and Ethel are kind of a love story of a female friendship, and I just think, 'God, I would love to have a friend like Ethel.' I'd cast myself as Lucy, of course." —Casey Wilson
"I know it sounds so surreal, but … Cliff and Clair. It's crazy, but they had a huge influence on me, and different from Bill and Phylicia. Cliff and Clair had a big impact on how I viewed relationships. Just in terms of, you know, how he doted upon her. They had great communication. Their outward expression of love for each other, and for their kids. I wanted that." —Malcolm-Jamal Warner
"Oh, it's so easy. It was when Felicity was with Ben. I was a real Ben fan, that was a big time. I love them. I was obsessed with Sex and the City when I was younger. I was always rooting for Carrie and Big. I don't know what that says about me and my own choice of men. It's a real judgment call that I was not pro-Aidan. It wasn't that I was anti-Aidan, I just was like, she clearly is more in love with Big and she should be with him. Meanwhile, I'm still single. And that's probably because I'm rooting for Mr. Big." —Ari Graynor
"George Burns and Gracie Allen. They would do a little bit of the story and then they would get together and just talk. And I would go, 'Oh God, they are just like my mother and dad, except they are on TV.'" —Jeffrey Tambor
"Well, the first thing that jumps into my head is the Huxtables and I was just like — shoot, no. I feel so conflicted about it now, but that was the first thing that popped into my mind. That show was a huge, huge part of my childhood. That's what you wanted your parents to be like, you know? It's a strange answer now." —Mary Elizabeth Winstead
"I guess one of the earliest was the Cleavers, Ward and June. I just love them. They were so calm and it didn't matter what the Beav did, they were so far ahead of him. For a Lutheran, I thought, 'That's a great way to resolve conflicts, to sit down and talk calmly about it.' I loved Toody and Muldoon on Car 54, Where Are You?. They weren't married but they were partners, which is like a marriage. Archie and Edith, of course. I mean that was outrageously genius television, I loved them both. I always thought Fred and Ethel Mertz shouldn't have been married. They were on each other's ass so much. And, I mean, Ricky was really condescending to Lucy, and I didn't like that, but Fred and Ethel, there was something going on there. I think Ethel wanted to spread her wings and fly. I think she would've lost a lot of weight and been out on the road, that's what I think. I don't think Fred could've kept up with her." —William H. Macy
"Barbara Feldon and Don Adams on Get Smart.  I had the biggest crush her. Oh my God. Just everything: the way she looked, the way she talked, her whole attitude." —Scott Patterson
"Sid Caesar and Imogene Coca. Maybe the greatest comedy couple ever. And they were so brilliant, two geniuses. Whether they played husband and wife, or adversaries, or a girlfriend and boyfriend, they were so brilliant. Two geniuses who were playing at such a high level. I'll give you another one: Lucille Ball and Desi Arnaz. Lucille Ball and Desi Arnaz are so unusual because she was offered this television show. And she said, 'I won't do it without my husband, Desi.' And everybody said, 'Oh, boy. This is gonna be … oh, Jesus.' And then, they said, 'Well, let's do a screen test, whatever it is. Maybe it'll work. This crazy Cuban, you know?' And sure enough, they were brilliant. He was brilliant. He was the guy who kind of invented multi-camera television. He was a genius. So those two were perfectly suited to each other." —Jon Voight
"I loved Dick and Laura Petrie. Was his name Richard? What was his name, Dick Van Dyke on The Dick Van Dyke Show? And Mary Tyler Moore, I loved the Petries. I loved the way she looked. I loved her flip. [Laughs.] I loved the way her bangs swooped over. And I loved their furniture, I loved the little fireplace in their house. I loved how he looked just like my dad, and how he was goofy like I was, so I related because I could've been in that family. Not like Ritchie — I don't think Ritchie should've been in the family. I should've been in that family. We could do it! Dick's still alive and so is Mary Tyler Moore! [Laughs.] And so am I!" —Kimmy Robertson
"Morticia and Gomez Addams in The Addams Family. That taught me, what I thought, to have a fun, sexy relationship. They were just so into each other, and they were completely for each other, and they found each other sexy and stimulating." —Rupert Friend
"I was a big Fresh Prince of Bel Air girl, so basically Will Smith and any girl was very important to me. And sometimes very traumatic and dramatic cause I wanted to be with him when I was 10. Are you kidding me? Will Smith? Circa 1993? Woo, yeah! He's great, he's eternally wonderful and ageless. [Laughs.]" —Megalyn Echikunwoke
"Tom and Jerry are coming to mind. I don't know why, but those are the only two that are coming to mind. They were so inseparable. Best buds. Yeah, inseparable and a good support system." —Emmy Rossum
"Well, I want to say Cliff and Clair Huxtable, but you can't talk about the Huxtables, because it is still work. It doesn't matter if a person is a monster, their body of work is what it is. In the 1990s, what was interesting was, you would see couples like Kevin James and Leah Remini. There was an archetype for a while, where you would have an overweight buffoon with a gorgeous, really smart, practical wife. So to me, that was the new take. Here's what happened: In this industry, they said, 'Here's what we'll do, we'll solve sexism by putting smart women with dumb guys.' And not aesthetically pleasing guys!" —Keegan-Michael Key
"Rob and Laura Petrie. I loved how much they loved each other, but I didn't like that they slept in separate beds! Even when I was a kid, I knew that was just wrong. Although I had some grandparents who took that road. But I think they just adored each other." —Allison Janney
"That's a really hard question. I didn't watch a lot of TV when I was younger. Okay, wait, I got it! On Friends, Monica and Chandler! That's a good relationship, because it grew from friendship and it was really beautiful. I think having a best friend that you can talk to about everything is very important and having a teammate that knows you at your worst — marriage is like a team. When it comes to marriage, I'm looking for a teammate and a partner, so I would love to be able find my Chandler Bing. Where is he?" —Isabelle Fuhrman
"Jackie Gleason and Art Carney [in The Honeymooners]. That is a seminal odd-couple relationship. Hats off to Tony Randall and Jack Klugman, too. But a married couple? Bob Newhart and Suzanne Pleshette [in The Bob Newhart Show]. What could be better? That is a dreamy relationship. I was introduced to him in the men's room at the Creative Emmys and I wanted to get on my knees. But it wasn't the place! He's still so funny and so sharp. He is wonderful." —Michael Emerson
"Edith and Archie. I don't know, I was in love with her. I loved the way she managed him. Even then I found him gruff and kind of abusive, but she always go the best of him. I loved that show." —Bradley Whitford
"Archie and Edith. That was the first real, honest family I got to see portrayed on television. They were honest with each other all the time. Isn't this crazy? That we have these moments from our childhoods that we can point to that are so seminal? But the content is so spread now, this new generation will not have the same keystone moments to point to like we did." —John Ales
"The one for me was The Jeffersons. It's so interesting: I grew up in a small town and I really related to The Jeffersons for some reason." —Elaine Hendrix
"I really loved Charles and Carrie on The Little House on the Prairie. I was actually on two episodes of that when I was a kid, and I was obsessed with the show. I think that they had a very loving partnership, and it was a real partnership. For that time and what they were both doing, they were real partners. They both worked hard and they both struggled together and they loved each other through the hard times. It was so beautiful." —Melora Hardin
"Edith and Archie, I loved. Because they were real and it was real and funny. And of course, Ricky and Lucy. They were real, they were interracial and they were so funny." —Margo Martindale
"Lucy and Desi. She's my all-time favorite in comedy, and you can really feel the love with them. Obviously!" —Shiri Appleby
"Coach Taylor and Tami Taylor. What I loved about that show and about that relationship is that it's hard to do characters that are earnest and make them relatable. And I feel like earnestness is getting a bad name lately — it's not cool. There's a backlash against Macklemore, who could not be a more earnest and well-meaning guy trying to do right. So I feel like Coach and Tami made it likable and sexy, and that's not easy to do. —Marti Noxon
"Do Mulder and Scully count? That was my couple. The X-Files. The mutual respect that they had for each other, and for their jobs." —Chris Sullivan
"Oh gosh, I would have to say Winnie and Fred from The Wonder Years. I just think that they were so sweet and that young love is something that I have always, like, just gone for. I think it's adorable." —Chrissy Metz