Kanye Says 'Some Apple/Tidal Bullsh*t' Has Killed Watch the Throne 2
"I wasn't on the song because of Hov."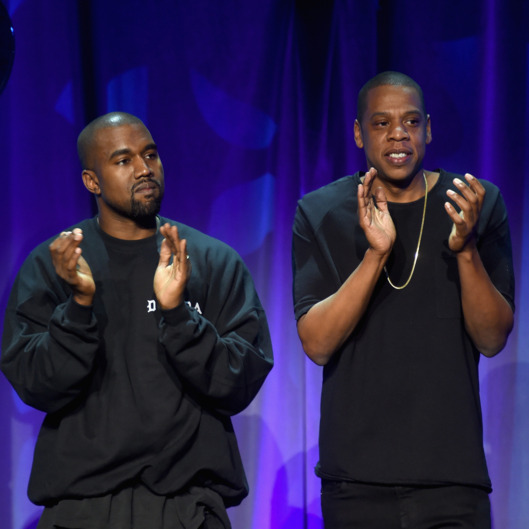 While the political nuance of making cross-streaming platform music isn't exactly the most relatable subject for a rant, Kanye is clearly upset with Jay Z. Remember Jay Z's two-bar verse on Drake's "Pop Style"? While performing in Seattle last night, Kanye revealed that they were both supposed to be on "Pop Style" but, in a complicated turn of events, Tidal co-founder Jay Z's verse was removed from the song when Drake's album Views was eventually sold on Apple Music. Yeezy blamed "some Tidal, some political shit, some shit about percentages" for decisions made around the song. Clearly enraged at the idea that "some Tidal/Apple bullshit" could affect his art, Kanye declared, "There will never be a Watch the Throne 2." Yeezy also revealed that Jay Z had the audacity to call him after Kim Kardashian was robbed in Paris, rather than visit the pair at home, all of which is going to make Watch the Throne 2 good as hell when they inevitably patch things up and release it on whatever streaming platform everyone has implanted directly in their brains in ten years.
ye talking about Watch The Throne 2 & Apple/Tidal problems @TeamKanyeDaily #SAINTPABLO pic.twitter.com/kXZNZuvTfP

— ike®☄ (@IkerLopez27) October 20, 2016
pt. 2 @TeamKanyeDaily #SAINTPABLO pic.twitter.com/N64PEXu7N7

— ike®☄ (@IkerLopez27) October 20, 2016
"Don't call me, after the robbery, and say 'how you feelin?' You wanna know how I'm feelin? Come by the house," - Kanye #SaintPabloTour pic.twitter.com/G6wkIzbY0n

— McKenna Moe (@MoeMunyMoeProbs) October 20, 2016