Manchester by the Sea, Moonlight Top the Gotham Award Nominations, and List of Films You'll Probably Have in Your Oscar Pool
<em>Moonlight</em>'s cast received a special ensemble jury award.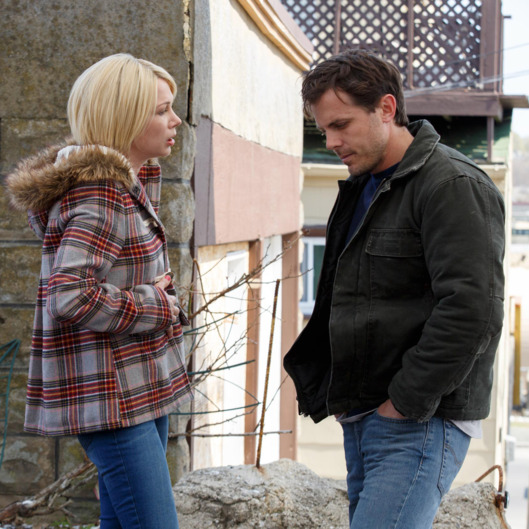 As much as you love studio films about time-traveling hit men and sentient troll dolls, independent film can act like a palate cleanser for your brain and soul. Luckily, the Gotham Awards just released their nomination list, and you can work your way through it from the top, starting with Kenneth Lonergan's Manchester by the Sea, which snagged four nominations including Best Screenplay, Best Actor for Casey Affleck, and Breakthrough Actor for Lucas Hedges. The film goes up against Certain Women, Everybody Wants Some!!, Moonlight, and Paterson for Best Feature. Barry Jenkins's Moonlight also snagged a Best Screenplay nod, in addition to winning a jury award from the nominating committee for ensemble performance, "in which actors at all levels of experience give outstanding performances that speak eloquently to one another both within and across each chapter of the story." You can read the full list of nominations below, and start planning your Ruth Negga and Joel Edgerton–themed Oscar party foods now. Baby Ruths and deviled "edgs"? Okay, look, you have a few months to workshop this.
Best Feature
Certain Women, Kelly Reichardt, director; Neil Kopp, Vincent Savino, Anish Savjani, producers (IFC Films)
Everybody Wants Some!!, Richard Linklater, director; Megan Ellison, Ginger Sledge, Richard Linklater, producers (Paramount Pictures)
Manchester by the Sea, Kenneth Lonergan, director; Kimberly Steward, Matt Damon, Chris Moore, Lauren Beck, Kevin J. Walsh, producers (Amazon Studios)
Moonlight,
 Barry Jenkins, director; Adele Romanski, Dede Gardner, Jeremy Kleiner, producers (A24)
Paterson,
 Jim Jarmusch, director; Joshua Astrachan, Carter Logan, producers (Amazon Studios)
Best Documentary
Cameraperson
, Kirsten Johnson, director; Marilyn Ness, producer (Janus Films)
I Am Not Your Negro
, Raoul Peck, director; Rémi Grellety, Raoul Peck, Hébert Peck, producers (Magnolia Pictures)
O.J.: Made in America,
 Ezra Edelman, director; Caroline Waterlow, Ezra Edelman, Tamara Rosenberg, Nina Krstic, Deirdre Fenton, Erin Leyden, producers (ESPN Films)
Tower,
 Keith Maitland, director; Keith Maitland, Megan Gilbride, Susan Thomson, producers (Kino Lorber, Independent Lens)
Weiner,
 Josh Kriegman, Elyse Steinberg, directors and producers (Sundance Selects and Showtime Documentary Films)
Bingham Ray Breakthrough Director Award
Robert Eggers, The Witch (A24)
Anna Rose Holmer, The Fits (Oscilloscope Laboratories)
Daniel Kwan & Daniel Scheinert, Swiss Army Man (A24)
Trey Edward Shults, Krisha (A24)
Richard Tanne, Southside With You (Roadside Attractions and Miramax)
Best Screenplay
Hell or High Water, Taylor Sheridan (CBS Films)
Love & Friendship, Whit Stillman (Amazon Studios)
Manchester by the Sea, Kenneth Lonergan (Amazon Studios)
Moonlight, Tarell Alvin McCraney (Story) and Barry Jenkins (Screenplay) (A24)
Paterson, Jim Jarmusch (Amazon Studios)
Best Actor
Casey Affleck, Manchester by the Sea (Amazon Studios)
Jeff Bridges, Hell or High Water (CBS Films)
Adam Driver, Paterson (Amazon Studios)
Joel Edgerton, Loving (Focus Features)
Craig Robinson, Morris From America (A24)
Best Actress
Kate Beckinsale, Love & Friendship (Amazon Studios)
Annette Bening, 20th Century Women (A24)
Isabelle Huppert, Elle (Sony Pictures Classics)
Ruth Negga, Loving (Focus Features)
Natalie Portman, Jackie (Fox Searchlight Pictures)
Breakthrough Actor
Lily Gladstone, Certain Women (IFC Films)
Lucas Hedges, Manchester by the Sea (Amazon Studios)
Royalty Hightower, The Fits (Oscilloscope Laboratories)
Sasha Lane, American Honey (A24)
Anya Taylor-Joy, The Witch (A24)
Breakthrough Series – Long Form
Crazy Ex-Girlfriend, Rachel Bloom & Aline Brosh McKenna, creators; Marc Webb, Rachel Bloom, Aline Brosh McKenna, Erin Ehrlich, executive producers (The CW)
The Girlfriend Experience, Lodge Kerrigan, Amy Seimetz, creators; Steven Soderbergh, Philip Fleischman, Amy Seimetz, Lodge Kerrigan, Jeff Cuban, Gary Marcus, executive producers (Starz)
Horace and Pete, Louis C.K., creator; M. Blair Breard, Dave Becky, Vernon Chatman, Dino Stamatopoulos, executive producers (louisck.net)
Marvel's Jessica Jones, Melissa Rosenberg, creator; Melissa Rosenberg, Liz Friedman, Alan Fine, Stan Lee, Joe Quesada, Dan Buckley, Jim Chory, Jeph Loeb, Howard Klein, executive producers (Netflix)
Master of None, Aziz Ansari and Alan Yang, creators; Michael Schur, David Miner, Dave Becky, executive producers (Netflix)
Breakthrough Series – Short Form
The Gay and Wondrous Life of Caleb Gallo, Brian Jordan Alvarez, creator (YouTube)
Her Story, Jen Richards and Laura Zak, creators (herstoryshow.com)
The Movement, Darnell Moore, Host (Mic.com)
Sitting in Bathrooms With Trans People, Dylan Marron, creator (Seriously.TV)
Surviving, Reagan Gomez, creator (YouTube)