Oh, Hello's Inspiration, Alan Alda, Was Served Too Much Tuna on Opening Night
Nick Kroll and John Mulaney finally met the man who prompted them to create their characters.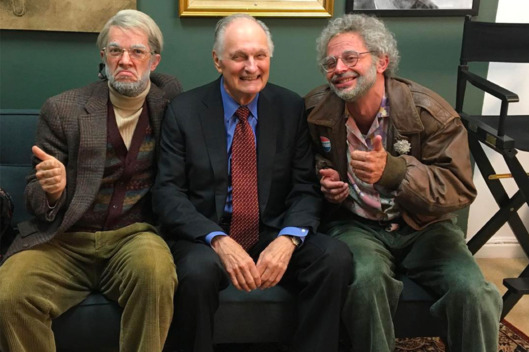 The stars were out Monday at the opening night of Oh, Hello on Broadway, Nick Kroll and John Mulaney's latest version of their stage show about two Upper West Side schmucks — Gil Faizon and George St. Geegland, respectively. In the lobby was a who's who of famous people who live in New York — your SNL cast members, your Michael Emersons — and their agents. Jimmy Fallon was there. As was Jon Hamm, who is listed with John Slattery as an understudy for the show. But the most important person there, by far, was Mr. Alan Alda — because without him there would be no show.
Ten years ago, two unrelated events occurred: Alda released his autobiography, Never Have Your Dog Stuffed, and Kroll and Mulaney were tasked with hosting a show at Rififi, the now-closed legendary East Village alternative-comedy venue. As the story goes, Kroll and Mulaney — who have been friends since meeting in college at Georgetown, when Kroll cast Mulaney for the school's improv team — were walking around Manhattan when they saw two old men at the Strand buying a copy of Alda's book. The two comedians — who among many talents are two of the best observers of character types — became fascinated by the elderly pair, soon deciding to host their show as versions of them.
What Kroll and Mulaney could never have imagined was how far they'd be able to take these two incredibly specific characters, who trade in very geographically specific jokes: from that small East Village club to online videos to fixtures of Kroll's Comedy Central sketch series, Kroll Show, to an Off Broadway run to a touring stage show to freaking Broadway, baby. And Alan Alda was their guiding light.
That's why it was a big deal that Alda was not only attending Oh, Hello on Broadway, but would also be a participant. Each night around the show's midpoint, they stage the taping of a fake TV segment. It's a live version of "Too Much Tuna," the roast-like prank-show parody they performed on Kroll Show. Seth Meyers, Katie Couric, police commissioner Ray Kelly, Dick Cavett, Bill Hader, Marcia Clark, and Richard Kind have all participated in the past, and the bit always ends with Kroll and Mulaney presenting their guest with an overstuffed tuna sandwich and coaxing them into saying that it's "too much tuna." On opening night, it was only fitting Alda would be their subject — and he was more than happy to play along.

From the duo's first "Oh ... hello" to their final bow, Alda's face was fixed with a broad smile, which frequently opened to release his unmistakable laugh. Sitting in the crowd just behind Mulaney's family, he laughed at the inside comedy and theater jokes, particularly loving when the duo said that Kroll teaches a seminar called "Improvisation for Nonlisteners," riffing on both Improvisation for the Theater (a book by Viola Spolin that Alan Alda blurbed after studying her teaching when he was becoming an improviser many years ago) and "Improvisation for Scientists" (a program that Alda launched). He laughed loudest at the darkest jokes, like when Kroll revealed, in his backstory, that his dad "ratted out Jews during the Holocaust." Most important, Alan Alda laughed at the many jokes about Alan Alda. Early in the show, when Kroll and Mulaney are explaining themselves, they say, "We are the recipients of a 1997 restraining order, keeping us 100 feet at all times from America's greatest actor, Mr. Alan Alda." They continued on to explain that they are "authors of the weekly newsletter celebrating Mr. Alda, which is titled 'Alda News That's Fit to Print.'" Alda got it all, and loved it. Then came time for his tuna.
Before bringing Alda onstage, Kroll said, "This is genuinely the best guest we ever had." Mulaney added, "We do say this every night, but you'll see in a minute we really mean it ... Please welcome Alan Alda." Kroll and Mulaney smiled as he walked onstage, even breaking character as their own personal excitement seemed to overwhelm their stage personas. Alda sat down and was in it right away, glaring at the two hosts and asking, "How did you get in touch with me?" To which Mulaney responded, "A doorman uniform is like the easiest thing to fake." Alda laughed.
He laughed a lot, even when they roasted him. Take the first question: "On February 28th, 1983, a hundred million people tuned in to the least funny episode of M*A*S*H. I mean sometimes jokes don't land, but for a whole hour?" Alda chuckled and responded, "It was two hours." Quickly, Alda was giving it back to the duo, even saying "Broadway" in their distinctly nonsensical style, where it sounds like "Brrrdway." Alda told Kroll, "I don't understand anything he says," pointing to Mulaney. "I understand you a little bit, but it's the attitude because you have this funny expression. He doesn't have much of any expression." This got a big laugh from the audience and a bigger laugh from Kroll and Mulaney, as for a lot of their career Kroll was thought of as more of the performer between the two. Mulaney responded, winkingly, "When you write, you don't have to be good at the performing side of it." To which Alda, playing like he still didn't understand him, responded, "What!?"
The segment ends, as all of these do, with an enormous tuna-fish sandwich being placed in front of the guest. Kroll and Mulaney mocked Alda and tried to get him to describe the sandwich. Alda looked at the two of them and said, "I don't want to put too fine a point on it, but this is too much fucking tuna." Music played, and Kroll and Mulaney got up and danced in excitement. As Alda was leaving the stage, they got on the ground and bowed to him. Alda accepted the bows and got on the ground with them, prompting Mulaney to look out to the audience and say, "Alan Alda just whispered to us: He will be in the lobby after the show. And he would like to take a cell-phone picture with you." Kroll added, "Make sure to give your camera to somebody who doesn't know how to use it." As is the case when Kroll and Mulaney get off on a riff, they didn't stop until they got the biggest laugh. Mulaney found it with, "And, Alan, if you can just point out which car is yours, I will Cape Fear myself to the bottom of it and we'll see each other real soon." Alda, back at his seat, mouth wide, laughed. Then Mulaney looked Kroll and said, "Alan Alda just did the show."