Review Roundup: Doctor Strange Is a Trippy Delight
"This is the most exciting addition to their ever-expanding universe since <em>The Avengers</em>."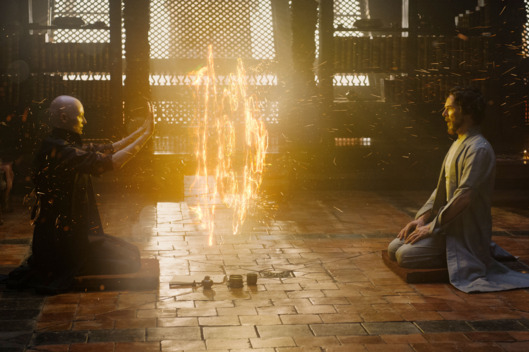 As the newest addition to Marvel's widely popular superhero universe, Doctor Strange takes a tiny step back from the company's usual formula, presenting a mystical world of visual delights. Critics are generally onboard, praising the originality of the film's vision, as well as the imperious charisma of star Benedict Cumberbatch. Most reviewers agree that, though the character beats are familiar, the movie is an exciting break from the usual Marvel fare.

"Created by Steve Ditko, Dr. Stephen Strange is not the most famous or distinctive of the Marvel characters, but thanks to Benedict Cumberbatch he might be the most entertaining. It wasn't so long ago that Cumberbatch's lizard-like physiognomy seemed strange, indeed. But we've grown accustomed to his face, which makes those of other leading men look blandly proportional. In Doctor Strange, his slanted, wide-apart eyes fit the film's geometry. He's like a Picasso figure striding through a cubist universe — a place where walls can split into hard shards and open out like the Red Sea. Cumberbatch's Strange parts the material world like a Picasso Moses." —David Edelstein, Vulture
"Mr. Derrickson does a lot right, including with his lineup of strong actors (the cast also includes Benedict Wong and Mads Mikkelsen) who hold your attention even as the ground shifts below their feet. They help elevate the more generic beats in Doctor Strange because, for all the phantasmagoria and time-skipping, there is also much by the book, including the vaguely Christ-like, fallen and risen savior. The movie's more lysergic sections are followed with carefully aligned narrative bricks and mortar and sometimes sealed with a quip, as if to reassure you that there's nothing too far out about any of this. That's hardly unexpected, and it also scarcely matters because when a good fantasy fiction like this opens that door of perception called imagination it's a total trip." —Manohla Dargis, New York Times
"One of the pleasures of Doctor Strange is the way it both wholly embraces and gently mocks the unapologetic geekiness of the enterprise. Between the Staff of the Living Tribunal, the Eye of Agamotto and the Pillar of Cacciatore (OK, that one's fake), the film wields its occult accouterments with scholarly pride; the best supporting performance here is arguably given by the Cape of Levitation, which loyally affixes itself to Strange but turns out to have quite a mind of its own. Edna Mode would surely disapprove." —Justin Chang, Los Angeles Times
"That spectacle comes at a cost. As with all of the best installments of the MCU, the film's unique strengths have a perverse way of highlighting the franchise's shared weaknesses. But Doctor Strange deserves credit for treating several of the ailments that have been infecting the series, and for diagnosing several more. A movie about a forward-thinking man who is deeply afraid of failure, Doctor Strange can be seen as something of a self-portrait for the studio that produced it — it might even be more fun to think of it in that context, as the risks taken by the story's thinly sketched superhero are endowed with the weight and history of the many-tentacled mythos that we've been watching Marvel unpack for almost a decade. This is the most exciting addition to their ever-expanding universe since The Avengers." —David Ehrlich, Indie Wire
"When you strip away the Secrets of the East mumbo jumbo and psychedelic special effects, Doctor Strange is a formulaic Marvel origin story, but it's done with high-IQ wit, all but name-checking the myth of Sisyphus and the kaleidoscopic architectural origami of M.C. Escher. (We're a long way from the blunt-force shenanigans of HYDRA here.) Doctor Strange is thrilling in the way a lot of other Marvel movies are. But what makes it unique is that it's also heady in a way most Marvel movies don't dare to be. It's eye candy and brain candy." —Chris Nashawaty, Entertainment Weekly
"You'd normally expect to find the likes of Benedict Cumberbatch, Tilda Swinton and Chiwetel Ejiofor topping the cast of some thematically venturesome, aesthetically respectable British drama set discreetly in the recent past. But here these terrific actors are playing comic book characters in a film the majority of whose audience members may never have seen any of them before. Do comics-derived films really require thespians of this caliber when the effects and genre elements are their raisons d'etre? Well, no, but they unquestionably class up the joint by injecting wit, elocution, faces with character and commanding presence into material that needs all the elevation it can get to not seem entirely juvenile." —Todd McCarthy, The Hollywood Reporter
"It's obvious why they hired a big time star like Cumberbatch, because Doctor Strange is here to guide us through the next decade of Marvel movies, just like Downey did in the last decade. Doctor Strange is basically a reboot of Iron Man, only with a lot more prettier things to look at while you're stoned. It's a good strategy. And it works." —Mike Ryan, Uproxx
"Yes, this new project shares the same look, feel, and fancy corporate sheen as the rest of Marvel's rapidly expanding Avengers portfolio, but it also boasts an underlying originality and freshness missing from the increasingly cookie-cutter comic-book realm of late. From this second-tier side character, the studio has created a thrilling existential dilemma in which its flawed hero's personal search for purpose dovetails beautifully with forays into the occult New Age realm of magic and sorcery where Doctor Strange ultimately finds his calling." —Peter Debruge, Variety