Watch an Emasculated Shia LaBeouf Apply Lotion in This American Honey Clip
A Confederate-flag bikini is also involved.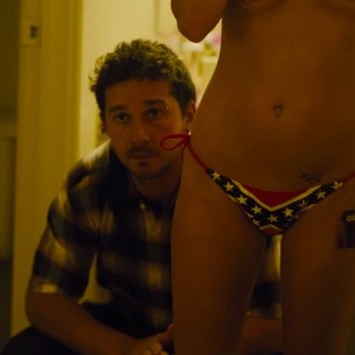 We've got an exclusive clip from Andrea Arnold's acclaimed new film, American Honey, and boy, is there a lot going on here. The movie follows aimless Star (Sasha Lane) as she falls in with a hard-partying magazine-sales crew as they crisscross the nation, and it isn't long before Star has developed feelings for Jake (Shia LaBeouf), the rattailed bad boy who is the group's most charismatic figure. Still, it isn't all wine and roses between the two of them, and just before this clip picks up, Star goes to group leader Crystal (Riley Keough) to complain about Jake's behavior. That's when Jake emerges from the bathroom, implying some just-concluded intimacy between him and Crystal, and obediently drops to his knees to lather the bikini-clad Crystal with tanning lotion as Star receives a dressing down from her boss. Watch the fraught scene play out, and catch the film in theaters now.