Suge Knight Sues Dr. Dre for Allegedly Trying to Have Him Killed
Apparently over Dre's Beats deal with Apple.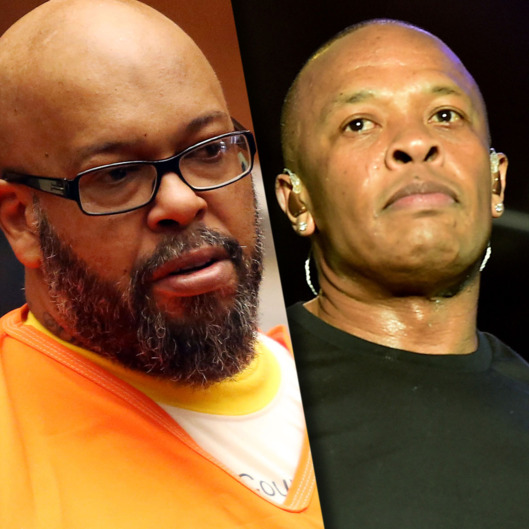 If you watched Michel'le's Lifetime biopic and had a hankering for more related drama, quite the update has emerged. TMZ reports that Suge Knight is suing Dr. Dre for allegedly hiring a hit man to have him killed. The lawsuit stems from a 2014 incident in which Knight was shot seven times at a Hollywood nightclub. Knight has maintained that his former Death Row Records signee, Dr. Dre, was behind the shooting; now Knight, who is in jail on murder charges stemming from a hit and run, is officially suing Dre for allegedly attempting to have him killed. According to Knight, the dispute dates back to Dre's sale of Beats to Apple in 2014. Knight claims that he has a "lifetime management" deal over Dre that entitled him to 30 percent of all Dre's entertainment earnings, which prompted Dre and Universal (the studio behind Straight Outta Compton) to allegedly hire a man named Cle "Bone" Sloan to murder Knight so he'd no longer profit off Dre.
In 2015, Knight says he was ambushed by Sloan and another man in Compton near a promotional shoot for Straight Outta Compton, where Knight ran over Sloan and another man, Terry Carter, with his car, killing Carter. (Knight could potentially serve life in prison if convicted.) Knight also previously sued Chris Brown, who had co-hosted an event at the club the night Knight was shot. In the current lawsuit against Dre, he's seeking $300 million, or roughly the 30 percent he feels he's owed from the Beats sale. Lawyers for Dre have responded to the suit, saying in a statement that "given that Dre has had zero interaction with Suge since leaving Death Row Records in 1996, we hope that Suge's lawyer has lots of malicious prosecution insurance."