If You Couldn't Make It to the 24-Hour Taylor Mac Marathon Performance, This Is (a Little Bit of) What It Looked Like
Hot dogs and ping-pong balls and every kind of liberation.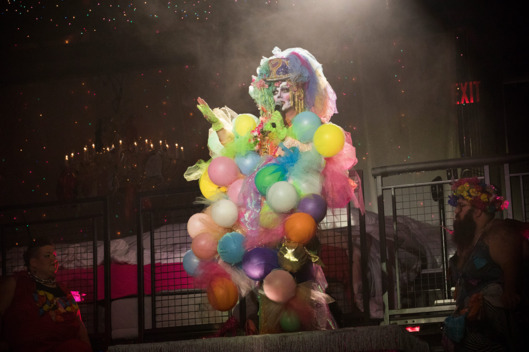 The giant inflatable red, white, and blue penis floated in around the 21st hour or so, and the crowd batted it over their heads. By then, they had seen 240 years of American history performed in song, including an onstage battle between Stephen Foster and Walt Whitman, an hour in which they were blindfolded to mark the invention of Braille, a moment when audience members were forcibly rearranged to evoke urban "white flight," and a Civil War skirmish reenacted with flying ping-pong balls. Everyone was at St. Ann's on October 8 for the climax of Taylor Mac's pansexual, pangendered A 24-Decade History of Popular Music, a show normally performed in eight three-hour bursts but tonight done in one 24-hour megamarathon. Audience members got snacks and a meal (dinner, during Reconstruction), and an experience that, judging by the tweets from those in the room ...
WE MADE IT! IT WAS INCREDIBLE! THANK YOU, TAYLOR MAC pic.twitter.com/5dDOastf5D

— cganz (@mehpatrol) October 9, 2016
Kind of don't want this Taylor Mac experience to end. Is this Stockholm Syndrome or inertia?

— cganz (@mehpatrol) October 9, 2016
Joyous, profoundly political, beautifully performed and utterly frock-tastic @TaylorMacNYC at @stannswarehouse is the show America needs.

— John McGrath (@JohnMIF) October 1, 2016
... was at least spectacular, and perhaps life-altering.
BEGIN SLIDESHOW