Surprise! Donald Trump Thinks Alec Baldwin's SNL Portrayal of Him 'Stinks'
And that the media is "rigging" the election.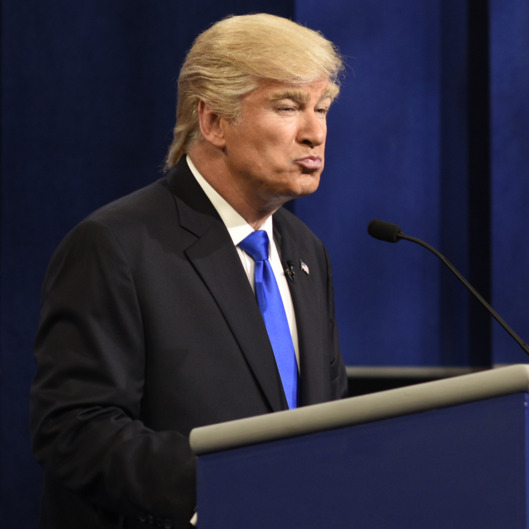 A moment of silence for Alec Baldwin, please. Saturday Night Live's newest Donald Trump impressionist maestro has so far done an array of sketches about today's political climate — you can find them here, here, and here — but his latest debate parody seems to have brought Trump himself to a breaking point. Taking to Twitter on Sunday morning, the Republican presidential nominee expressed major dissatisfaction over Baldwin's portrayal, and even accused SNL of now being part of the media's attempt to rig the election. (As a reminder, Trump hosted the show in 2015 and 2004.) Sad! "Watched Saturday Night Live hit job on me," he said. "Time to retire the boring and unfunny show. Alec Baldwin portrayal stinks. Media rigging election!" What's the old saying? A man who can be provoked by a late-night, American, sketch-comedy show should not have his hands anywhere near the nuclear codes?
Amazing evening at Saturday Night Live!

— Donald J. Trump (@realDonaldTrump) November 8, 2015
I am at the Saturday Night Live Studio - electricity all over the place. We will be doing a "tweeting" skit, so stay tuned!

— Donald J. Trump (@realDonaldTrump) November 8, 2015
As a former host of Saturday Night Live, I look forward to attending tonight!

— Donald J. Trump (@realDonaldTrump) February 15, 2015