Join Vulture at New York Comic Con for Panels About SNL, Stranger Things, Harley Quinn, and More
You're going to want to call in sick on Friday — there's a lot going on.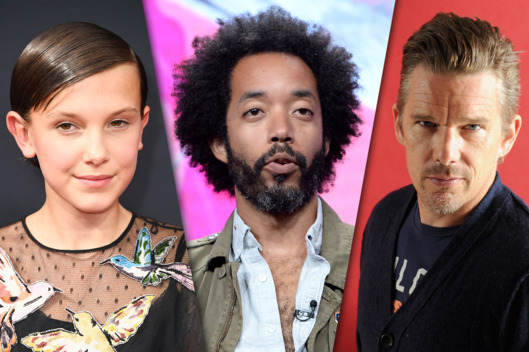 New York Comic Con is consuming the west side of middle Manhattan for the next four days, and Vulture will be there talking with some of your favorite entertainers. Want to learn how an episode of Saturday Night Live comes together? Jesse David Fox is walking through the process with the show's head writers. Can't get enough of Stranger Things? Matt Zoller Seitz will be nerding out with cast members. Think Game of Thrones hasn't been the same since Joffrey died? Nate Jones is taking a stroll down Westeros's memory lane with actor Jack Gleeson. And that's just half of what's on the docket. See the whole schedule below — and if you're planning to wear an elaborate costume to these events, be sure to enter the cosplay contest that's being co-judged by our sister site the Cut's Diana Tsui.
THURSDAY, OCTOBER 6
11 a.m. to 12 p.m., Ethan Hawke and Greg Ruth on the making of Indeh
The moral quandaries and brutal realities of the Apache Wars come to vivid life in Indeh, a historical graphic novel from the actor/writer Hawke and artist Greg Ruth. They'll join Vulture associate editor Abraham Riesman to talk about the legacy of violence against Native Americans and the ten-year creative process that led to their book. Room 1A06
FRIDAY, OCTOBER 7
 
11 a.m., Stranger Things' David Harbour and Millie Bobby Brown in conversation
Brown (Eleven) and Harbour (Chief Hopper) join Vulture's TV critic Matt Zoller Seitz to discuss the monsters on Maple Street and the phenomenon of Stranger Things, sharing secrets and stories behind the biggest show of the summer. Main Stage 1-D
1:15 to 2:15 p.m., Jack Gleeson Spotlight
He's been saved by Batman and ruled Westeros (briefly), and now Jack Gleeson talks with Vulture movie editor Nate Jones about life as King Joffrey and the perils of ordering the house wine at weddings. Room 1A06
 
1:45 to 2:45 p.m., An Inside Look at TBS's People of Earth
From Emmy winners Conan O'Brien (Conan) and Greg Daniels (The Office) and creator David Jenkins comes People of Earth, a comedy series about a support group for alien abductees. Vulture senior editor Jesse David Fox talks with cast members Wyatt Cenac, Oscar Nunez, Da'Vine Joy Randolph, Tracee Chimo, Alice Wetterlund, Michael Cassidy, and David Kissinger about working with O'Brien and Daniels, creating comedy from a place of empathy, and whether aliens exist. Room 1A10

4 to 5 p.m., Harley Quinn: Past, Present, and Future
In the past 25 years, Harley Quinn has gone from being an afterthought crammed into an episode of Batman: The Animated Series to being one of the most popular characters in pop culture today. Vulture associate editor Abraham Riesman will be talking about Harley's past, present, and future with the co-writers of her solo comic, Jimmy Palmiotti and Amanda Conner, as well as tor.com critic Emily Asher-Perrin. Room 1A21
SATURDAY, OCTOBER 8
New York Comic Con 2016 Eastern Championships of Cosplay
11 a.m. to 2 p.m.          Prejudging
8 p.m. to 10 p.m.         Judging
The Cut's Diana Tsui will turn her style-minded eye toward fan fashion as one of three judges of NYCC's cosplay contest. Judging on Main Stage 1-D
SUNDAY, OCTOBER 9
2:30 to 3:30 p.m., Vulture Presents Saturday Night Live, the Day After — SNL Head Writers in Conversation
As the television institution heads into its 42nd season, Vulture senior editor Jesse David Fox talks with SNL co-head writers Bryan Tucker, Chris Kelly, and Sarah Schneider. They'll discuss making comedy about this election, what the head writers actually do, and what makes Lorne laugh. Room 1A24