The Walking Dead Season-7 Premiere Is Likely the Most-Watched Episode of the Series Ever
The cliffhanger turned out to be very good for the show's Nielsen numbers.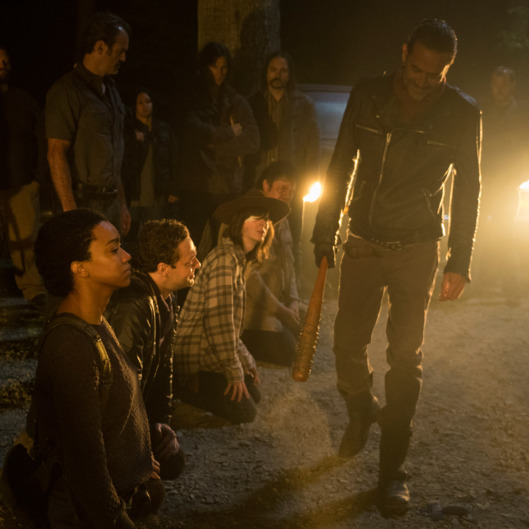 The Walking Dead cliffhanger turned out to be very good for the show's Nielsen numbers: Sunday's episode of the AMC thriller drew a massive audience of 17 million same-day viewers, a 16 percent jump from last fall's opener — and, once delayed viewing is tallied, it will very likely be the most-watched episode of the series ever. While big numbers are nothing new for TWD, the show had seemed to be losing a (tiny) bit of ratings steam last year, with the season-six premiere attracting nearly 3 million fewer eyeballs than season-five's start. But these numbers, while no doubt boosted by audience anticipation over discovering which cast member was being killed off, should quiet any talk of a ratings decline.
Sunday's episode was particularly strong in key demo groups, earning a series-best 8.7 rating among adults 25 to 54, and a near-record 8.4 rating with adults under 50. Among the latter demo, TWD doubled the under-50 audience of last month's Empire season-three premiere and also easily outdid CBS's The Big Bang Theory. TWD also boosted the audience for a 90-minute post-show Talking Dead: The Chris Hardwick-hosted talker notched an amazing 7.6 million viewers and a 3.7 rating among adults under 50. As for whether TWD will set a new record in total viewers, it's already close: The 17 million same-day tune-in for Sunday's season premiere is just 300,000 fewer than the 17.3 million same-day audience for 2014's season-five launch. If TWD can manage ever-so-slightly higher DVR replays and digital streams than its 2014 premiere, it will end up with a record. Look for the delayed viewing numbers from Nielsen and AMC on Friday.