Abbi Jacobson and Ilana Glazer on Their 6 Favorite Broad City Musical Moments
From Drake and Lady Gaga to <em>Sister Act 2.</em>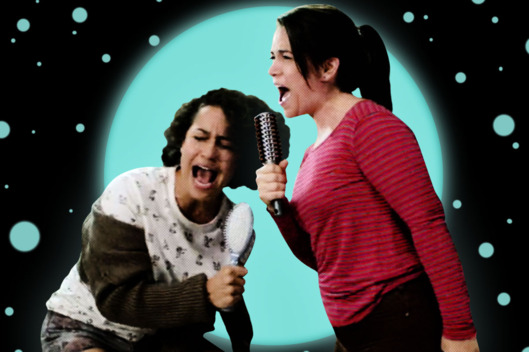 Throughout its three-season run, Broad City has weaved in some unforgettable musical moments. Whether it's a full-on music ensemble — a rousing rendition of a Sister Act 2 song, for instance — or simply the chosen background music for a particular scene, the show's creators and stars Abbi Jacobson and Ilana Glazer, as well as music supervisor Matt FX, work hard to craft the Comedy Central show's unique musical stylings.
"I think the musical identity of the show is predominantly very tied in with New York City," Matt FX explains. "Beyond that I'd say it's sort of a melting-pot of influences ranging from electronic, rap, and club music to more traditional pop or rock stuff … regardless of whether it's being produced out of Brooklyn or Cape Town, there's definitely a defined modern sound. I'd say that plays the biggest role." In the lead-up to the release of Broad City's original series soundtrack, Jacobson and Glazer explained the backstories behind their six favorite musical moments from the show.
Drake — "Started From the Bottom"
Jacobson: "This cold open was epic, and allowed us to really go for this music-video homage fully. It was nuts to get such a huge song in our first season, and it just felt so right. We blasted this song in the bank not knowing that we'd actually get to use it — a.k.a. afford it — but it was just too good when we cut it together that we made it work in the budget."
Ana Tijoux — "1977"
Glazer: "This cold open was based on a webisode we did called 'The Commute.' It was part split-screen, but mostly cuts back and forth accounting for each girl's wake-up routine and commute to work. Abbi's morning was represented musically by Fleetwood Mac's 'Gypsy,' and Ilana's was soundtracked by Missy Elliott's 'Pass That Dutch.' It was directed by Kevin Miller and shot by Lane Savage. Dan Chamberlain is a friend we met at UCB who did these amazing mash-ups, and he made those songs become one song when the girls meet up. We chose not to re-create the concept fully for Broad City — it's one song for both girls' mornings and remains split-screen the whole time. Lucia Aniello directed it, and it was mad tedious, keeping us on the same sides and accounting for the space of that thick black line that splits the screen. It was so fun to shoot — we love shooting no-dialogue music scenes because sometimes someone has written words or music that will say more than you can yourself. Liz Merrick edited this and picked this song out, and we chose it from the sound of it, but the lyrics work well for the scene when you read them."
Lady Gaga — "Edge of Glory"
Jacobson: "This song is one of my personal favorites, and really gets me pumped up, so when we were trying to find a really vulnerable song for Abbi's character to dance naked to, this felt really right for me. I knew all the words already, and it felt like I could really go full force. It felt weirdly emotional when we shot it, just me and our amazing Steadicam operator, Yoshi, doing a dance alone in the apartment. It felt like we had found something special in that moment."
Tasha the Amazon — "Steady Now"
Glazer: "Oh, lordy, this was just the most fun. It didn't feel as fun filming just because, ya know, we were shooting it in normal time, and I don't think we played the music. This was again directed by Lucia Aniello — yas — and Matt FX found this song. The song was just so hot, so strong, so perfect, we couldn't believe it wasn't a huge hit blasting on the radio daily. We used the bridge from the same song later in the scene when we unpack all the expensive clothes. We always bounced in the edit watching this part and would replay it over and over. I love an around-the-corner move, the way we suddenly emerge, and Abbi's face cracks me up in this shot. And it's very much like me in real life to dust that coat off and not let the moment just be what it is. It's so mundane in such hot slow-mo; we always loved this moment. It's funny: We write and write and write and slave over every sentence, but it can also just be looked at as a rhythm, and the episode is a steady beat leading up to this moment. This moment is the climax of the episode, and before and after that is straight-up support. But also, support is everything, too!"
Lizzo — "Let 'Em Say"
Jacobson: "This cold open was such a feat for us in so many ways as an entire crew. It's something we were so excited about and it took a long time for us to find the right song for it. When we found it, we knew immediately, and it really encapsulates so much of what the show is all about. It was the perfect way to start the third season."
Sister Act 2 Homage — "Joyful Joyful" 
Glazer: "This is just one of my absolute favorite moments from the show. Our writer Naomi Ekperigin pitched in a punch-up some sort of gospel-type moment, where the office is just so grateful Ilana is leaving. We meditated on it and realized that emulating Sister Act would express the Deals Deals Deals employees' sentiments the most. Then we realized that paying homage to that perfect movie and scene would be ideal. And guess what? We got the freakin' song. Behind-the-scenes minutiae and politics take forever and are interesting, yet so boring. So get this: We couldn't afford the Lauryn Hill version and had to have the song recorded, so it was like an original version. Composer Steven Edwards re-recorded it beautifully and completely fulfilled our vision. It was such a fun day on set. This was our second day shooting the third season. We had literal mother-effing Whoopi Goldberg, comedy legend, not only in our presence but in the show, and as freakin' Deloris from the movie. I cried. I cried in the edit over and over and over."