Alexis Bledel Defends Her Ability to Hold Everyday Objects, Despite What Her Gilmore Girls Posters Clearly Imply
"I was set up to fail!"
Does Rory Gilmore know how to hold everyday objects? On the one hand, yes, obviously, she is a grown-up adult with something resembling a journalism career and several men in her life — including Paul, justice for Paul! — who love her very much. A mastery of basic motor skills is a prerequisite to all of that. On the other hand, I have my doubts, specifically in reference to Netflix's series of promotional posters for the Gilmore Girls revival.
Rory Gilmore doesn't know how to hold everyday objects, a series pic.twitter.com/qYZq0CdhXV

— Jackson McHenry (@McHenryJD) October 18, 2016
Luckily, hard-hitting journalist Jimmy Fallon brought my concerns to Alexis Bledel herself last night. There, she claimed that Netflix gave her a ridiculously large mug for her most infamous photo and insisted "I was set up to fail!" Then, she attempted to prove the haters wrong by holding a navy-blue Tonight Show mug with all five of her fingers.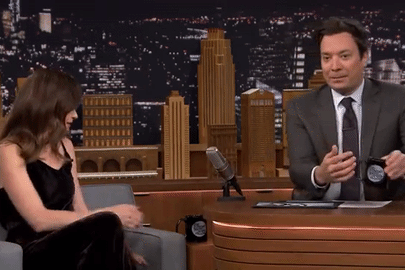 So, can Alexis Bledel really hold everyday objects? We report. You decide.