Alien: Covenant Moves Up Its Release Date, So You'll Have Answers to All Your Prometheus Questions Even Earlier
The sequel is headed your way in May.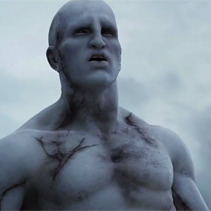 You've been waiting almost five years to find out the answers to your many, many, many lingering questions about Ridley Scott's Prometheus.  Questions like, "Why would an astronaut take off his or her helmet on a strange planet, and then put his or her face near a weird worm alien?"; "Did the film open on earth, or a different planet altogether?"; and, most important, "Whaaaaaa?" Well, now you can rest easy, knowing the exact date all your queries will surely be satisfied: May 19, 2017. Twentieth Century Fox not only bumped up Alien: Covenant's premiere date from August 4, they also debuted the sequel's first poster, which at least answers the question, "Will this movie make you scream and scream and scream?"