Celebrate Thanksgiving the Way Celebrities Do: Exactly the Way You Do
It's just not Turkey Day if you're wearing hard pants.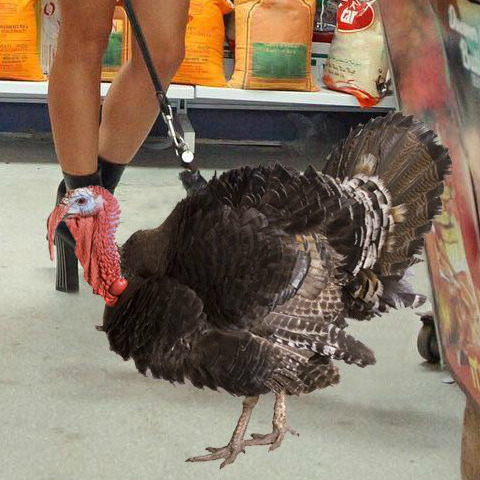 Whether they have so much boxed stuffing they have to donate half of it to charity, or they're doing a choreographed dance number in the Macy's Day parade, as long as their legwear is soft and/or pajamalike, celebrities: They're just like you. Everyone from Jennifer Lopez and Chrissy Teigen, to Lin-Manuel Miranda and Justin Bieber are spending their days gorging themselves and/or trying not to actively engage in a screaming match with their relatives until the pies are out. Take your turkey for a walk to the store like Shakira, or eat until you pass out like everybody in America, but, either way, have a Happy Turkey Day, everybody!
.my @StoveTop love-rants will feed many! pic.twitter.com/c0oIF0ckSJ

— christine teigen (@chrissyteigen) November 24, 2016
Hope you have a different kind of cornucopia this #Thanksgiving! #thg @TheHungerGames pic.twitter.com/YhVsymXAqv

— Elizabeth Banks (@ElizabethBanks) November 24, 2016
Happy #Thanksgiving! Who's celebrating #FullHouse style? #80sfilter #TBT pic.twitter.com/B3gRmnX5cS

— John Stamos (@JohnStamos) November 24, 2016
Meanwhile in 🇬🇧... pic.twitter.com/wHVb0ViaPM

— Lin-Manuel Miranda (@Lin_Manuel) November 24, 2016
Happy Thanksgiving! pic.twitter.com/iaNjTIPB63

— Shakira (@shakira) November 24, 2016
Thankful for cookies, #HairsprayLive and of course all of YOU! Happy Thanksgiving! xoxo pic.twitter.com/UT3Hz2e0OT

— Kristin Chenoweth (@KChenoweth) November 24, 2016
Happy Thanksgiving beautiful 🇺🇸. I'm grateful to be alive on this 🌎 w/ u. Enjoy loved ones today & eat w/ gratitude. God Bless xoxo, Joanne pic.twitter.com/z52ZwYPFwQ

— xoxo, Joanne (@ladygaga) November 24, 2016
Thank you, thank you, thank you
for a beautiful life.

— Yoko Ono (@yokoono) November 24, 2016