Celebrities Mourn Sharon Jones's Death
The soulful singer was beloved by many.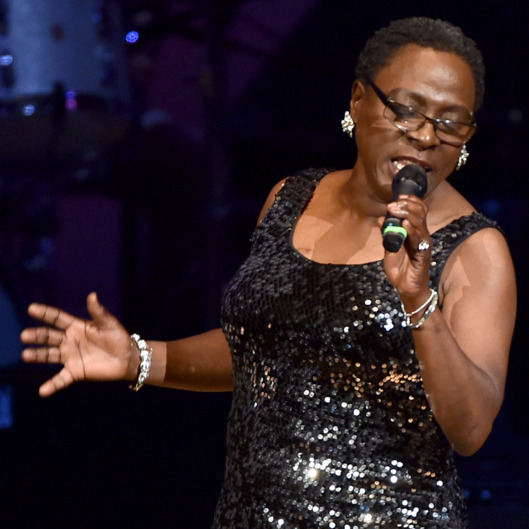 When news broke that beloved singer and performer Sharon Jones died tonight at age 60, it didn't take long for celebrities and musicians to begin sharing the sad news online. Jones was not only an onstage force, she was also an inspirational story: She grew up in Brooklyn's Bed-Stuy neighborhood and worked as a corrections officer at Riker's Island before her relatively late breakthrough when she was already in her 40s. She also continued to perform and record new music with ferocity even while battling the disease that eventually claimed her life.
Tonight, people who loved her from across music and entertainment worlds shared their memories and condolences for the late, great Miss Sharon Jones:
We aren't ready to say goodbye to your enormous talent. RIP @sharonjones 💗 pic.twitter.com/KO84cnnDJZ

— Hollywood Bowl (@HollywoodBowl) November 19, 2016
Rest In Peace to the beautiful black queen Sharon Jones pic.twitter.com/SUftVhDSYt

— Leon Bridges (@leonbridges) November 19, 2016
#RIPSharonJones - You are incredible and mighty. Condolences to your family.

— Nile Rodgers (@nilerodgers) November 19, 2016
We are deeply saddened to announce Sharon Jones passed away today. More details at https://t.co/D4nHMbOIge pic.twitter.com/pWmP9IDL2m

— The Dap-Kings (@The_DapKings) November 19, 2016
RIP Sharon Jones. This record never felt more appropriate pic.twitter.com/FtSgkLktv3

— Bonobo (@si_bonobo) November 19, 2016
A major force. A beauty. She made the whole room sexy. She turned the toughest crowd into a dance party. Love you @sharonjones

— Amy Millan (@amymillan) November 19, 2016
No, not #SharonJones too. This is absolutely heartbreaking. She was 1 of my favorites. There must be a symphony happening in the afterlife.

— Vella Lovell (@vellalovell) November 19, 2016
The fabulous Sharon Jones has passed tonight she & her band The DapKings made great music together & she sang her butt off. Condolences RIP

— Whoopi Goldberg (@WhoopiGoldberg) November 19, 2016
Sharon Jones had one of the most magnificent, gut-wrenching voices of anyone in recent times. She'll be so missed. Too sad x

— Mark Ronson (@MarkRonson) November 19, 2016