Celebrities Are As Thrilled As Everyone Else About the Cubs' World Series Win
Everybody loves an underdog story.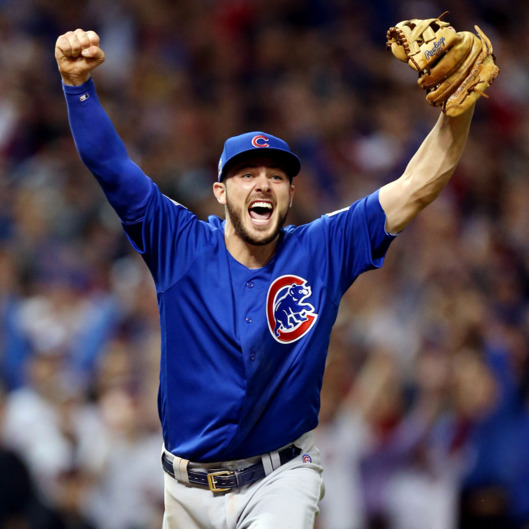 Last night, the Chicago Cubs won the World Series for the first time in 108 years, a Hollywood-ready underdog story if there ever was one (hey, it was already on Parks and Rec). And so, inspired by the feelings of hope and possibility that spread across our great nation on that night, Hollywood has already started celebrating the big event. Let this celebrity enthusiasm be a boon to you amid the hellish march to Election Day, unless you're an Indians fan, in which case, sorry.
They did it! 108 years later and the drought is finally over. Way to make history, @Cubs. #FlyTheW -H

— Hillary Clinton (@HillaryClinton) November 3, 2016
I LOVE YOU MY CUBS. HOME OF MY DAD. HOME FOR HISTORY. FOR BASEBALL.

— Laura Dern (@LauraDern) November 3, 2016
Couldn't of happened on a better day #felizdiadelosmuertos 💀 Congratulations @cubs ( Have one… https://t.co/luNXZUKioT

— George Lopez (@georgelopez) November 3, 2016
Lovable Likable #Cubs
Congrats to #Indians as well. #WorldSeries #amazing

— Michael Kelly (@michaeljkellyjr) November 3, 2016
The billy goat is dead!! As I've said, from the beginning, I'm getting too old for this! #GoCubsGo #FlytheW pic.twitter.com/iCOL6A3s1i

— Bob Newhart (@BobNewhart) November 3, 2016
Out of body experience being here for Chicago's historic win. SO SO overjoyed for this town and this young team that fought so hard.

— Emmy Rossum (@emmyrossum) November 3, 2016
I am a @AtlantaBraves4u 4 life but growing up i was equally an #Andre'Dawson fanatic. I see #TheHawk smiling big.

— Omari Hardwick (@OmariHardwick) November 3, 2016
The curse of the Billy goat is over. #CubsWin #Cubbies #cubs #WorldSeriesGame7 #WorldSeries #WorldSeriesChampions pic.twitter.com/VJUee3tdeb

— Don Lemon (@donlemon) November 3, 2016
YAAAAAAASSSSS CUBS!!!!

— Leslie Jones (@Lesdoggg) November 3, 2016
Hell just froze over. ❤️🐻 #FlytheW #Cubs pic.twitter.com/HQyMXDTZRm

— Joel de la Fuente (@joeldelafuente) November 3, 2016
#CUBS WIN! #CUBS WIN!
Woohoooooo!!!@Cubs @IowaCubs

— Brandon Routh (@BrandonJRouth) November 3, 2016
Way to go, @Cubs!!! #BTTF2016 #FlyTheW pic.twitter.com/TCSDcPvlyT

— Back to the Future™ (@BacktotheFuture) November 3, 2016
They did it, Chicago. They did it!

— jake johnson (@MrJakeJohnson) November 3, 2016
Cubs forever pic.twitter.com/04pYiAEmXS

— John Cusack (@johncusack) November 3, 2016
I love you #Cubs I just love you!!!!!

— Julia Louis-Dreyfus (@OfficialJLD) November 3, 2016
Dear followers.
The @Cubs have won the World Series and I am openly crying.
Ron may even have lifted his glass 2 our longsuffering. #Swanson

— Nick Offerman (@Nick_Offerman) November 3, 2016
I'm not saying I'm a huge baseball fan, but that game was historic. Congrats @Cubs & @Indians and your amazing fans! #WorldSeries

— Ellen DeGeneres (@TheEllenShow) November 3, 2016
Your team gave it a good try. Best competitors ever! ⚾️⚾️ https://t.co/Q4XXm9OSXt

— Marlee Matlin (@MarleeMatlin) November 3, 2016
HOLY HAREY CAREY!!! Way to beat history @Cubs!!' #WorldSeries

— Richard Schiff (@Richard_Schiff) November 3, 2016
Congrats to the Cubbies. It was already going to be an instant classic... But COME ON. Insane.

— Grant Gustin (@grantgust) November 3, 2016
Congratulations, Chicago! #WorldSeries

— Uzo Aduba (@UzoAduba) November 3, 2016
Go @Cubs, go! Been rooting for you since I was a kid, and so incredibly proud tonight. #FlytheW -mo

— The First Lady (@FLOTUS) November 3, 2016
Congratulations CUBS

— Henry Winkler (@hwinkler4real) November 3, 2016
I would watch 10 more hours of grown men weeping. So much ❤️. CONGRATS CHICAGO!!!!

— olivia wilde (@oliviawilde) November 3, 2016
Not the usual pile-on. Sincere solemnity from the victors. Intimate and meaningful. Well done, @Cubs. THANK YOU FOR THIS! #WorldSeriesGame7

— Martha Plimpton (@MarthaPlimpton) November 3, 2016
Congratulations all my Chicago friends! Take tomorrow off!

— dax shepard (@daxshepard1) November 3, 2016
Congratulations Cubs! Great season Cleveland! Midwest rules! Amazing game. Thanks for the distraction we all needed this week!

— Michael Moore (@MMFlint) November 3, 2016
Yay, Cubs!!! pic.twitter.com/zzur01zJCe

— RainnWilson (@rainnwilson) November 3, 2016
WOW congrats Chicago Cubs, what a win!! My dad's hometown!! Celebrate safely, you championship curse breakers!

— Rashida Jones (@iamrashidajones) November 3, 2016
🐻🐻🐻🐻🐻🐻🐻🐻🐻🐻🐻🐻🐻🐻🐻🐻🐻🐻🐻🐻🐻🐻⚾️

— Eliza Dushku (@elizadushku) November 3, 2016
Wow. Just wow. #WorldSeries #History#TheWFliesTonight

— Zachary Levi (@ZacharyLevi) November 3, 2016
Well, that's the way that go. Congrats #Cubs!

— Tracie Thoms (@traciethoms) November 3, 2016
Congrats to all my comedy friends from Chicago. This joy will make you less funny for a few months.

— Seth Rogen (@Sethrogen) November 3, 2016
way to go #Cubs. so happy for them!! what a game #WorldSeries

— alicia witt (@aliciawitty) November 3, 2016
but seriously folks THE CUBS WIN. THE CUBS WIN. THE CUBS WIN

— The Mountain Goats (@mountain_goats) November 3, 2016
Cubs win! Congrats Chicago - see you in 2124!

— Stephen Colbert (@StephenAtHome) November 3, 2016
OMG👏🏻👏🏻👏🏻
CUBS RULE🙌🏻
WE'RE JUMPING UP & DOWN ON MY BED 😂👻

— Cher (@cher) November 3, 2016