Here Are All Your Favorite Celebrities' Voting Selfies From Election Day
Swift! Perry! Other people!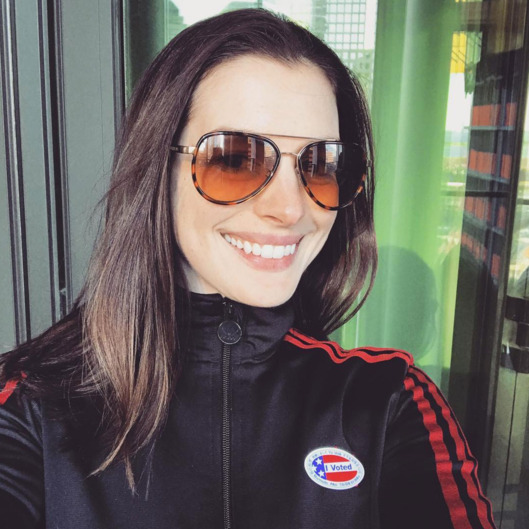 Today's the day! Hillary Clinton and Donald Trump are duking it out at the polls, and you know what that means — celebrities want to show off their voting prowess with a selfie or two to commemorate the occasion. (Legally, we hope.) Before the polls close at 8 p.m., explore all of the fun ways celebs have been rocking the vote (hopefully, they're not doing it just for the likes).
Taylor Swift
Jessica Biel
Joel McHale
Anne Hathaway
Katy Perry
Julia Louis-Dreyfus
Amy Poehler
"Sent in my absentee last week wearing my @parksandrecnbc crew hat. Wish I was in NY to watch history in the making." #imwithher #voteknope pic.twitter.com/4jld9rXfIk

— AmyPoehlerSmartGirls (@smrtgrls) November 8, 2016
Anna Kendrick
Blake Lively
Sarah Jessica Parker
Christine Baranski
Diane voted. You should too! #TheGoodWife #thegoodfight #vote #lockart pic.twitter.com/cStpCwZdcc

— Good Wife Writers (@GoodWifeWriters) November 8, 2016
Jessica Alba
Mindy Kaling
Mark Duplass
Bc I want my two daughters to know that anything is possible. #imwithher pic.twitter.com/MC7gmpOCnO

— Mark Duplass (@MarkDuplass) November 8, 2016
Gina Rodriguez
Don't boo...vote! pic.twitter.com/wFq3v8bFHe

— Gina Rodriguez (@HereIsGina) November 8, 2016
Karlie Kloss
Justin Theroux
Patton Oswalt
No way does she grow up in your slo-mo temper tantrum version of America, @realDonaldTrump. #electionday pic.twitter.com/oPZzFoNNCK

— Patton Oswalt (@pattonoswalt) November 8, 2016
America Ferrera
Ice Cube
If I can my ass up this early and vote. You can too. Let's go family!!! pic.twitter.com/0vtn1HtdKa

— Ice Cube (@icecube) November 8, 2016
Bobby Moynihan
What a lovely day. Go Vote! #ImWithHer pic.twitter.com/XtAsVTLSgL

— Bobby Moynihan (@bibbymoynihan) November 8, 2016
Miley Cyrus
I voted today for @HillaryClinton ❤️💙❤️💙 I am so proud of all of you who did the same! #imwithher pic.twitter.com/AKTuhmEqui

— Miley Ray Cyrus (@MileyCyrus) November 8, 2016
Sarah Michelle Gellar
Conan O'Brien

Not telling you who to vote for but ask yourself: which candidate will give a more entertaining concession speech?

— Conan O'Brien (@ConanOBrien) November 8, 2016
Mae Whitman
I've moved onto the eggs because I'm with...her? #egg #plant #Ann #voteforher pic.twitter.com/TxMz3K1HPf

— mae whitman (@maebirdwing) November 8, 2016
Sean Hayes
We voted. 🇺🇸 Honored to live in a country where we ALL get to participate. pic.twitter.com/FwAb5cw3fn

— Sean Hayes (@SeanHayes) November 8, 2016
Debra Messing
🎉🎉🎉ELECTION DAY🎉🎉🎉 pic.twitter.com/Nm6sByTYfr

— Debra Messing (@DebraMessing) November 8, 2016
Salman Rushdie
Done. You're welcome, #MadamPresident! #imwithher pic.twitter.com/IlsBpjyFsU

— Salman Rushdie (@SalmanRushdie) November 8, 2016
Elizabeth Banks
Happy Election Day. Take your kids to #vote. #history 🇺🇸 pic.twitter.com/6d1vmRybZr

— Elizabeth Banks (@ElizabethBanks) November 8, 2016
Constance Zimmer
I already voted now it's YOUR turn #vote #dontboovote #StrongerTogether pic.twitter.com/huzuJfibta

— Constance Zimmer (@ConstanceZimmer) November 8, 2016
Tracee Ellis Ross
What a thrill! I just find it so exciting to vote in person. Only at 45min wait. Got a bit emotional. #ImWithHer #HerStory #IVoted pic.twitter.com/XhVkMDG8Tv

— Tracee Ellis Ross (@TraceeEllisRoss) November 8, 2016
Rihanna
#Election2016 #ElectionDay #ImWithHer pic.twitter.com/65zBtxNMBB

— Rihanna (@rihanna) November 8, 2016
Reese Witherspoon
🇺🇸 #ElectionDay pic.twitter.com/6Ic3S7ew75

— Reese Witherspoon (@RWitherspoon) November 8, 2016
Hilary Duff
Hope everyone went out and #voted 🇺🇸🇺🇸🇺🇸🇺🇸🇺🇸🇺🇸🇺🇸🇺🇸🇺🇸🇺🇸🇺🇸🇺🇸 pic.twitter.com/TbSqyBsHVx

— Hilary Duff (@HilaryDuff) November 8, 2016
Tyra Banks
I voted.

Have you?

Please do.

🇺🇸 pic.twitter.com/ZkOzbtvARq

— Tyra Banks (@tyrabanks) November 8, 2016