Comfort TV to Stream This Winter (and for the Next Four Years)
From <em>The Great British Bake Off </em>to <em>Parks and Recreation</em>.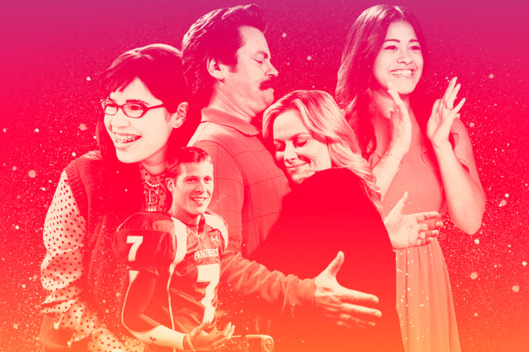 Is the Electoral College getting you down? Do you need to burrow for winter? Well, during trying times, there's always one steadfast friend you can count on: television! In that spirit, Vulture has put together a list of comfort TV shows that hit that sweet, fuzzy spot, so you can curl into your couch — or bed, slanket, whatever — for hours on end, disappearing into a little town called Pawnee or the terrible, glorious beauty of Mother Nature. There's something for every mood, whether you just want to watch kind-hearted Brits bake pastries or follow the travails of an awkward black girl. The shows can be warm, funny, heartfelt, or escapist, but the trait that most of them share is an inherent optimism — a belief that people are good at their core and that the moral arc of the universe is bending toward justice, or at the very least, something good to eat.
For when you just want to watch talented people do things:

RuPaul's Drag Race
Where to stream it: Most seasons are on Hulu
Is there any reality show that's better at understanding its own farce? That sensibility might be the perfect panacea for an election campaign that resembled the worst of reality television. But quite simply, the talent on any given season of this show is staggering: If other reality TV contestants are running on a treadmill, the queens of RuPaul's Drag Race are doing it backwards in heels, makeup, and a wig — fully tucked — to jazzercise choreography. It's a joyful show that traffics in bawdy puns and pop-cultural references, spanning from women's wrestling to Joan Crawford, that are funny even if you don't get the joke. If you've been slacking on the show, I'd suggest skipping the most recent All-Stars season and going to a classic one, like seasons three through six.
— E. Alex Jung
Project Runway
Where to stream it: Seasons 7 to 13 are on Hulu; For the most recent season, you can use your cable provider to sign into mylifetime.com. (You're going to have to dig a little for the classics, like seasons 1 to 4.)
Yes, this show is still on, and yes, it's still good! Project Runway is in its 15th season on Lifetime (and that's not even counting the churn of All Stars) and it's a little wobbly: The episodes are bloated at about an hour and a half, and the king of withering analogies Michael Kors has left the runway. But it's a perfect show to watch while cooking, and we still have Nina Garcia and Tim Gunn anchoring the show. Better yet, the bar of entry is still tantalizing low: Do you think that dress is ugly, y or n?
—EAJ
For that classic, small-town heart:
Friday Night Lights
Where to stream it: Amazon
Friday Night Lights is a Vulture favorite: Coach and Tami Taylor won our annual bracket for Best TV Couple and the show was crowned Best High School TV Show last year. The show deals with some serious issues, but its portrait of small-town America where people with varying ideologies can co-exist feels more like escapism than ever. The characters on this show may not always do the right thing — I see you, Joe McCoy — but most of them are trying to get there in a way that's uplifting to witness. At a moment when it seems like eyes are cloudy and hearts are shattered, the sense of decency in Friday Night Lights functions as therapy.
— Jen Chaney
Gilmore Girls
Where to stream it: Netflix
A mother and daughter who are best friends, eat anything they want without gaining a pound, in a town that looks like a Christmas card? There's no better escape from the garbage fire of America than Gilmore Girls, a show that feels weirdly good to watch because of how simultaneously real and ideal the characters are — their closeness is the type of closeness we all crave. It's appeal is cross-generational, which means you can watch old episodes with your family this Thanksgiving just in time for the new season, coming to Netflix the day after Turkey Day. Bonus: Tuning out reality comes especially easy when the show's running soundtrack is literally "la-la-la-la-la."
— Gazelle Emami
Bob's Burgers
Where to stream it: For more recent seasons go to Hulu, and for older ones, Netflix
It's not that things go well all the time for the Belchers, the family at the heart of Bob's Burgers, or even that the characters choose to fight through adversity. For Linda, Bob, Tina, Gene, and Louise, their troubles — no rent money, bad grades, pony-obsessed adult male bullies — are temporary annoyances, barely interfering with the characters' commitments to living their most bold, silly, and eccentric lives. You'd be hard-pressed to find another show that so perfectly promotes a message of "be yourself," even if being yourself means playing with your food or writing erotic fan fiction starring your friends as zombies.
— Tolly Wright
For when you want inspiration for your scone recipe:
The Barefoot Contessa
Where to stream it: Food Network, Amazon
When life gets to be a little too much, I prefer to transport myself to the idyllically provincial world of the Barefoot Contessa. The Food Network mainstay offers me tangible escapism; I can imagine a world in which I live in a spacious-but-not-ostentatious cottage in the Hamptons with a sunlit chef's kitchen and a garden full of fresh herbs. While our political system threatens to implode, I'll get lost in a fantasy in which I'm perfecting my vanilla-rum panna cotta recipe for my loving and supportive husband and buying heirloom tomatoes at the local farmer's market. My logic is as simple as many of host Ina Garten's recipes: Sometimes, it just helps to imagine your life's biggest problem could be the deer eating all the precious vegetables in your garden.
— Samantha Rollins
The Great British Bake Off
Where to stream it: PBS
This series has had its share of drama, with its producer, Love Productions, yanking the reality show from its home at the BBC in favor of a fatter check at Channel 4. But let's forget about such ugliness, and remember the good times when friendship and sponge cake reigned in big, white tents on the English countryside. It's a simple show that doesn't have the cabin-fever-fueled intensity of American reality shows, and it focuses on the magic of carbohydrates. I recommend starting with season six (also known as season three of The Great British Baking Show in the U.S.), where you will fall in love with Nadiya and Tamal.
— EAJ
Chef's Table
Where to stream it: Netflix
Pretentious as hell, but lower the sound, pour yourself a glass of wine, and let the sweeping shots of haute cuisine wash over you.
— Tara Abell
For when you just want to see some kissing:
Jane the Virgin
Where to stream: The (free!) CW Seed
Love! Murder! Escándalo! Now in its third season, the American-style telenovela is quick with the plot twists and deep with emotions. The protagonist, Jane Gloriana Villanueva (Gina Rodriguez), is sensible and loving, striving to do her best for herself and others, including her mother and grandmother, the men striving for her love, and her father, telenovela superstar Rogelio de la Vega, who has to keep from stealing the show from everyone else. There's an unfailing sense that no matter what happens, it'll turn out all right in the end.
— EAJ
Lovesick (f.k.a. Scrotal Recall)
Where to stream it: Netflix
As life in America has turned increasingly catastrophic, I've turned to Britain, where things are also catastrophic, but the accents are better. Specifically, Netflix's Scrotal Recall, which was recently renamed Lovesick in the run-up to its second season, for the sweet, soothing experience of watching British 20-somethings befuddled by the mysteries of love. The show centers on Dylan (Johnny Flynn), who discovers he has chlamydia and has to tell his former sexual partners, joined by charming supporting turns from Misfits's Antonia Thomas, who plays Dylan's best friend slash love interest. If Lovesick's short first season leaves you wanting more Brit rom-com TV, I also recommend Crashing, which stars and was written by Fleabag's Phoebe Waller-Bridge, and will introduce a whole new flock of awkward and adorable young British adults into your life.
— Jackson McHenry
Younger
Where to stream it: TV Land
If there were ever a show to watch in your bed while drinking hot chocolate, this is it. Yes, the plot is ridiculous (40-year-old woman pretends to be a millennial to get a job in the publishing industry, high jinks ensue), but everything else about the production is so winning that you'll go along for the candy-colored ride. (Costumes and script by the people who gave us Sex and the City.) The charming duo of Sutton Foster and Hilary Duff star alongside arguably the best-looking bisexual man on television right now. The whole series sparkles and makes you wish for a world where a little eye cream and some silly braids can make your dreams come true.
— Tara Abell
No Tomorrow
Where to stream it: CW Seed
This new show about seizing the day charms at every turn. Tori Anderson (whom you maybe know from The L.A. Complex) stars as Evie Covington, a woman rethinking her outlook on life after meeting total babe Xavier (Galavant's Joshua Sasse), who believes life as we know it will end in eight-ish months when an asteroid hits Earth. Sure, she doesn't fully believe his theory, but boy is he good-looking. In each episode they check off items like "jump off a high dive," "put out a fire," or "have a cake fight," all while falling more deeply in love.
— Sarah Caldwell
The Mis-Adventures of Awkward Black Girl
Where to stream it: On its own website!
Issa Rae's HBO show Insecure is in many ways the polished, grown-up version of her web series from 2011, The Mis-Adventures of Awkward Black Girl. And while Rae stars as the relatable protagonist of both, there's more teeth to Insecure, more bad decisions, and higher stakes. Meanwhile, ABG has nostalgia and sweetness going for it: Its lo-fi production budget only adds to its charms. Plus, Rae's character "J" is lovable and familiar to anyone who has to navigate encounters with their co-workers while walking down awkwardly long hallways.
— EAJ
For when you want to go some place far, far away:
Firefly
Where to stream it: Hulu
The most soothing TV shows are often the ones that make you feel like you're hanging out with friends, and the lovable rapscallions of Joss Whedon's space-Western series Firefly — Nathan Fillion, Gina Torres, and Alan Tudyk — are great friends to have around. The intentional folksiness of the frontier-style parlance recalls kinder times, even if the characters live in an unkind place. While Captain Mal and his crew end up on the losing side of a universe-size civil war, you'll be pledging your allegiance to the brown coats right along with them after you watch, and re-watch, the show's first (and only) delightful season. And if you want to skip the marathon, you can check in with its big-screen spinoff, Serenity, for a tidy two-hour re-up when you aim to misbehave.
— Jordan Crucchiola
Planet Earth
Where to stream it: Thank Mother Nature, it's on YouTube.
Stockpile some snacks. Call your dealer. Enjoy.
— EAJ
The Amazing Race
Where to stream it: Hulu has the entire archive of episodes
Want to see the world from your couch and see people do stupid things? Let us remind you of the gem that was The Amazing Race, where teams of two race around the world, overcoming extreme physical and mental challenges in the hopes of winning $1 million. It brings out the best — and worst — in couples, siblings, friends, and relatives, all in the spirit of healthy competition.
— Maria Elena Fernandez
For when you want to see government working well:
The West Wing
Where to stream it: Netflix
Watching this show is like putting on an old sweater: warm, comforting, and exactly as you remembered it. Not only is the political optimism exactly what the doctor ordered, but the emotional Aaron Sorkin monologues, crackling chemistry, and depictions of people who truly love their jobs fighting for the greater good will thaw the cynicism surrounding your heart. If this show doesn't make you believe in a better world, I don't know what will.
— TA
Parks and Recreation
Where to stream it: Hulu.
If Leslie Knope's viral fictional letter after the election tells us anything, it's that the hope for optimism and good governance still courses through us. After her character makeover in the first season, Leslie Knope became the candidate we all wished for. She listened to people even if they might not be worth listening to; she pressed forward when others flagged; and, maybe most important, she believed in good government, that civil servants could work past bureaucracy and make life just a little bit better.
— EAJ
For a New York show that will restore your faith in humanity:
Billy on the Street
Where to stream it: Hulu
Don't let the screaming fool you — Billy on the Street is one of the more loving shows on TV. Though much of the show involves startling people on the street, it's ultimately driven by a desire to connect with them. And maybe the best part about it in these gross, gross times — despite it being consistently, laugh-out-loud funny — is how accepting it is of peoples' difference. Nowhere on television do you see such a diverse set of ages, nationalities, and orientations allowed to be themselves, no matter how strange or not-camera-ready they are.
— Jesse David Fox
Ugly Betty
Where to stream it: Hulu
This fairy-tale story about Betty Suarez (America Ferrera), a young Latina woman who grew up in Queens and gets a job at a fancy Manhattan fashion magazine, will make you laugh and feel warm inside. Based on a telenovela, Yo Soy Betty, La Fea, the show touched on issues of race, gender, immigration, class, and homophobia with sensitivity and warmth. It's maybe most memorable for its depiction of what it means to be bicultural, showing us the contrast between Betty's home life with her father and sister and the fashion industry in Manhattan. Somehow, Betty was able to bring warmth to the latter.
— MEF
For when you're thinking about moving to Canada:
Degrassi: Next Class
Where to stream it: The Next Class seasons are on Netflix, but you can channel your youth and find the Next Generation years on YouTube
With recent seasons taking on the Black Lives Matter movement, affirmative consent, internet trolling, and fluid sexuality, Degrassi is no apolitical, escapist wormhole, however set-in-Canada it may be. In the best sense, though, it's still a fantasy. Discarding the preachy posturing of Very Special Episodes, Degrassi hinges its issues-show cred on the adolescent anxiety that Oh, God, I might be wrong. Among other things, being wrong is embarrassing, so why wouldn't these beautiful, awkward lambs hear each other out? And so Degrassi gives us a bunch of sweet, goofball teens, who are imperfect, sure, but by default open-minded — giving them much higher emotional intelligence than any of us. To a degree, this is the Sorkin-esque liberal dream of if we could only get other people to listen. Bless the youth; may they save us all.
— Karen Brill
For when you want to remember the good old days:
The Mary Tyler Moore Show
Where to stream it: Hulu
I recently discovered that Hulu has the first few seasons of The Mary Tyler Moore show, and in the name of good TV scholarship (read: the need for comfort), I've started working through several episodes a night. The series was remarkably progressive for its time — Mary was on birth control — but it doesn't exactly take place in a fantasyland. Mary's fight for recognition in the workplace is part of the backbone of the show, and she succeeds, step by step, thanks to her own determination and the support of her friends. Throw in a collection of incredibly '70s outfits and a soothing theme song, and what better message could you want?
— JM